Marijuana VIP: Snoop Dogg
---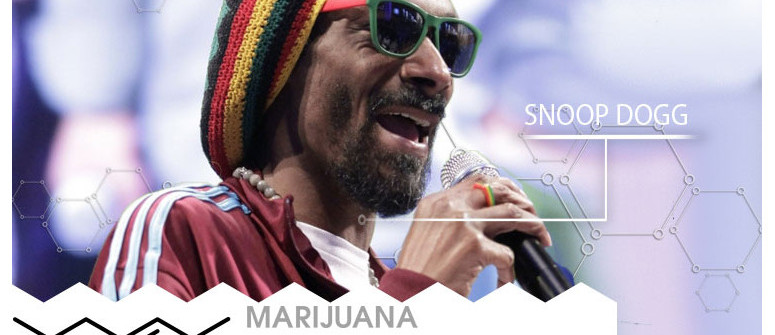 Snoop Dogg is a famous rapper and cannabis enthusiast. Click here to learn more about Snoop's relationship with weed, including how he smoked his first blunt.
Let's face it; you'd have to be living under a rock to be unaware that Snoop Dogg loves weed. The Long Beach rapper has made it very obvious throughout his entire career that Mary Jane is his number one lady, especially when she's tightly rolled in a blunt wrap. Read on for more info on Snoop's relationship with weed.
SNOOP DOGG: A BRIEF HISTORY
Snoop Dogg was born in Long Beach, California. He has since become one of the most successful rappers of all time, and showed an interest in music from a very young age. Snoop is known for his real involvement in illegal street activities like pushing and pimping.
Snoop was a member of the Rollin' 20 Crips gang in the Eastside area of Long Beach and was frequently in and out of prison during his teenage years. Throughout the 1990s, Snoop was arrested for drug possession, involvement in the murder of a rival gang member, firearm possession and more.
Snoop is one of many artists discovered by Dr. Dre. His earliest works were homemade mixtapes which he recorded together with Nate Dogg, Lil ½ Dead, and Warren G, who referred to themselves collectively as 213. One of his freestyles over Hold On by En Vogue eventually got out to Dr Dre who then met him for an audition.
Dre and Snoop's first project together was the theme song for the 1992 crime thriller Deep Cover. Soon after that, Dre and Snoop went on to work on The Chronic, Dre's debut solo album.
Working closely with Dre got Snoop Dogg a lot of attention. Some critics even claim it is what lead to the success of Snoop's first album Doggystyle, which stayed on the Billboard charts for several months and produced hit ingles like "Gin and Juice" and "Who Am I?(What's My Name?)." The album also featured other rappers signed to Death Row Records, including Daz Dillinger, Kurupt, Nate Dogg, and more.
Snoop was arrested in 1993 while recording his debut album in connection with the death of a rival gang member. He was later acquitted but remained entangled in legal battles relating to the case for at least 3 more years.
In 1994, Snoop Dogg released Murder Was The Case, a short film and soundtrack based on a fictional story describing the death of Snoop after making a pact with the devil. The film was directed by Dre and Fab Five Freddy, and the soundtrack featured other prominent rapper like Dre, Ice Cube, Nate Dogg, Tha Dogg Pound, and more. In 1995, Snoop started his own record label, called Doggy Style Records Inc. One of the first artists the label signed was Charlie Wilson of The Gap Band.
Snoop's first album is often cited as an example of G-Funk (or Gangsta Funk), a unique style of hip hop originating from Los Angeles but heavily influenced by other related genres from the California area. Snoop's second album, Tha Doggfather, was released in 1996. It was not as successful as his debut, although it sold well.
Following a dispute between Dre and Suge Knight, co-founder of Death Row Records, Snoop refused to produce any more records for the label until the end of his contract. Snoop signed with No Limit records in 1998 and went on to produce many more successful albums for the label, including No Limit Top Dogg in 1999 (selling over 1,503,865 copies) and Tha Last Meal in 2000 (selling over 2,000,000).
Snoop Dogg went on to produce 10 other studio albums as well as countless collaboration albums since then. He is renowned for his uniquely smooth and softly-spoken delivery and his unique freestyling ability. In fact, some of his songs are rumored to have been recorded as freestyles.
All in all, since the release of his first album Snoop Dogg has hardly lived a day out of the hip hop spotlight, and continues to be influential in the hip hop and rap industries. Besides the rap game Snoop has also explored a variety of other business ventures, including record labels, mobile apps, and more.
SNOOP AND MARY JANE
Snoop Dogg's image has changed dramatically over the years; from gangster rapper to pimp to rastafari, Snoop's persona has taken a lot of sharp turns throughout his career. One thing that has never faltered, however, is his love for cannabis.
Snoop has been very open about his cannabis use since the beginning of his career. First and foremost, references to marijuana are spread all throughout his music, from older tracks like Gin And Juice all the way to newer hits like This Weed Iz Mine (ft Wiz Khalifa).
Snoop Dogg openly smokes cannabis during interviews. He has appeared smoking on Tim Westwood TV (BBC Radio 1), Huffington Post Live, and countless other interviews on his own channel westfesttv.
Snoop Dogg has smoked with countless other cannabis celebrities including Seth Rogen, Wiz Khalifa, Nick Diaz, B Real, and Willie Nelson. In fact, Nelson and Snoop consider each other good friends and have smoked together on numerous occasions.
In 2016 an interview published on The Weed Channel, Snoop Dogg claims he smoked over 81 cannabis blunts per day (you sure, Snoop?). However, Snoop is known to give up the herb for at least 3 months every year when he coaches youth football.
In an interview on Complex, Snoop admitted to being caught out for smelling like weed during practice one day, which encouraged him to lay off the weed at least while he trained.[1]
"I went to practice high one day and one of the kids said, 'Coach, you smell like my mama's boyfriend,'" Snoop Dogg said.
"And I had to check myself. I stopped smoking from that day for 180 days straight. And it made me a better coach, a better person, and I stopped smoking when I was coaching football. So every year when I coach football around the kids, I don't smoke, so that's three months out of the year that I do that."
Snoop's preferred way of smoking are blunts, which he was introduced to by fellow hip hop legend Tupac Shakur. The two apparently met at at a party for the film Poetic Justice in roughly 1994. That was also the night Snoop smoked his first blunt.
When the two rappers crossed they engaged in a sort of freestyle rap battle, according to filmmaker Michael Rapaport. After the intense battle both Snoop and Tupac headed outside of the venue. The were accompanied by Laylaw from Above The Law (a hip hop group from Pomona, California), who introduced the two.
"Laylaw breaks open a blunt and puts weed in it. Tupac does the same thing… I got my Zig Zag and I roll up a Zig Zag. We all blaze up, we all smoking our own shit for about 10 minutes.. It was still tense… Then I passed Pac my joint, he took it and passed me his blunt, and I was like 'what is this?'" explained Snoop in a segment of the Double G News Network.
In 2015 Snoop Dogg finally turned his love for cannabis into a business. In April he launched Eaze, a delivery service that promises to delivery cannabis to your door in under 10 minutes.
In October he also launched Merry Jane, a digital news media provider focusing on marijuana-related news. Then in November he launched Leafs By Snoop, his very own line of cannabis products, including flowers, concentrates, and edibles.
In an interview following his role in the TV Show Weeds, Snoop was asked to come up with as many names for weed as possible. Here are some of his top names for bud:
blue carpet treatment
purple kush
barney
green
blueberry
raspberry
belvedere
shticky
icky icky
oohway
Go Snoop!
---