Marijuana VIP: Woody Harrelson
---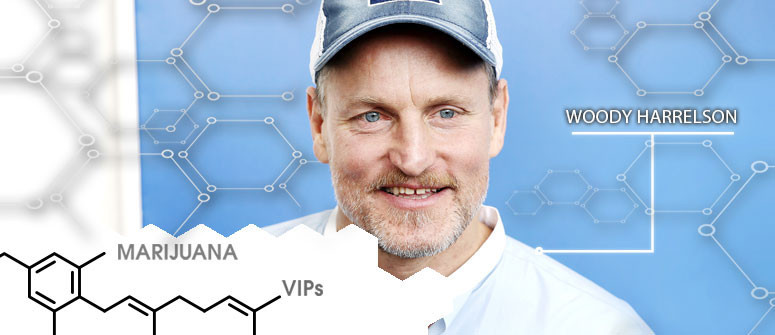 Woody Harrelson is well known for his acting success, yet he is also involved in cannabis reform and even tried to open a marijuana dispensary.
Woody Harrelson is best known for his acting rolls in films such as The Hunger Games and Zombieland. But many people don't know that he is also active in the domain of cannabis reform and legalization.
Woody Harrelson has made quite a mark in the world of the entertainment. Harrelson is known for his work as an actor, playwright, and activist and has seen immense success on both the big and small screen.
Harrelson was born in 1961 and went on to receive a degree in theatre arts and English from Hanover College.
The actor started out his career in the New York Theatre and then entered more mainstream media when being cast as the character Woody in the TV series "Cheers" that aired in 1982. This role turned out to be a breakthrough for Harrelson and kick started what turned out to be an extremely fruitful and successful career.
Harrelson has since appeared in movies such as Zombieland, 2012, Friends with Benefits, and The Hunger Games.
Other big film titled that have been graced by Harrelson's acting presence include The cowboy way, Now you see me, A prairie home companion, and War for the Planet of the Apes.
Harrelson also played a key role as Carson wells in the Oscar Winning 2007 crime-thriller No country for Old Men. The film won awards for both Best Picture and Best Director, and Harrelson won a Screen Actors Guild Award for Best Cast.
Harrelson also received a nomination for the Primetime Emmy Award For Outstanding Lead Actor in a Drama Series in 2014 for his role as Detective Martin Hart in the pilot season of the HBO crime drama True Detective.
Harrelson was also nominated for the Academy Awards for Best Actor and Best Supporting Actor in titles The People vs Larry Flint and The Messenger.
WOODY HARRELSON AND HIS MARCH FOR LEGALIZATION
Harrelson isn't only known for his acting abilities and career success. He is also an outspoken supporter of cannabis and an activist in terms of progressive drug reform.
He is certainly not a newcomer to the cause, in fact he could even be called a veteran as in 1996 Harrelson was actually arrested for staging a protest in the state of Kentucky. Harrelson turned up along with a camera crew and his attorney and proceeded to ceremonially plant 4 hemp seeds into the Earth.
The reasoning behind this action was to demonstrate that the laws of the state of Kentucky made no distinction between psychoactive cannabis plants and non-psychoactive industrial hemp plants.
Harrelson's actions were intended to highlight these apparent illogical laws, and to shine attention onto the to fact that hemp is not psychoactive and is in fact a highly industrial crop that can be used to produce fibre, paper, food, building materials and even fuel. Struggling farmers in the region could use the plant as an effective cash crop.
After planting only 4 hemp seeds, Harrelson was arrested and charged with misdemeanour possession. The state of Kentucky claimed that the similarity of hemp to cannabis put a large burden on law enforcement teams seeking to put an end to the cannabis black market operating within the territory.
The so-called crime that Harrelson had committed was punishable by a hefty $500 fine and up to a year in prison. However, after a one-day trial, Harrelson was acquitted by a six-person jury. Harrelson's attorney stated, "I think this demonstrates that at least six people disagree with our Supreme Court about what the law should be".
He went on commenting that "Several jurors commented afterwards that they thought the law was absurd", adding, "But for now, at least, hemp is illegal under state law."
ADVISORY BOARD MEMBER OF NORML
As well as playing a role in exposing absurd hemp laws, Harrelson became a member of the Advisory Board of NORML, an organisation working to reform marijuana laws.
Advisory board members of NORML lend their name to the organisation to add credibility to the organisation and to create opportunities to spread their message into the public sphere. Other members of the board include Willie Nelson, Tommy Chong, and Bill Maher.
MEDICAL MARIJUANA DISPENSARY ATTEMPT
During 2016 Harrelson was among 66 recipients that attempted to gain medical marijuana dispensary licenses within the state of Hawaii. Unfortunately, Harrelson's bid was rejected.
Although some sources claimed that Woody had stopped smoking pot, in other interviews he said that marijuana does not necessarily have to be smoked in order to be consumed.
Right on. Go Woody!
---