Marijuana VIP: Tommy Chong
---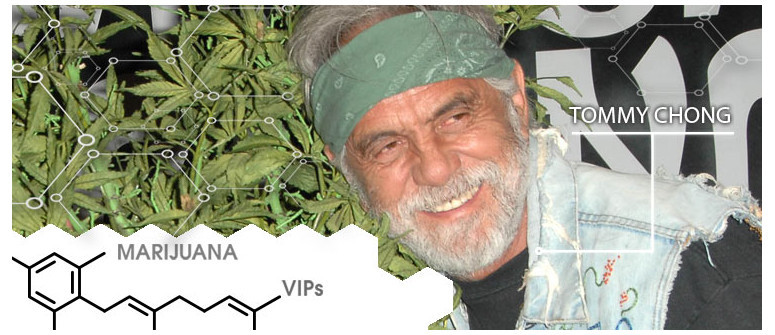 One of the most famous marijuana VIPs is Tommy Chong. Click here for an in-depth look at Tommy, his life, career, and deep connection to cannabis.
Tommy Chong is one of the most iconic members of the cannabis community, both as a performer and an activist. From his role in the infamous 1978 film Up In Smoke, to his new line of cannabis products, Chong has always been an open player in the community and industry, and has inspired thousands of cannabis users around the world.
EARLY LIFE
Tommy Chong was born in Edmonton, Canada, in 1938 to a Chinese father and Scots-Irish mother. His family moved to Calgary when he was a child and lived in an area Tommy often refers to as "the Dogpatch" because it was "outside the building inspectors' route." Even though Tommy was a smart kid, he dropped out of high school at the age of 16.
MUSIC
While Tommy Chong is probably best known for his work with Cheech Marin as the comedy duo Cheech and Chong (which we'll get into in a second), his career first started out in music.
He started playing guitar at age 11 and by 16 was readily playing in various bands. By the time he was 18, he went on to form The Shades, often cited as Canada's first R&B band. The band later changed its name to Little Daddy and The Bachelors and enjoyed popularity across Canada for about 7 years.
In 1963, Chong and a fellow band member opened a nightclub in an old movie theatre in Vancouver which would later come to bring the Ike and Tina Turner Revue to the city for the first time.
In the late 60s, Chong formed a soul/motown band called Bobby Taylor and the Vancouvers. The band's lead singer and frontman, Bobby Taylor, is often credited for discovering The Jackson 5 while on tour with his band.
In 1968, Bobby Taylor and the Vancouvers found success with a track called "Does Your Mama Know About Me," which made it to #29 on the US pop chart and #5 on the US R&B chart. Chong is credited for writing the song.
The band broke up shortly after this due to problems between some of the members and one of their producers. Chong tried to suggest changes to the band's lineup and contract to no avail. Shortly after, Chong met Richard "Cheech" Marin, which marked the beginning of his long and successful career as part of Cheech and Chong.
CHEECH AND CHONG
Cheech and Chong is easily one of Tommy Chong's biggest achievements. The comedy duo achieved widespread success throughout the '70s and '80s for their wide array of stand up routines, comedy albums, and films.
Tommy Chong and Richard "Cheech" Marin met in 1969 in Vancouver, British Columbia. Chong was living there at the time, while Marin moved there from Southern California in order to escape the Vietnam War draft.
They quickly began performing stand up routines and recording some of their music, all of which was centred around the satire of drugs, and hippie counterculture. Some of their best-known comedy routines and songs include "Earache My Eye," "Basketball Jones," and "Santa Claus and His Old Lady."
They recorded a total of 7 gold comedy albums, including the 1974 Grammy winner Los Cochinos. They also starred in 7 films, most of which Chong co-wrote and/or directed. Arguably their most successful work is their 1978 movie Up In Smoke, which is still considered a classic stoner film to this day, grossing over $100 million to date.
In 1984, the duo tried to move away from their "stoner comedy" with The Corsican Brothers, a parody of various film adaptations of the Alexandre Dumas novel by the same way. Unfortunately, the movie was not well received by critics.
In 1985, Cheech and Chong released an album titled Get Out Of My Room, which featured their hit song "Born In East LA." Immediately after the release, they split up and Marin began working towards his own solo career.
There was a lot of mystery surrounding the break up between Cheech and Chong. However, in his new book titled Cheech Is Not My Real Name… But Don't Call Me Chong, Cheech Marin shed some light on what actually happened between the two.
While, contrary to popular belief, Marin acknowledges that the relationship he shared with Chong was always a "love-hate" one, he claims things really started becoming difficult after the release of Up In Smoke.
He claims that Tommy had begun developing a big ego and demonstrating megalomania. "At some point, Chong decided that he would be the star director and that everything was his idea. It got to the point where I had to tell him that something was his idea or it wouldn't get done.," writes Marin.
At some point, Chong decided he no longer wanted to write with Cheech, and opted to write with his sister-in-law's boyfriend. Cheech slowly began to get sick of the same old "stoner comedy" routine that focused solely on sex and drugs.
By 1985, shrinking box office numbers had made it obvious that the audience had also moved on. Marin used this time to bail on the act and, after mourning the end of Cheech and Chong, began working towards his own acting career.
After the break up Tommy Chong appeared in a variety of shows and programs, including That '70s Show. In 2004, a documentary about his life, titled a/k/a Tommy Chong premiered at the Toronto International Film Festival. He also released a biography, titled I Chong: Meditations From the Joint in 2006, which touched heavily on his time in jail following legal issues which are explored further down in this article.
The two reunited in the early 1990s and began working and appearing together in different films and television series. In 2004, rumours went around of a reunion film titled Grumpy Old Stoners, but the film was cancelled in 2005. In 2008, the two successfully reunited for the Light Up America comedy tour and have since appeared together for numerous performances.
🤣🤣🤣 pic.twitter.com/VgdfEtgKuc

— Tommy Chong (@tommychong) February 28, 2022
TOMMY CHONG AND SHELBY
Since 1996, Tommy Chong's main partner and crime is his wife, Shelby Chong, who has acted in various Cheech and Chong films and has her own comedy routines. She Accompanied Chong at most of his performances between the 90s and 2000, and also appeared as a supporting act at Cheech and Chong shows following the reunion.
CHONG CANCER, AND WEED
Chong surprisingly started using marijuana when he was already 17 and living in Vancouver as a musician. One of his friends, a jazz musician by the name Raymond, came back from Los Angeles and handed Tommy a joint and a Lenny Bruce record.
"That changed my life. I don't know, maybe instinct or what, but I smoked a little toke and put it out. That joint lasted me a month," said Chong in an interview with High Times.
His first introduction to weed was the beginning of a long love affair which led him to become the star of the most renowned brand of stoner comedy ever. Hence, it comes as no surprise that at his current age he is still an avid cannabis user and activist.
Chong is a big critic of the government and its outdated prohibitionist marijuana policies. When Washington DC legalized recreational cannabis use but still hadn't legalized sales or cultivation, Tommy responded by calling it a "money game" designed to self-serve the government and keep the public distracted.
While Chong definitely seems like a heavyweight smoker, he has openly admitted to being a lightweight. He has said that, contrary to popular belief, he doesn't smoke on a daily basis. He is a huge believer in medical marijuana, and regularly hands out weed to his friends.
"I've got so much weed in the house now, I could start a dispensary. In fact, I am a dispensary to a lot of my friends – medically speaking, too, because I'm a big believer in the medical benefits of marijuana," he said in an interview.
Tommy has had the opportunity to smoke with a lot of famous celebrities, including legendary jazz guitarist Wes Montgomery. He has also smoked with Jimi Hendrix, although he stated that Hendrix wouldn't smoke and spent most of the night nodding off in the bathroom while on heroin. Chong also got high with George Harrison and in the presence of other famous musicians, including John Lennon, Ringo Starr, Rod Stewart, and countless others.
He also met Sly Stone, from the legendary funk group Sly and The Family Stone who, together with Hendrix, convinced him to stay away from harder substances.
"Sly had a band and we crossed paths in San Francisco, but I saw what cocaine did to him, so I stayed away from it and heroin. But I got totally involved in the marijuana, and here I am today, 76 years old, kicking butt on Dancing With the Stars. And that's all because of my weight-training and pot use," he said in 2015 in an interview with Rolling Stone.
Chong is a member of the NORML (National Organization for the Reform of Marijuana Laws) advisory board. Advisory board members not only help legitimise NORML's mission and help to empower responsible cannabis users, but they also appear in new advertising campaigns, urge support for particular pieces of legislation, and much more.
In an interview with ATTN, Chong summed up his views on cannabis in a very simple way:
"All marijuana use is medical… One of the greatest things to me about pot is that it makes you sit and do nothing… And so many people on this planet, if they would just sit down and do nothing for a while, it would be a better place to live."
In 2012, Chong announced that he had been diagnosed with prostate cancer, which he effectively fought off using hemp oil. However, in 2015, Chong stated that he had contracted colon cancer and was "using cannabis like crazy" in order to endure the treatment.
Tommy Chong regularly attends cannabis festivals and protests, including the Cannabis Cup, The Hash Bash, and many more. In 2016, Chong also launched his own brand of cannabis products, including oils, flowers, vaporizers, and more.
LEGAL TROUBLES
In 2003, Chong was involved in two American investigations, which aimed to trace drug traffic through paraphernalia businesses. Chong was charged for his part in financing and promoting Chong Glass/Nice Dreams, a company started by his son. He was sentenced to 9 months in federal prison and roughly $120,000 in fines.
There was controversy around Chong's sentence, mainly because other first-time offenders didn't receive jail sentences, leading some people to think that Chong had been treated unfairly.
In 2008, in a raid on Spectrum labs, Chong claimed federal agents seized copies of the unreleased a/k/a Tommy Chong film. The attorney for the agents claimed that this was not true, and that the government was not required to provide any further information on the case as it formed part of an ongoing investigation.
Tommy Chong claims that jail time only made him a better man and it seems it has made him only work harder to get marijuana legalized. Go Tommy!
---