Marijuana VIP: Willie Nelson
---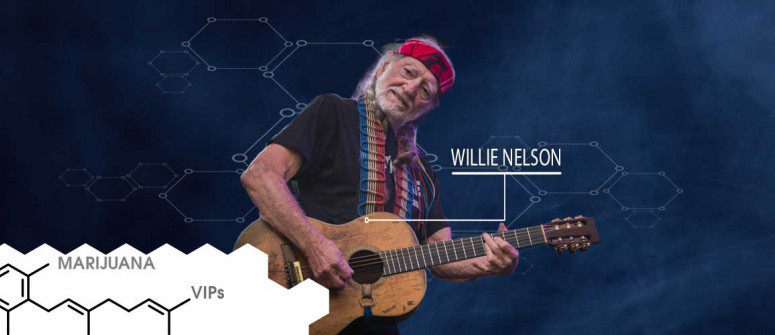 Willie Nelson is an iconic country star and a renowned activist for cannabis. Read more about Willie Nelson and his passion for weed.
The cannabis world is full of celebrities, but few compare to the legendary Willie Nelson. Renowned as one of the most successful country music stars of all time and an icon of the Outlaw Country scene, Willie is also famous for his love of weed.
Despite having been arrested for cannabis possession on numerous occasions, Willie shows no signs of stopping. In fact, he's even smoked with Snoop Dogg, on the roof of The White House, and even launched his very own brand of top-shelf pot products.
A BRIEF HISTORY ON WILLIE NELSON
Willie Nelson was born in Abbott, Texas, during the Great depression of the 1930s. He and his sister, Bobbie, were raised by his grandparents who encouraged both of them to play musical instruments.
Willie picked up the guitar and already began writing his own songs by the time he was 7. By the time he was 10, he was already playing in his first band. Soon after, Willie and Bobbie would join Bud Fletcher in his band, for which Willie served as the frontman.
After graduating from high school, Willie landed a job as a country DJ at Fort Worth's KCNC in 1954. He was still playing in local bars and honky tonks, until deciding to make his first recordings in 1956. He moved to Vancouver, Washington, and recorded his first song "No Place For Me" and Leon Payne's "Lumberjack." The record quickly got some airplay and sold over 3,000 copies, but wasn't enough to earn Willie any long-term attention.
He found work at a local radio station and continued playing in local venues. He eventually ran into financial troubles, seeing that his station wouldn't afford him a raise. Due to this, he moved to Houston, Texas, and sold one of his new singles, "Family Bible" for $50. The song was re-recorded by Claude Gray and reached number seven on Billboard's Hot Country Singles in 1960.
Willie then moved to Nashville, Tennessee, where he enjoyed recognition for writing the song. He continued recording demos and, due to the help of fellow country music singer Hank Cochran, landed a publishing contract with Pamper Music. The founders of the label recorded some of Willie's tunes, including "Night Life" and "Hello Walls," and Willie soon joined Ray Price's touring band, The Cherokee Cowboys, as a bass player.
During his time with the Cherokee Cowboys, people began picking up on Willie's unique songwriting ability, and his songs went on to become hits for a variety of other artists, including Billy Walker, Roy Orbison, and Patsy Cline. After meeting Cline, Willie played her husband a demo tape of "Crazy." After hearing the tape from her husband, Cline decided to record "Crazy," which would go on to become the biggest jukebox hit of all time.
In 1961, Willie signed with Liberty Records. His first 2 successful singles were "Willingly" and "Touch Me." By 1962, he released his first album, titled And Then I Wrote. He left his place at Pamper Music in 1963 as it didn't give him enough time to play music, but was soonafter signed by Monument Records in 1964.
He soon signed another contract with RCA Victor and released a new album titled Country Willie - His Own Songs, which featured tracks like "Funny How Time Slips Away," "Mr Record Man," and more. Over the next few years, he'd release a few successful tracks, including "One in a Row," "The Party's Over," and a cover of "Bring Me Sunshine."
Willie found his success from the 1970s on after moving to Austin, Texas, and joining the hippie music scene that was thriving there. He signed with Atlantic Records and, by 1973, was already recording his iconic record Shotgun Willie. While the album didn't sell well, it got excellent reviews, and is often cited as a major turning point in Willie's career, leading him to adopt a new musical style.
In 1974, he released Phases and Stages, a concept album about a divorce which was inspired by his own experiences. The album included the hit single "Bloody Mary Morning." Willie moved on to Columbia Records, where he'd finally release one of his biggest successes of all time, Red Headed Stranger, in 1975.
From there, Willie would go on to become an all-time classic country idol. Since the release of Red Headed Stranger in 1975, Willie has released over 50 studio albums, countless singles and live records, and much more.
However, Willie's career goes far beyond just country music. He has acted in over 30 films, co-authored several books, and become renowned for his activism on a number of issues, including the use of biofuels and the legalization of cannabis.
WILLIE AND WEED
Willie Nelson is a renowned supporter of the legalization of marijuana. He is a co-chair of the National Organization for the Reform of Marijuana Laws (NORML) advisory board, and has helped the organization fight for cannabis legalization for years. He was arrested for possession in 2010, after which he also formed the TeaPot Party, which adopted the motto "tax it, regulate it and legalize it."
Willie first experimented with cannabis when he was around 19 or 20 years old while he was still playing small local shows in Fort Worth. Since then, he's never looked back.
Today, Willie has openly admitted to smoking on a daily basis. He has also had the chance to light up with countless celebrities, including hip-hop legend Snoop Dogg, who he considers a "real good friend." In fact, Snoop Dogg has admitted that Willie managed to smoke him under the table as well as beat him at dominoes.
Most famously, Willie smoked cannabis on the roof of the White House with the son of former US president Jimmy Carter. With a beer in one hand and a "fat Austin Torpedo in the other," Willie recalls feeling like he was at "the center of the world."
Cannabis has always been a central part of Willie's life, despite having faced some minor legal troubles for possession in the past. In 2015, Willie even launched his own brand of cannabis and cannabis gear called Willie's Reserve. His products include flower, pre rolls, edibles, and vape equipment, and are available in US states like Washington and Colorado.
"I will make sure it's good or it won't be on sale," Willie told the Rolling Stone about the launch of his products. "I feel like I bought so much, it's time to start selling it back," he said.
Willie has openly shared his views about cannabis on countless media formats, arguing its only a matter of time before it is legal all across the US and eventually the world
He acknowledges that society had to overcome a strong fear of weed introduced by government propaganda like the Reefer Madness campaigns of the 30s and other types of misinformation.
However, Willie is optimistic that this will all change. "I think people are getting educated, and they're concerned about what they eat, what they drink, what they smoke," he has said in previous interviews. "I like to think we're getting a little bit smarter."
---