Marijuana VIP: Morgan Freeman
---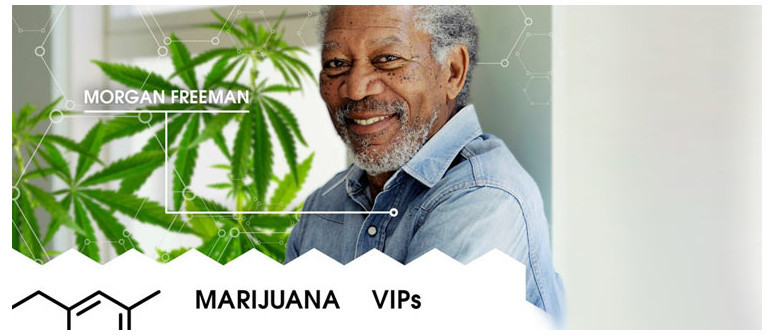 Morgan Freeman is known primarily for his award-winning film work. However the African American activist links civil rights and cannabis activism frequently.
Morgan Freeman is a well-known actor and activist for cannabis. His own background and experiences serve as rich experiences for the same. He frequently also lends his voice to the cause.
Morgan Freeman is an Academy Award-winning actor. He has also been a long-time cannabis advocate. The journey from birth to here has also been astounding one. Born into a humble background in the pre-segregation American South, he has become a leading actor in Hollywood. He is also a well-known human rights activist.
Many of his roles have also incorporated aspects of his life and journey – including his latest flicks. These intertwine the financial issues of aging and of course brief quips about marijuana as a medical cure in "5 Flights Up".
As his one of his favourite sayings incorporates, "The best way to guarantee a loss is to quit." He has certainly never done that. He is still a prolific screen presence.
WHO IS MORGAN FREEMAN?
While today a well-known actor, Freeman comes from a world far removed from Hollywood. He was born in the pre-civil rights south on June 1, 1937. His mother was a teacher, his father a barber who died by the time Freeman was in his early twenties. However he was mostly raised by his grandmother. Both his parents had to migrate north to Chicago to find regular work. He too had to move north when his grandmother died.
That said, his love of acting and showmanship has always been a core character trait. He made his acting debut at the age of 9. At the age of 12, he won a statewide drama competition. This allowed him to perform on a radio show in Nashville.
Movies were always a passion for Freeman, even as a young boy. However he turned down a partial drama scholarship for the Air Force with dreams of being a fighter pilot. When that did not work out, he worked as a radar repairman until the end of his four years.
He then moved out to California. He lived in Los Angeles and San Francisco following his old passion once again. The journey was not easy. He took acting lessons. He also found work in California and in New York in many varied jobs. This included everything from a records clerk to dancer.
By the late 60's, he began to break into live theatre in New York. His first credited film appearance was in 1971 with "Who Says I Cannot Ride A Rainbow?" He also appeared on TV, including children's programming of the day.
His big screen presence began to assert itself in the 80's.
CAREER HIGHLIGHTS AND ACCOMPLISHMENTS
Most people know Freeman from his big screen roles. These include Driving Ms. Daisy. He also played Sergeant Major Rawlins in Glory. However his major breakthrough came in 1994 for The Shawshank Redemption.
He has been nominated for Academy Awards five times as well as five Golden Globes. He finally won an Academy Award for Best Supporting Actor in Million Dollar Baby at the 77th Academy Awards.
Freeman has also always had an active career far from the big screen. His deep, melodious baritone has led to a great deal of voice-over work for both film and commercial work. He has also moved into executive producing.
His best work always has a deeply resonant social theme. Certainly the movies he is best known for are seminal films in every genre on certain topics. When it comes to race, for example, he has been involved in several films where this is a central theme.
MORGAN FREEMAN AND CANNABIS
Freeman was born in a place and time that was highly segregated, which led to early activism and support of South African freedom in the 1980's. As an outspoken advocate for civil rights, Freeman has taken on the cannabis legalization issue as a personal one.
In the United States, in particular, the drug war and racism, along with police violence has long been intertwined. Freeman for one has never shirked this connection. In fact, he has often been a vocal critic of American drug laws for their racial impact.
Freeman has stepped boldly into this discussion and has made many direct comments to the media about police violence. However, especially since the turn of the century, Freeman has been a vocal advocate for legalization.
When it comes to personal use? Freeman has used the drug since a severe car accident in 1997 and he has been a long proponent of full cannabis legalization.
Although busy with an enviable career, Freeman is lending his name to the cause. These days, that famous baritone of his is being put directly to the cause. He is narrating specials and doing interviews about why he thinks marijuana should be federally legal and available to all.
His voice is especially important. Why? He is an African American role model who has both succeeded financially and professionally as well as personally who also "uses drugs." And further does so in a way that promotes not only his health but also his career. He is still a prolific worker and performer who we should thank for his contribution to legalization. Go Morgan!
---