Marijuana VIP: Arnold Schwarzenegger
---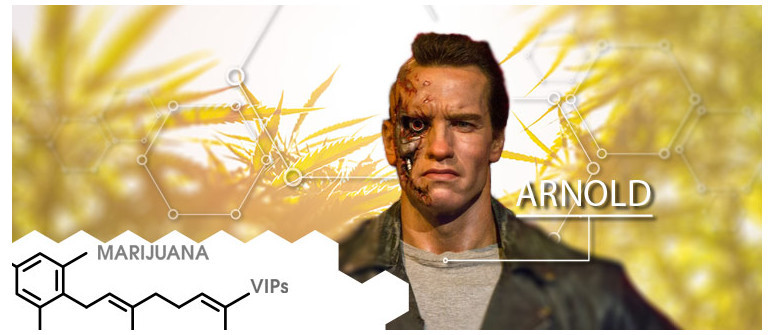 Arnold Schwarzenegger, best known as the Terminator, has been a cannabis supporter for decades. Did you know Arnold played a big role in California's cannabis reform?
Many people around the world know the name Arnold Schwarzenegger, the international action hero, the Terminator, successful businessman, world champion bodybuilder, best-selling author, philanthropist, and more recently, the 38th Governor of the Golden State of California.
However, what people may not know is that Arnold Schwarzenegger is a trailblazing pioneer of America's marijuana legalization movement.
EARLY LIFE AND CAREER
Arnold Schwarzenegger was born in 1947 in Thal, Austria. He was a world champion bodybuilder by the time he was 20, and the youngest individual in history to win the Mr. Universe contest.
His celebrity as a bodybuilder gave him the means to emigrate to the United States in early 1968. After winning multiple Mr. Olympia and Mr. Universe titles, Arnold earned his college degree from the University of Wisconsin and became an American citizen.
FURTHER ACHIEVEMENTS & GOVERNORSHIP
The stars continued to align for Arnold, and in 1977 his role in Stay Hungry earned him the recognition of the Hollywood Foreign Press Association, who honored Mr. Schwarzenegger with a Golden Globe for New Male Star of the Year.
However, It was in 1982 that his big break came, when he starred in the international box office hit Conan The Barbarian. Two years later, Arnold cemented his place in Hollywood history by bringing to life the now iconic Terminator, directed by the legendary James Cameron. To date, Schwarzenegger films have grossed 1.7 billion dollars worldwide.
If that's not enough, in 2003, Arnold Schwarzenegger solidified his place in American history by becoming the 38th Governor of California, where he was invested in such policies as fighting global warming, overhauling the state's workers' compensation system, and improving the state's aging infrastructure. Furthermore, he introduced legislation that laid the groundwork for legalization of medical marijuana in California.
ARNOLD AS A MARIJUANA SUPPORTER
Arnold Schwarzenegger may be one of the most notable advocates for the legalization of marijuana. Since his beginnings as a bodybuilder right on through his governorship, Arnold has never once apologized for smoking marijuana.
In fact, he was responsible for much of the legislation that opened the doors to reform. As governor, he reduced sentencing for less than an ounce of cannabis from a misdemeanour to an infraction.
"I am signing this measure because possession of less than an ounce of marijuana is an infraction in everything but name," Schwarzenegger wrote in a message released after he signed the bill.
Arnold himself has openly admitted to smoking pot and has helped to shine a more positive light on the substance. For example, to celebrate winning the Mr. Olympia contest in 1975, Arnold can be seen smoking a joint and eating fried chicken in the now-classic documentary Pumping Iron. Moreover, in 2010 while appearing on the Jay Leno show, Arnold told the host:
"No one cares if you smoke a joint or not."
By normalizing cannabis use, advocating for its general safety, and reducing the criminal penalties of possession, former Governor Arnold Schwarzenegger is well-deserving of the title "Marijuana VIP."
Go, Arnold!
---