Marijuana VIP: Whoopi Goldberg
---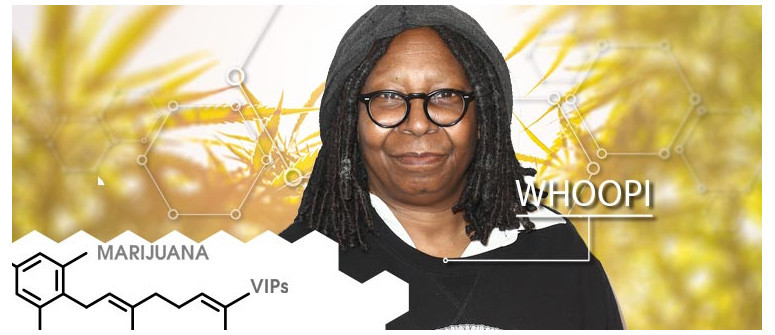 We take a look at the Broadway, TV, and movie star Whoopi Goldberg, exploring how she turned a legendary entertainment career into a successful medical cannabis business.
Many people only know her from a few bigger roles, such as her comedic role in Sister Act, but Whoopi Goldberg comes with a list of awards longer than many of us could dream of. An American actress, comedian, author, TV host, entrepreneur and activist, it seems Goldberg can turn her hand to anything.
When we refer to anything, that even includes cannabis; Goldberg actually owns her own medical marijuana business. A household name for many, Goldberg believes cannabis can provide much-needed help for anyone willing to try. How does a multi-award-winning actress become the head of her own weed business?
THE RISE OF WHOOPI GOLDBERG
Goldberg's humble beginnings could not be any further from the situation she now finds herself in. Born Caryn Elaine Johnson in New York, November 13th, 1955, the origins of her professional name Whoopi provide some insight into the actress and comedian's bright future.
"If you get a little gassy, you've got to let it go; you're like a whoopee cushion," a self-proclaimed revelation by Goldberg herself. This candid and down to earth attitude would be seen throughout many of her roles, not to mention the myriad jobs she had before breaking through as an actress. Those included working as a bank teller, a mortuary cosmetologist, and a bricklayer, to name but a few.
CAREER HIGHLIGHTS AND FINEST ACHIEVEMENTS
Goldberg's breakthrough would come as a result of catching acclaimed director Steven Spielberg's eye in a role where she acted out character monologues. The self-titled show ran on Broadway for over 150 performances. Spielberg then offered Goldberg a lead role in "The Color Purple", a motion picture met with critical and commercial success.
With such an expansive career, it can be difficult to pinpoint Goldberg's most significant successes.
Undoubtedly, a highlight is the numerous awards she has not only been nominated for, but won. Having won an Emmy Award, Golden Globe, Grammy Award, Academy Award, and a Tony Award—for some, that is multiple careers worth of highlights. Alongside those awards run some of her most famous roles. Having already alluded to her role in Sister Act, she is also famous for The Lion King and How Stella Got Her Groove Back, among others.
THE LINK BETWEEN WHOOPI AND CANNABIS
Goldberg is a sufferer of glaucoma, a condition that applies intense pressure on the eyeball. She found that cannabis could offer the relief she so dearly craved. Using a vaporizer pen aptly titled "Sippy," she uses vaping as a discreet means of dealing with her severe headaches.
During several interviews on TV and other public appearances, Goldberg has advocated for the medical use of cannabis from her own experiences, explaining that it has numerous applications to improve people's lives—especially if they want to avoid over the counter pills or opioid medications.
RUNNING HER OWN CANNABIS BUSINESS
This desire to help others would become a fully fledged company, providing medical marijuana in the state of California. Running under the name Whoopi & Maya, the collaboration between Goldberg and award-winning edibles expert Maya Elisabeth aims to offer relief for women suffering from menstrual pain. The lines offered include: cannabis edibles, creams, and tinctures.
The laws and regulations surrounding cannabis are not straightforward. While legal in some states, it is still classified as a Schedule 1 drug under federal law. Whoopi & Maya have plans to expand out of California into Colorado and maybe even further.
LOOKING TO THE FUTURE
Goldberg represents a growing number of famous faces who are using their power and influence to help shape the cannabis industry. This isn't solely for their gain, but is also clearly driven by a desire to help others benefit from all that cannabis has to offer.
Continuing to push forward with expanding the Whoopi & Maya brand, Goldberg has recently advocated for the use of non-psychoactive medical marijuana for children.
Drawing on her own experiences, combined with a humble and down to earth personality, Whoopi Goldberg is set to change the cannabis industry with the same impact she had on Hollywood. Go Whoopi!
---