Marijuana VIP: Rihanna
---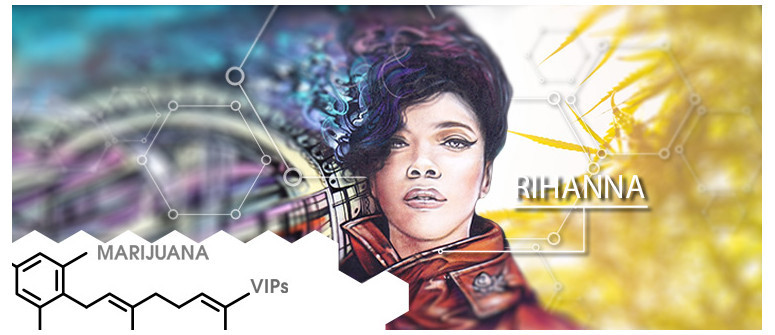 Most people only know her music, but Rihanna's outspoken voice and celebrity status are a powerful force towards the fight to legalize marijuana. She is definitely a lady we would like to have a smoke with.
Pop singer Rihanna may have publicly announced that she is trying to slow down on her personal use of weed, but she has not wavered from continuing to promote the cannabis lifestyle.
The multi-talented diva has already been banned once from a hotel in Barbados after smoking the place out, but Rihanna is still happy to post pictures of her rolling and even smoking a tasty blunt. 
We definitely believe think Rihanna is one cool lady and therefore welcome her into our VIP list with open arms!
WHO IS RIHANNA?
Robyn Rihanna Fenty was born on the sunny island of Barbados on February 20, 1988. Despite reported drug abuse issues within her family growing up, Rihanna took lemons and turned them into lemonade.
She was very musical from a young age, and the future megastar landed a record deal in 2005, signing to Def Jam records and subsequently releasing her debut album, Music of The Sun. Selling over 2 million copies around the world, Rihanna has never looked back, releasing a steady stream of chart-topping hits.
Her parade of massive radio jams began in 2005 with "Pon de Replay", and continued through the aughts to the new decade with Billboard smash after Billboard smash; "Umbrella", "Unfaithful", "Disturbia", "SOS", "Diamonds", "We Found Love", and "Work", to just a few examples. Her unprecedented success also includes Grammy and MTV music video awards.
Rihanna has almost even successfully launched an acting career on the big screen and TV, appearing in the film Battleship and season five of Bates Motel, as well as a role in the 2018 spin-off Ocean's 8.
In 2013 Rihanna presented her first fashion collection and has ever-since received the bulk of attention for launching multiple clothing and cosmetic lines under her last name, Fenty. Fenty Beauty, Fenty x Puma, and Savage x Fenty have revolutionized the fashion market, with Rihanna releasing an unprecedented 40 shades of foundation to suit as many skin types as possible.
RIHANNA HEARTS CANNABIS
Weed has been a part of Rihanna's career since the early years when she was reported to have been banned from a Barbados hotel for smoking weed in 2010. Reportedly, the star was smoking in her room and accidentally set off the hotel's fire alarm system.
The press obviously loved this and got even more excited when the following year, Rihanna released her album Talk That Talk, which included a very provocative photo of Rihanna smoking a blunt. Her music video for "We Found Love" also featured Rihanna smoking with a Chris Brown look-alike.
From 2012–2014, Rihanna continued her public support of cannabis by reportedly rolling a blunt on her bodyguard's head at Coachella. And then there was that 2012 photoshoot in Hawaii where she was seen wearing a pink swimsuit and smoking a blunt. And of course, the infamous 2013 backstage photo-op smoking with Snoop Dogg and Warren G.
In 2014, sources from Rihanna's camp reported that the singer was cutting back on her daily smoking habit and was even trying to quit altogether. However, that same year, the popstar was spotted on the beach wearing a weed-themed swimsuit for 4/20. A 2015 rumor that Rihanna was launching her own cannabis product line turned out to be a false flag. Although we cannot attest to Rihanna's current smoking habits, pictures of her smoking a blunt at 2018's Coachella festival don't lie.
THE BOTTOM LINE
People can talk whatever they want, but Rihanna is cool. Like all of her ventures, Rihanna is able to successfully incorporate marijuana into her life without letting it hold her back.
While she may be trying to scale back on her party girl image and promote herself as the influential business woman she has become, her laid-back approach to life and weed make her a public figure worth looking up to.
At the end of the day, Rihanna's outspoken voice and celebrity status are a powerful force towards the fight to legalize marijuana, making her a notable Marijuana VIP in our book.
And say for yourself, wouldn't you like to share a joint with her?
Go RiRi!
---