Marijuana VIP: Wiz Khalifa
---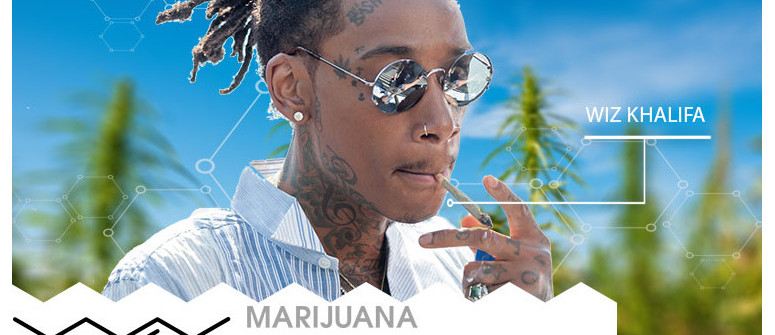 Get to know a little bit more about famed rapper Wiz Khalifa, and how he has become a key figure of the younger generation of cannabis-loving folks.
In today's pop culture, the name Wiz Khalifa is synonymous to two things: hip-hop music and marijuana. The young rapper had always been candid with his cannabis use, making him the figurehead of the magic herb for the current generation of hip-hop lovers, much like how Snoop Dogg was to Gen X-ers and older millennials.
Some say he could be considered the unofficial spokesman for young, cannabis-loving hip-hop aficionados across the globe.
WHO IS WIZ KHALIFA?
Born Cameron Jibril Thomaz in Minot, North Dakota, Khalifa was able to live in different parts of the world at a young age because of his parents' military service. Prior to his music career, he lived in countries such as Japan, Germany, and the United Kingdom, before returning to Pittsburgh for his high school years.
Like many in the hip-hop industry trying to launch their career, Khalifa began releasing his music through mixtapes, before he signed with Warner Bros. Records in 2007. This working relationship with the company only lasted for two years, but it helped pave the way for Khalifa to be noticed by the other big players in the business.
In the three years that followed his departure from Warner Bros., Khalifa was already enjoying some mainstream success through his hit single "Black and Yellow". From then on, he collaborated with other music giants such as Miley Cyrus, Snoop Dogg, and performed with the likes of A Tribe Called Quest and Lauryn Hill, just to name a few.
To date, Wiz Khalifa has produced a total of six studio albums and fifteen mixtapes, with his latest one "Rolling Papers 2" set for release soon.
THE 'KHALIFA KUSH'
Marijuana has been an integral part of Wiz Khalifa's life and overall image, to say the least. Many of his records have references to cannabis use, such as "Rolling Papers", "Grow Season", "Kush and Orange Juice" and "Bong Rips" just to name a few. In almost every television appearance he makes, there is a reference to smoking cannabis. And often, the rapper can be seen actually puffing on a joint on stage.
But since Khalifa's smoking days spanned from the pre-legalization era that many Americans enjoy now, he also had his run-ins with the law because of his love for the herb. In 2010, he was arrested in North Carolina for possession of marijuana, and it was believed to have been connected to his own previous declarations of having spent $10,000 a month on cannabis alone.
Things did eventually turn out well for Khalifa, who now has his own strain, which according to Wiz, he himself has personally developed. The "Khalifa Kush" also known as the "Wiz Khalifa OG" is a hybrid strain that somehow holds a mythical reputation among cannabis-lovers.
Many claim that the "real" Khalifa Kush strain is unavailable for public consumption, but there are those who have shared their experiences with the supposed strain, stating similarities with the famous OG Kush. The Khalifa Kush, according to those who have tried it, bears a sour lemon and pine flavor, and gives off an "active cerebral buzz" making it ideal for daytime use.
For people who do not have a deep understanding and appreciation for him and his music, Wiz Khalifa could easily be perceived as just another rapper whose songs are mainly about smoking weed and the decadent lifestyle. But for those who do, he stands as one of the most influential hip-hop artists today, who also has been a key figure in a big part of today's cannabis culture.
Go Wiz!
---