3 cannabis soup recipes to warm you up in wintertimes
---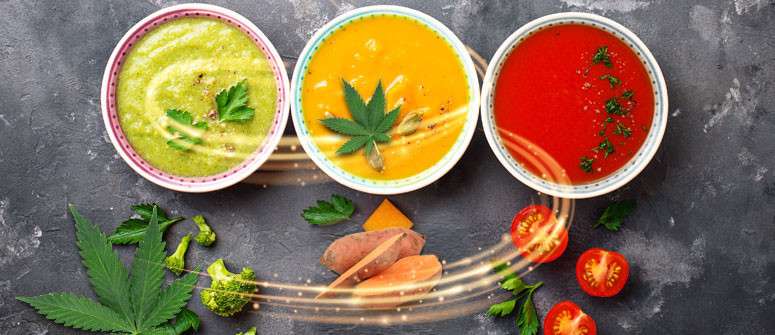 Cannabis soup is an excellent choice when it comes to staying warm and well this winter. As well as keeping you warm, it may also boost your immunity.
When leaves are turning yellow, the days become shorter and the temperature colder, you know that Jon Snow was right. Winter is coming.
This is the time of the year where it's always nice to treat oneself to a warming dish or beverage to soothe the soul and lift the spirits. Hot chocolate by the fire is usually a go to, but why not shake things up a bit with a bowl of cannabis soup?
As well as tasting incredible and keeping you warm, the cannabinoids within are associated with many positive health benefits.
A warm bowl of cannabis soup will hit the spot with mesmerising flavours and an uplifting and potentially motivating psychoactive high. What's more, we all know that winter is a season of coughs and colds, and it just so happens that cannabinoids found within cannabis have been shown to display anti-inflammatory effects and may very well positively impact the immune system.
Soup in general is an easy dish to make, and allows for a great deal of creativity and flexibility. For this reason, it is possible to add or subtract almost any ingredient when it comes to cannabis soup. However, these three recipes below will point you in the right direction.
The amount of cannabutter or canna oil used all comes down to personal preference, along with the potency. As cannabutter and canna oil are edible, it takes longer for them to kick in, and they result in a longer lasting and more potent high.
N.B. The following recipes are with estimated amounts of cannabis. Remember that edibles can hit harder then you expect, so feel free to judge the amounts according to your own experience. For more information, please inform yourself on how to calculate strength of edibles.
CREAM OF CANNABIS SOUP
The first one in our list of herbal soups is the delicious and hearty cream of cannabis recipe. This soup is fast and simple to make, requiring very little preparation and cooking time. To make it you will need the following:
Ingredients:
3 cups vegetable stock
1 cup chopped broccoli
¼ cup chopped red onion
1 cup sliced celery
1 tbsp. flour
2 cups heavy cream
2 cloves finely chopped garlic
Handful of chopped fresh coriander
Pinch of black pepper
Cannabutter
Preparation:
Place the vegetable stock into a pot and bring to a high heat. Add the chopped broccoli and cook for a period of 5 minutes.
Next, melt the cannabutter in a saucepan over medium heat and then lightly fry the onion, celery, and garlic for 3 minutes. Then, stir in the flour in order to create a thick mixture.
Now, add this mixture into the pot and turn the heat down to a simmer. Add the heavy cream and simmer the soup for 5 minutes.
Serve the soup right away into bowls and garnish with chopped coriander and black pepper.
CANNABIS TOMATO SOUP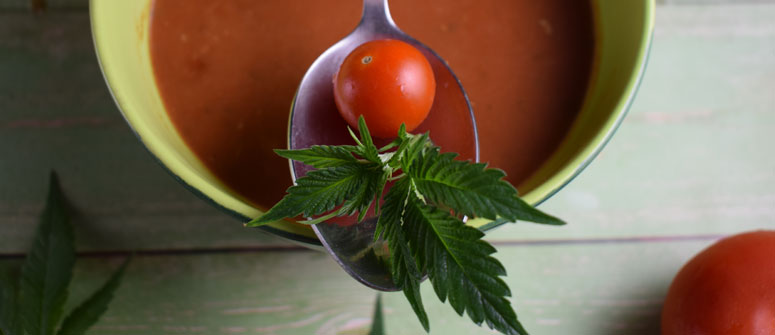 Cannabis tomato soup adds an Italian twist to a warming edible high. This soup goes down great at a dinner with some company, making an interesting and superb starter dish. For this reason, this recipe serves a total of 4 individuals.
Ingredients:
1.5kg/52oz of plum tomatoes, chopped into chunky pieces
The juice of half a lemon
3 cloves of garlic, finely chopped
2 tsp. of salt
½ tsp. of ground black pepper
½ red onion, chopped
3 tbsp. balsamic vinegar
1 handful of fresh coriander, chopped
2 tbsp. of Italian spice
1 handful fresh dill, chopped
2 handfuls of fresh cannabis leaves
2 tablespoons of crumbled feta
Cannabis infused olive oil
Preparation:
Begin by combining the chunks of plum tomatoes with the garlic, salt, pepper, lemon juice, and Italian spice. Allow this mixture to sit for around 1 hour.
Next up, place the above combination, balsamic vinegar, red onion, garlic and cannabis infused olive oil into the blender and process the ingredients until the mixture is mostly smooth.
Next, take the fresh cannabis leaves and place into a shallow pan. Pour around a centimetre of boiling water into the pan and the steam for around 3-5 minutes.
Pour the soup into four separate bowls and evenly divide the cannabis leaves on top on each. Garnish each bowl using the chopped dill, feta, and coriander.
GREEN CANNABIS SOUP
The green cannabis soup recipe is a delicious option that packs a carby punch and warms the body from the outside in. For this recipe you will need:
Ingredients:
2 carrots
1 red onion
3 cloves of garlic
2 leeks
½ purple cabbage
1 cup plum tomatoes
1 stalk celery
2 bell peppers
1 jalapeno pepper
3 tablespoons olive oil
Pinch of salt
Pinch of black pepper
2 sweet potatoes
2 tbsp. cannabutter
1 handful parsley, chopped
Preparation:
To begin, wash all the vegetables, peel them, and chop them up into the appropriate sizes.
Pour the olive oil and cannabutter into a large pot and turn the heat up to medium. Once the oil is heated, add the chopped vegetables and lightly fry for up to 10 minutes. Add the salt and pepper to taste.
Add enough water to fill up ¾ of the entire pot and bring it to a boil. Once at a rolling boil, bring the pot down to a simmer and leave it for at least 1 hour.
Serve the soup into bowls and garnish with the parsley.
Enjoy!
---