An introduction to cannabinoids and the endocannabinoid system
---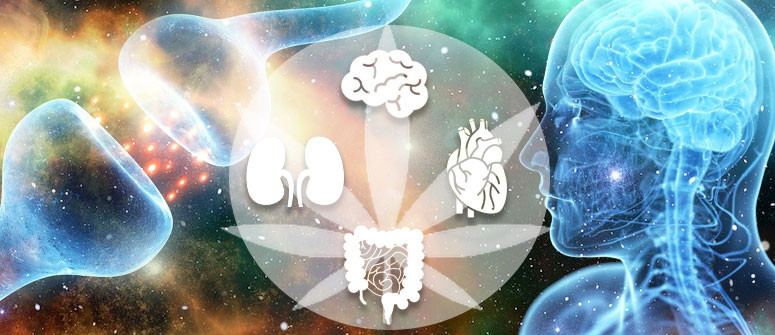 The endocannabinoid system of the human body not only creates its own cannabinoids, it helps process those consumed via the cannabis plant.
Cannabis contains 60+ chemicals called cannabinoids. Cannabinoids interact within a regulatory system called the endocannabinoid system. The ECS has receptors in the brain and the rest of the body. The ECS receptors help regulate basic metabolic functions. These include pain, pleasure, mood, digestion and motor control.
A functional ECS is also critical for good health.
The ECS evolved in mammals about 600 million years ago.
WHAT ARE ENDOCANNABINOIDS?
Endocannabinoids are chemical compounds made by the body itself. The body creates endocannabinoids with the help of fatty acids. Omega-3 fatty acids are especially important to this process.
When the ECS is disrupted, any of these processes can become unbalanced. When the body does not produce enough natural cannabinoids, people can become sick or feel pain.
Consuming cannabinoids is another way to kick-start these processes.
TWO KINDS OF RECEPTORS
The body has two kinds of natural cannabinoid receptors. These are called CB1 and CB2 receptors. CB1 receptors exist in the brain. CB2 receptors exist in the nervous system, gut and connective tissue.
It is not known if consuming external cannabis can help the body "grow" new receptors. However, consuming cannabinoids can certainly help the body better regulate itself.
CANNABINOIDS IN THE CANNABIS PLANT
There are many different cannabinoids found in the cannabis plant. THC and CBD are the best known and studied. Every cannabinoid works differently. THC seems to mimic natural endocannabinoids. CBD appears to make existing endocannabinoids work more effectively.
Research is beginning to create a roadmap of impact of cannabinoids. THC works better on pain, fatigue and asthma. CBD tends to work better on anxiety.
There are also conditions, which require a mix of many cannabinoids.
DOES IT MATTER HOW CANNABIS IS CONSUMED?
That is a very good question. It does not appear to matter for overall impact. Cannabinoids can be smoked, vaped, eaten or applied topically.
That said, many patients prefer to inhale cannabis rather than to eat it. Why? Because smoked THC works faster on certain kinds of symptoms.
Other users, however, prefer to eat their cannabis. Why? Because this kind of consumption takes longer to kick in but lasts longer.
DO RECREATIONAL USERS AND PATIENTS GET THE SAME IMPACT?
Yes and no. The answer to this question is hard to answer. Cannabis works the same way for everyone. However, the impact of the drug is different for everyone. External cannabinoids augment those, that are produced by the body. A sick person is not producing enough cannabinoids or using them efficiently. This also means, that patients do not experience the same "high" as recreational users.
This does not mean, that medical users cannot get high. However, many users report very different impacts and sensations.
Medical users might experience cannabinoids differently. This might be because of the health of their endocannabinoid processors.
WHAT IS THE DIFFERENCE BETWEEN NATURAL & SYNTHETIC CANNABIS?
This is another question mark at this point. However, there are many lines of inquiry about this issue now. Synthetic cannabis does not work as well as the "real thing". This is because of additional chemicals and oils found in the plant. These chemicals and essential oils give the plant its smell and flavour.
Called terpenes and flavonoids, such substances may also be the next frontier of cannabinoid research. Without them, medications made from cannabinoids seem to work less effectively. This includes all synthetics.
---