Cannabis terpenes: everything you need to know
---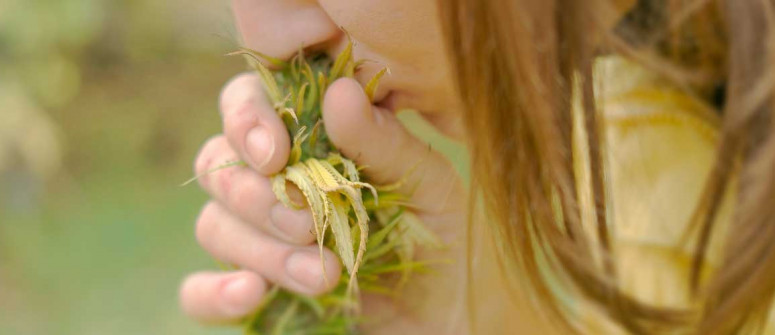 Last updated Published
Terpenes don't get nearly the amount of buzz they deserve, but without them, weed would be a boring, one-dimensional experience without all the subtle nuances that we all know and love. Choosing weed without a strong smell is like picking a bud with no active THC or CBD - it simply isn't done. Terpenes give pot its delectable aroma and can influence how it makes you feel.
If you study up on what each terpene can do, you might even be able to pick out the strain that's best for you on smell alone, or at least narrow down your choices.
Here's all you need to know about terpenes:
ALPHA-PINENE: SMELLS LIKE FRESH PINE TREES
If your weed envelopes you in a fresh, piney aroma like a Christmas tree, your buds contain a high amount of alpha-pinene. This terpene reduces the psychoactivity of THC to protect your memory and keep you alert. Medicinally, alpha-pinene is a natural antiseptic and can help treat asthma.
Strains with high levels of alpha-pinene include Chem Dawg, Super Silver Haze and Jack Herer.
You can also find these aromatic oils in rosemary, dill, basil and … wait for it … pine needles.
MYRCENE: SMELLS EARTHY AND HERBAL WITH A TOUCH OF FRUIT
When you break open a cured bud and get a big burst of earth and herbs, you're dealing with a high-myrcene strain. It adds a touch of relaxation to any type of cannabis and can either enhance the sedating, couchlock effect of a strong Indica or calm a Sativa's racy buzz. Myrcene has anti-inflammatory properties so it can fight pain and tension, but it's also a strong antioxidant and has anti-carcinogenic properties.
Strains with high levels of myrcene include White Widow, Skunk and Afghani Kush.
Mangos, hops and thyme also contain myrcene.
LIMONENE: THE FRESH, INVIGORATING AROMA OF CITRUS
If your mouth starts to water as soon as you get the faintest whiff of lemon, lime, orange, grapefruit or even strawberry, you're in luck. Those smells and the matching flavours are thanks to limonene, one of the most common terpenes found in cannabis. Limonene lifts the mood, relieves stress and gives the pot smoker an overall feeling of well-being. Medical properties include relief of heartburn, depression and stomach problems. Limonene is also a strong natural antifungal, anti-carcinogenic and anti-bacterial. Plus, in some cases, it can even dissolve gallstones.
Strains with high levels of limonene include Lemon Skunk, OG Kush and Jack the Ripper.
You'll also find limonene in the rinds of citrus fruits, juniper and rosemary.
CARYOPHYLLENE: SMELLS SPICY, LIKE BLACK PEPPER
Like the bite of exotic spices and black pepper when you light up? Thank caryophyllene. This terpene doesn't have much of an effect when it comes to how weed makes you feel, but it has plenty of medical properties including help for your immune system, arthritis, stomach issues, ulcers and inflammation.
Strains with high levels of caryophyllene include Hash Plant.
You'll also find carophyllene in cotton, cloves and black pepper.
LINALOOL: SMELLS SWEET, LIKE FLOWERS OR CANDY
If your cannabis has a sweet smell, like flowers or candy, it probably contains a lot of linalool. This terpene can act as a mild sedative to help deliver a pleasant, anxiety-free high. Medically, linalool can fight acne, anxiety, depression and seizures.
Strains with high levels of linalool include LA Confidential, Lavender and G-13.
Linalool can also be found in lavender flowers.
TERPENES COMBINE TO MAKE EACH PLANT UNIQUE
So far, hundreds of individual terpenes have been identified, and there are probably many more. Each one of these aromatic oils has its own unique properties, but when they come together, they combine and interact to create something new. That's how you get so much variety even though most strains are basically an Indica, a Sativa or a mix of the two.
Although a specific strain of cannabis will have a genetic tendency to produce more or less of a certain terpene, many things come together to determine any single plant's distinct terpene profile including phenotype variation, nutrients, weather, grow media, temperature and harvest time.
SMELL YOUR WAY TO THE PERFECT BUD
When different terpenes combine, they can produce a wide variety of smells and flavours from sweet blueberry to fresh mint to soft vanilla, but these aromatic oils also affect how individual cannabinoids work. Myrcene, for example, makes cells more receptive to THC so that you can get higher on weed with appears weak if you look at THC alone. Caroyophyllene, on the other hand, works to lower THC's psychoactivity to prevent anxiety and paranoia.
If you know your terpenes and you have a practiced nose, a specific strain's bouquet could be your shortcut to finding the type of cannabis that gives you the recreational high or medicinal benefits you're looking for. What's your favorite scent and does it match up to what you want to get out of weed?
---