The origins of the cheese strain
---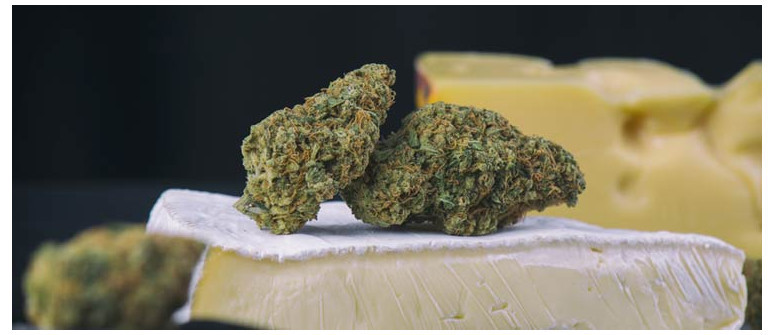 Did you know that the Cheese strain you love puffing on was first only available as a clone? Originating from the 80s, Cheese is one of the favorites and here to stay.
The world is home to 1000s of different strains of cannabis. But few have gained the fame of Cheese. This pungent, hard-hitting, and resilient variety was first bred by accident in the late 1980s, and has since become one of the most popular strains on the planet.
THE HISTORY OF CHEESE STRAINS
The history of Cheese cannabis strains dates back to late 1980s, but first takes us back to the origin of Skunk.
Skunk #1 was first bred in California by Sam The Skunkman. Following his success, Sam moved to The Netherlands in 1988 where he could grow and breed his plants without the DEA breathing down his neck.
Sam's Skunk #1 was a huge hit in Europe (especially in Holland) in the 1980s, mainly because of its resilience, short flowering time, and big yields. However, the only trouble with the strain was its smell, which was great at attracting unwanted attention.
So, during his time in The Netherlands, Sam got back to working on Skunk #1 to breed out its intense aroma. The Skunk seeds he was producing would be grown from different parents, meaning there were huge variations from one phenotype to another.
And that's exactly what gave birth to the Cheese variety treasured by so many smokers today when in the late 1980s, a grower in South East England noticed something peculiar about one of his Skunk #1 plants.
Unlike the other Skunk plants had grown, this plant produced a unique sour aroma and, come harvest time, was loaded with big, dense buds. The grower, who remains unnamed to this day, immediately cloned the plant and began distributing it.
Around 1995, that special breed of Skunk #1 landed in the hands of Exodus, a small alternative community located just outside London. Exodus finally grew and bred the strain, making it available in seed form for the first time.
The Exodus community labeled the strain as Exodus Cheese and began distributing it further, especially among the growing community of ravers. The strain quickly became a favorite all across the UK, thanks to its intense aroma, big yields, and resilience to the tough climate.
CHEESE: STILL A FAVORITE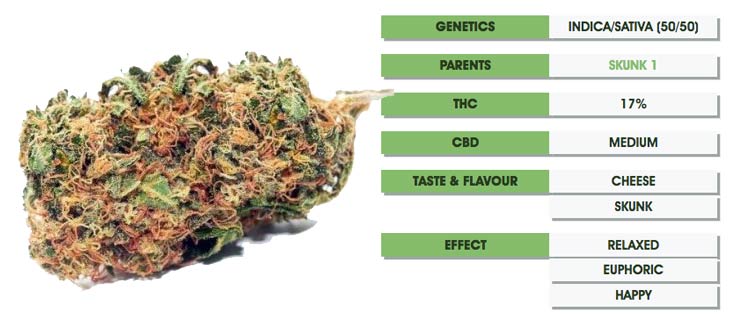 Cheese is a powerful hybrid. With THC levels averaging around 17%, this strain is renowned for producing a long-lasting stone within minutes. It kicks in very quickly, leaving you with a strong euphoria and deep relaxation. While it was originally a 50-50 hybrid, some Cheese variations may be either indica or sativa-dominant.
While Cheese originated in the UK, it is now famous all around. It is extremely popular among medical marijuana patients across the US.
Many patients use it to relieve symptoms of stress, anxiety, and depression. Because it produces a strong and relaxing body stone, people also use Cheese strains to reduce pain.
Cheese got its name thanks to its strong "cheesy" aroma. And we're not kidding, this stuff smells super pungent, and a single plant will easily stink out an entire apartment during flowering.
Read more about Cheese.
FAMOUS CHEESE STRAINS
Cheese has come a long way since its early days in the underground rave scene in England. Today, it's a world-renowned strain you'll find being grown across Europe, the US, and many other places.
The original Exodus Cheese/UK Cheese strain has also been used to create a whole variety of new hybrids. Below is a brief list of some of the most popular Cheese varieties currently doing the rounds:
BIG BUDDHA CHEESE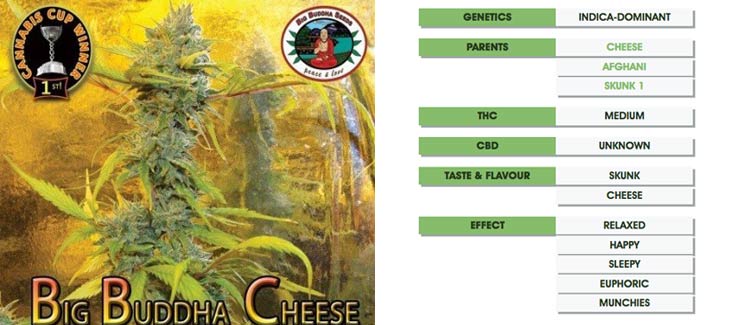 Big Buddha is arguably one of the most popular Cheese strains on the planet. An indica-dominant variety, this stuff delivers a strong stone that'll last for hours and leave you glued to the couch if you're not careful.
Big Buddha Cheese was first bred in the UK right after the original Exodus Cheese starting hitting the market and is a 3-way cross between Exodus Cheese, Skunk #1, and a hard-hitting Afghani indica.
The result is a formidable hybrid with potent levels of THC. It produces a strong physical stone that'll leave you feeling ultra-relaxed, sleepy, happy, and (most likely) with a strong case of the munchies.
Big Buddha Cheese boasts a classic, pungent cheese aroma that'll stink out any room. It's an extremely tasty strain, combining cheese flavors with pungent earthy undertones. With its great flavor and powerful effects, it's no wonder Big Buddha Cheese won 1st Prize at the High Times Cannabis Cup in 2006.
Read more about Big Buddha Seeds.
ROYAL CHEESE AUTOMATIC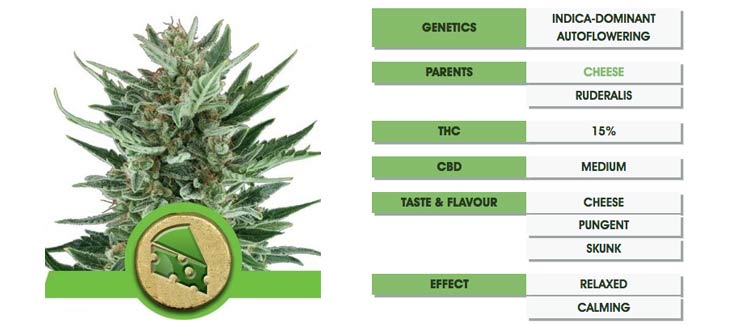 Royal Cheese Automatic is a great alternative to the regular photoperiod Cheese strains on the market. Bred by Royal Queen Seeds, this potent little auto produces nice yields in roughly 10 weeks.
It's another indica-dominant variety with decent THC levels that usually clocks in at around 15%. A cross between an original Cheese strain and a super sturdy ruderalis, this is a great strain for anyone who wants to grow potent, smelly weed without all the extra care of photoperiod strains.
Unlike Big Buddha Cheese, RQS' Royal Cheese Automatic has more balanced effects. While you'll definitely detect the indica dominance in this strain, it isn't so sedating, and instead leaves you with a nice, mellow physical stone and a calm mind.
Best of all, Royal Cheese fits all the aroma and flavor of a regular Cheese strain in a neat little auto package. Come harvest time, these plants will reward you with big, smelly nuggets that make for an excellent smoke.
Read more about Royal Cheese Automatic.
SWISS CHEESE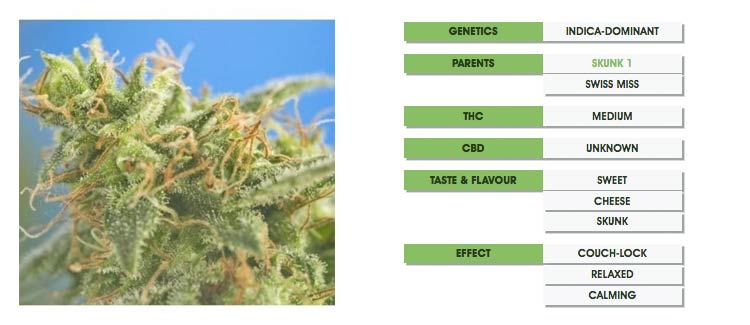 Swiss Cheese is another extremely popular Cheese hybrid. A cross between original Skunk #1 and a Swiss Miss (a rare strain said to be bred in the Swiss mountains), this is a find that any serious grower will be curious to add to his/her garden.
Swiss Cheese has high levels of THC, just like any good cheese variety should have. It's another indica-dominant variety and hence, produces a strong physical stone. The effects of Swiss Cheese are long-lasting, leaving you relaxed and, quite possibly, glued to the couch after a few too many tokes.
This strain is known for being super easy to grow. It's resilient and can hold up well in colder climates. It's also pest and mold-resistant, and doesn't need much more than great soil and plenty of sun to produce the kind of harvests that'll make other growers jealous.
FIND OUT MORE ABOUT CANNABIS STRAINS
If you're looking to learn more about the many different strains out there, be sure to check out our daily updated strain database for more info.
---