How to make cannabis infused olive oil
---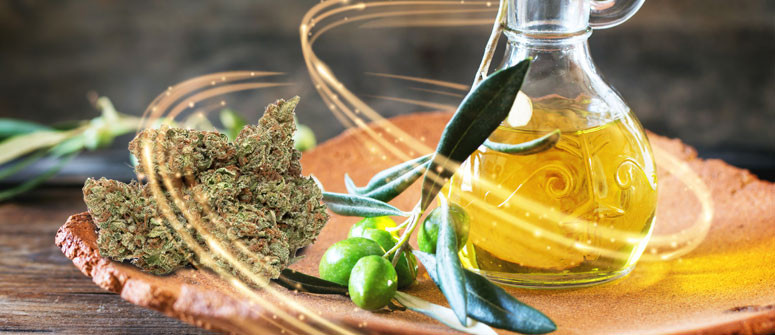 Goodbye pot butter, hello cannabis olive oil! Cannabis-infused olive oil is the latest cooking trend as it's healthier and more versatile than butter.
Cannabis butter is a good, but old way to utilize pot in the kitchen. Today, it's all about the healthier alternative, cannabis-infused olive oil.
Over the last ten years, we've made some huge and undeniable technological advances, and this progress is trickling down into the cannabis sector. Gone are the days of blurry concentrates and shady methods, CO2 technology is now the ideal method for extracting the purest and most flavorful cannabis extracts.
Butane extraction is also a common technique nowadays and it used for creating various extracts such as the highly popular shatter.
It is a method that yields excellent results, however, this can pose hazards for the producer and consumer if it's not done correctly.
Extracts are extremely popular in today's cannabis market, but there's still one largely untapped method for extracting the compounds; olive oil.
Of course, you can't smoke olive oil, so that could be a reason for its place on the back burner. But the great thing about olive oil is that it's safe, healthy, and cost-efficient. Plus, when it comes to edibles, you can't get more versatile than olive oil.
RESEARCH SAYS OLIVE OIL IS GOOD FOR EXTRACTIONS
Despite its simplicity, research conducted at the University of Siena, Italy, shows that olive oil is actually one of the most effective solvents for full spectrum cannabinoid extraction. According to the study, olive oil – along with ethanol – is extremely effective at extracting all the plant cannabinoids and terpenes.[1]
Less chlorophyll seeps into the final product when using olive oil though, making it the optimal extraction method. "Olive oil [is] the most optimal choice for preparation of Cannabis oils for self-medication," the study concluded. "Olive oil is cheap, not flammable or toxic, and the oil needs to be heated up only to the boiling point of water."
N.B. The following recipe is made with an estimated amount of marijuana. Remember that edibles can hit harder than you expect, so feel free to judge the amounts according to your own experience. It is strongly advised to first learn how to calculate the strength of edibles.
CANNABIS OLIVE OIL RECIPE

Ingredients:
1 cup (1/4 ounce / 7 grams) of ground cannabis flower
1 cup of virgin olive oil (Instead of olive oil, you can also use coconut oil. Olive is by far one of the most nutritious choices in regards to cooking oil. But coconut oil has a very mild taste so it can also be used in most recipes)
Equipment:
Strainer or cheesecloth
Grinder (do NOT use a blender or coffee grinder, it will destroy your flower, a regular grinder will suffice)
Double-boiler, slow cooker, or saucepan
Preparation:
Grind up your weed, but not so much that the pieces are small enough to fit through the strainer. You can use the whole plant or just the flower if that's what you prefer.
Combine your cooking oil of choice and ground cannabis and cook on low for a few hours, stirring occasionally. How long you cook it for depends entirely on the equipment you're using.
Cooking it for such a long time is basically the process of decarboxylation. Which means you are activating and extracting the THC without burning up the actual stuff that gets you high.
If you're using a slow cooker, set it to low for 4-6 hours. In a double-boiler, cook on low for 6-8 hours. And if you're using just a plain old saucepan, you're looking at about 3 hours, but you'll have to stir it frequently, so it doesn't burn.
Note: whatever method you choose, temperature of the oil should not exceed 118°C/245°F, as this will burn the THC and leave you with just oil.
After this, let the oil cool down for a while and then strain it. If you're straining with cheesecloth, do NOT ring out by squeezing it. It will add more chlorophyll to your oil and affect the flavour.
You can then store the oil in an airtight container. The oil will last about two months in a cabinet or pantry, and three or more months in the refrigerator.
Enjoy!
---