Marijuana VIP: B-real
---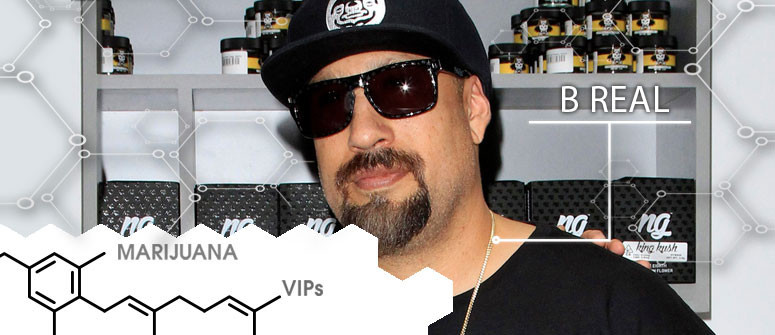 B-Real, MC/rapper from Cypress Hill, producer, and dispensary owner, is a very prominent figure in the music world as well as the American cannabis scene.
B-Real, the lead rapper in the band Cypress Hill, is not only one of our all time hip hop hero's, but also a considerable figure in the American cannabis scene.
B-Real, who is originally from Los Angeles was born Louise Freese on June 2, 1970, to a Mexican father and Cuban mother. When he was five years old, he moved to South Gate with his mother and sister and eventually wound up settling in the town of Bell, California. This is where he met what would be his future bandmates, San Dog and Mellow Man Ace, at Bell High School.
MUSICAL CAREER
In the early 90s, the group got their big break when they met DJ Muggs through a mutual friend. Together, they collaborated an album idea based on their experiences from Cypress Avenue in South Gate.
By 1991, the group was signed with Ruffhouse/Columbia Records and they released their first record. Cypress Hill's unique sound broke many barriers in the music industry, including them being the first Latin rap group to have both platinum and multi-platinum albums.
"Fortunately I guess the fact we were able to achieve what we achieved, being Latino but without really exploiting that side of it, showed like a whole generation behind us how you could have that success without being labelled as just one THING," B-Real stated regarding their success. "Because back in the day, when you were labelled 'a Latino rapper', the record companies would only try to market you to that Latin fan-base which didn't really EXIST yet! So yeah, it feels good to see people recognising us as some of the pioneers that opened the doors for a lot of these other Latino rappers to come through."
B-Real has been involved in several other musical projects aside from Cypress Hill. In 1996, he contributed to the soundtrack for the iconic movie Space Jam. In the early 2000s, he even formed a rap/metal group called Kush, together with Deftones guitarist Stephen Carpenter and Fear Factory members Christian Olde Wolbers and Raymond Herrera. And he also used to be a member of the group The Psycho Realm.
Not only did he have a successful MC career, but B-Real also produced music for for artists like Proof of D12, WWE and more. B-Real also manages a team of music producers known as the 'Audio Hustlaz' and personally produced several tracks on his solo albums.
B-REAL'S RELATIONSHIP WITH MARIJUANA
Aside from the fact that Cypress Hill's music is geared towards weed-lovers as it is, with songs like "Hits from the Bong," "I Wanna Get High," and "Stoned is the Way of the Walk", B-Real has always had a large stake in cannabis legalisation efforts.
Also known as Dr Greenthumb, B-Real broke barriers and contributed to the normalisation of an industry that was largely forced underground due to the unconstitutional war on drugs. B-Real is the creator of the award-winning smoking accessory, Phunky Feel Tips, and even opened a dispensary in America's most prominent marijuana market.
B-Real also runs his own cannabis-friendly, online TV channel called Breal.tv. Content covers topics like recent cannabis news, strain reviews, events, music news, and new music videos. There is a "smokebox" channel on Breal TV where various celebrities are interviewed and they discuss their feelings about pot. He even has an episode where he taught users how to roll the perfect joint!
"I guess we pretty much were at the forefront," comments B-Real. "For me, I believed in the movement so much that I felt that more of us that talked about it made it a stronger push, made it a stronger argument. Look where we are, from '91 to now, in that whole culture."
B-Real mainly focused his efforts on providing high quality cannabis products to the fine people of Southern California by opening up his dispensary in Orange County, fittingly named Dr Greenthumb. It's been commonly touted as one of the best dispensaries in the country with a wide selection of nearly anything your stoner heart could possibly desire.
B-Real is not only a dispensary owner, but he's also indeed a Dr Greenthumb. In 2015, B-Real placed third the Best Sativa Flower Category at High Times Cannabis Cup in San Bernardino. His "Tangie" flower also won third-place at the Southern California Cup, where he also snagged the second-place spot for Best Booth.
A TRIBUTE TO B-REAL
So next time you're smoking a fatty, take an extra hit or two to commemorate the people, like B-Real, who put their neck on the line to get cannabis the recognition it deserves.
Whether you're a fan of his music or not, the fact remains that his openness about weed was a huge contributor to how we've come so far in the legalisation movement, especially in California.
Go B-Real!
---