Marijuana VIP: Nick and Nate Diaz
---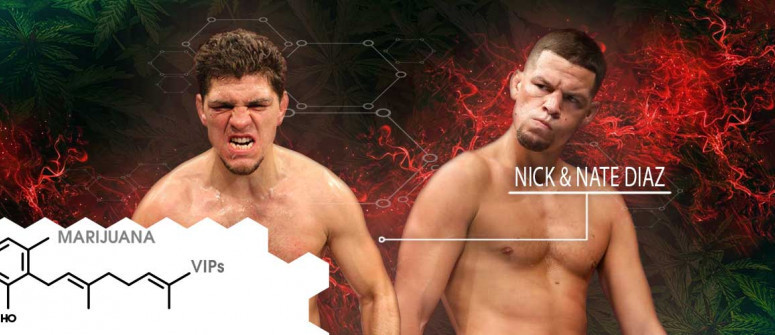 The Diaz brothers are both shining examples that completely counteract cannabis stereotypes. The two are highly decorated MMA fighters who are known for superb striking skills, top level grappling, extreme endurance and smoking weed.
The upper echelons on martial arts and combat sports have a fair share of talented and tough siblings who have fought their way up the ranks and solidified their family name for many years to come.
But perhaps the most well known, and definitely the most dangerous, are the Diaz brothers, who have made massive names for themselves by fighting in the UFC on many occasions. 
Besides their accomplishments in the sport field, the Diaz brothers are also two of the most colorful cannabis advocates currently around.
ATHLETIC ACCOMPLISHMENTS
Nick Diaz, currently 34 years of age, began his career in 2001 and has competed in many fighting promotions such as UFC, PRIDE, Strikeforce, and Shooto.
Nick has fought within the lightweight, welterweight, and middleweight divisions and currently holds a record of 37 fights with 26 resulting in wins, 13 via knockout, 8 by submissions, and 5 by decision. Nick is also a 3rd Degree Black Belt in Brazilian Jiu-Jitsu under Cesar Gracie, a notorious training facility located in Pleasant Hill, California. 
Nate Diaz, the younger of the brothers at 32 years of age, is also a very well decorated athlete. Nate has fought within UFC, World Extreme Cagefighting, and Strikeforce.
Known for his lanky stature, accurate striking and top-level jiu-jitsu, Nate has fought within the lightweight, welterweight and middleweight divisions. Nate has fallen some of MMA's biggest giants including Conor McGregor and Donald Cerrone.
Nate has a record of 31 fights and 20 wins. 4 were knockouts, 13 were submissions, and 3 were won by decision. Like his brother, Nate is also a talented jiu-jitsu practitioner and holds a black belt in the fighting form.
THE DIAZ BROTHERS AS CANNABIS ADVOCATES
The Diaz brothers are primarily known for their brutal striking, incredible jiu-jitsu, and high-level endurance. However, the duo has also become extremely well known and loved for their appreciation of the cannabis plant.
This isn't just to say that they blaze on occasion and leave it at that. The two are absolutely passionate about cannabis use and have even gone as far to say that the plant is a performance enhancer.
Nick Diaz has openly stated that he reaches for the herb when he feels beaten up or when his focus is lacking, pointing towards his use of cannabis partly as a recovery agent. The knockout artist has compared cannabis to vitamins and supplements in that it can help athletes to boost their performances and stay on top of their game. 
Nick isn't just passionate about cannabis use in sports, he firmly believes that smoking cannabis can be a life-enriching experience, stating that he would be genuinely sad to see his grandmother go her entire life without feeling what smoking cannabis feels like. 
DEMOLISHING STEREOTYPES
Nick has taken on an ambassador role for cannabis and has said that he would like to start shining a light on the truth about this plant. He wants to eradicate the stigmas surrounding the herb and wants people to realize it can help to produce the opposite type of human being.
The duo has dominated the mixed martial arts scene and compete in triathlons as a form of conditioning, a testimony to their phenomenal and advanced endurance and conditioning. 
Their incredible and world-class athletic abilities are a showcase that tears down cannabis stereotypes used to portray users as lazy and of poor health.
GETTING IN TROUBLE OVER MARIJUANA
The brothers have been pushing their message further by not being shy about using cannabis in public spaces, often getting into a spot of trouble for such actions.
Perhaps the most noticeable event was in 2016, when Nate Diaz whipped out a vape pen during the UFC 202 post-fight press conference and started puffing on clouds of CBD. Whilst doing so, Nate started to explain his reasons for doing so, saying that the substance is of great assistance when it comes to the healing process and inflammation. 
Even though Nate's explanation is supported by science, his action was firmly against UFC rules and procedures. The UFC's anti-doping partner USADA deems any cannabidiol metabolites as prohibited and on top of that, his vaping took place within the six-hour in-competition window at the end of the fight.
Nate managed to avoid suspension and was given a public warning instead. Possibly because of these actions, the post-fight window has now been changed to much sooner after the completion of the fight.
In an interview with Ariel Helwani on a special edition of The MMA Hour after the incident, Nate himself claimed not to care about the public warning he was given as he actually made money from the incident.

"It don't matter," Diaz said. "I banked out in the cannabis industry from it. … It was a good move and it was organic."
Nate's brother has told a slight variation to his story, and actually claims that Nate was instead vaping skunk.
Nick himself has also seen his fair share of consequences for being a blazing athlete. The fighter already received suspension three times in Nevada for consuming cannabis. 
ENTERING THE CANNABIS CULTURE
Because of their fame in the fighting world, the Diaz brothers have seized their opportunity to become part of the ever-growing world of cannabis and even releasing their own brands of products.
Both brothers have become big names in the industry and made an appearance at the 2017 HIGH TIMES NorCal Cannabis Cup, where their pre-rolls won best product award.
The duo has smoked with huge names of the music and cannabis scenes, including Snoop Dogg and the Wu-Tang Clan and has also been filmed smoking a massive and expensive blunt in the shape of an MMA glove, combining both of their true passions into one legendary symbol.
In the world of celebrities that, in this case are literally fighting for legalization, the Diaz brothers are a welcome addition.
---