10 inspiring books for cooking with cannabis
---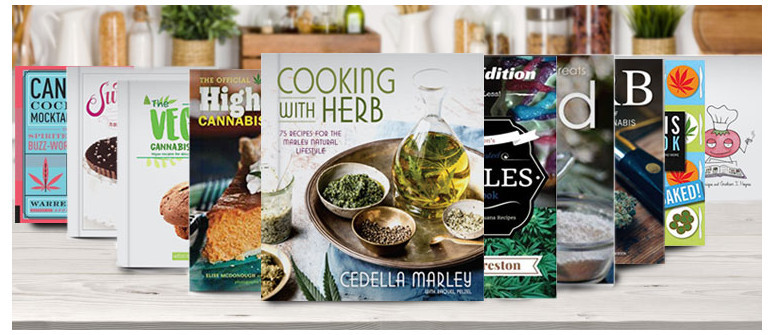 Study up on the art of cooking with cannabis and create tasty cannabinoid-infused delicacies from home with these inspiring cannabis cookbooks.
So, you want to explore the exciting and delicious world of cooking with cannabis. Or, maybe you want some new recipe ideas. Either way, a cannabis cookbook is a must-read for aspiring and seasoned cannabis chefs alike.
Whether it's a dinner party, ladies night, or a cozy Saturday night in, there's no wrong occasion for a flavorful meal that gets you high. By learning to cook with cannabis, you can turn the fun of every event up a notch and enjoy the experience alone or with friends. Here are ten books for cooking with cannabis that will inspire you to put on the apron and chef hat and hit the kitchen.
1. COOKING WITH HERB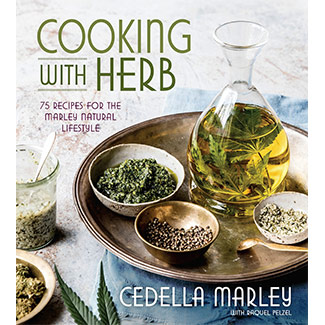 Author: Cedella Marley - Year: 2017 - Language: English - Pages: 240
If you're a healthy eater, then Cedella Marley's "Cooking with Herb" is a phenomenal writ. Aside from offering 75 clean and green recipes, this book includes first-time user tips from the author, who is the daughter of the legendary musician and cannabis enthusiast Bob Marley, and even recipes for homemade beauty scrubs.
Between all the recipes and advice, Cedella will surely teach you a thing or two about cooking with cannabis, incorporating it into your wellness routine, and how to use it safely and responsibly. Readers will enjoy learning about her personal experience and gazing over pages of beautiful, high-quality photos that alone are inspiring—not to mention tantalizing.
2. THE OFFICIAL HIGH TIMES CANNABIS COOKBOOK: MORE THAN 50 IRRESISTIBLE RECIPES THAT WILL GET YOU HIGH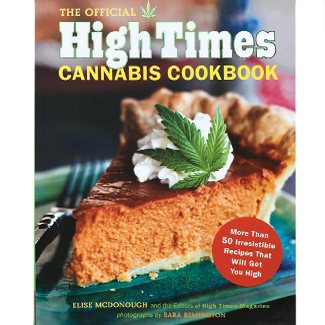 Author: Elise McDonough - Year: 2012 - Language: English - Pages: 160
High Times should ring a bell in the cannabis community. It's one of the most famous weed magazines. They're also the ones that host the epic Cannabis World Cup that occurs each and every year.
What you might not know about High Times is that they have their own cookbook too. From weed-infused appetizers to buzzy cannabis cocktails, "The Official High Times Cannabis Cookbook" has a little tasty something for everybody. Over 50 recipes worth, to be exact.
3. THE VEGAN CANNABIS COOKBOOK: VEGAN RECIPES FOR DELICIOUS MARIJUANA-INFUSED EDIBLES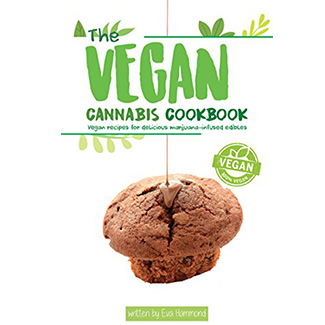 Author: Eva and Aaron Hammond - Year: 2017 - Language: English -Pages: 120
Cooking with cannabis can be vegan-friendly too. If you want to try out a bunch of delicious but respectful recipes, then make the most out of marijuana in the kitchen without getting any precious creatures involved with "The Vegan Cannabis Cookbook."
This cookbook will teach you to whip up quick, easy, and harm-free edibles, including cannabis oatmeal bars with peanut chocolate, coconut and cannabis lemon tarts, and much, much more.
You can even create delicious edibles without the high. In addition to THC-infused treats, "The Vegan Cannabis Cookbook" features CBD-infused delicacies as well, for those who want to savor just the benefits of cannabis and the unique taste it adds to a meal.
4. SWEET MARY JANE: 75 DELICIOUS CANNABIS-INFUSED HIGH-END DESSERTS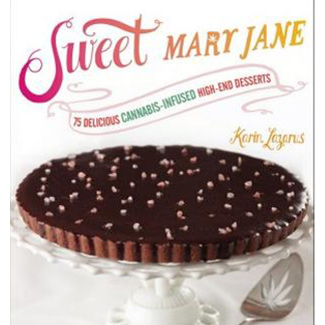 Author: Karin Lazarus - Year: 2015 - Language: English - Pages: 304
When you have a craving for something sweet, pull out "Sweet Mary Jane," the ultimate infused dessert cookbook. Author Karin Lazarus owns a bakery out in Boulder, Colorado, and through "Sweet Mary Jane," she shares her techniques for making some of her famous sweet treats, like chocolate almond delights and mango sherbet, to name but a few from this massive dessert book.
"Sweet Mary Jane" also features gorgeous food photography and shares guides on making cannabutter, cannabis-infused coconut oil, and THC-infused sugar. Moreover, there's an entire section dedicated to dosing, which teaches you to make your treats with the just the right amount of potency for you.
5. CANNABIS COCKTAILS, MOCKTAILS & TONICS: THE ART OF SPIRITED DRINKS AND BUZZ-WORTHY LIBATIONS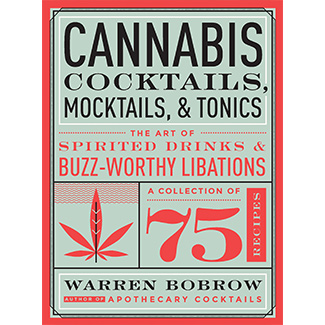 Author: Warren Bobrow - Year: 2016 - Language: English - Pages: 160
"Cannabis Cocktails, Mocktails & Tonics" is your guide to concocting all sorts of weed-infused adult beverages, from coffee to lemonade to punch. Whether you're in need of an afternoon pick-me-up or a dose of get-up-and-go in the morning, or even relaxation in the evening, this cocktail cookbook has got you covered.
Warren Bobrow, the author, is a cocktail whisperer—no, really. He runs blogcocktailwhisperer.com and has taught his ways to people from all across the globe.
6. KIEF PRESTON'S TIME-TESTED FASTEST EDIBLES COOKBOOK: QUICK MEDICAL MARIJUANA RECIPES - 30 MINUTES OR LESS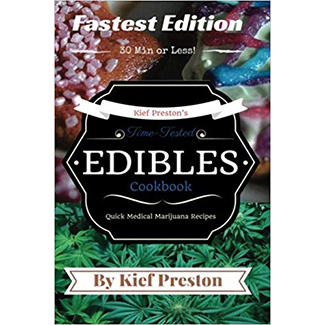 Author: Kief Preston - Year: 2016 - Language: English - Pages: 46
Kief Preston's "Time-Tested FASTEST Edibles Cookbook" is the perfect place to start if you're new to baking edibles or are always on a time crunch. This cookbook features cannabis-infused recipes that don't take any longer than 30 minutes to prepare and are super easy to master.
Even if you can't cook, you can cook with weed using Kief Preston's handy-dandy edibles cookbook. There are only ten recipes, but that's more than enough if you're someone who doesn't make use of the kitchen all that often. Besides, you can't beat quick, easy, and weed-infused cuisine. You reap the benefits of cannabis faster, which is the whole point.
7. HERB: MASTERING THE ART OF COOKING WITH CANNABIS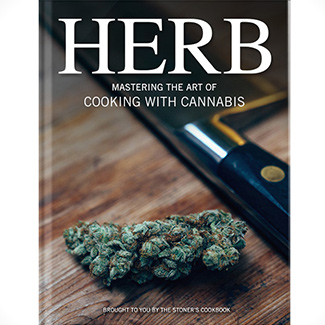 Author: Melissa Parks and Laurie Wolf - Year: 2015 - Language: English - Pages: 250
Brought to you by the chefs Melissa Parks and Laurie Wolf, "Herb: Mastering The Art Of Cooking With Cannabis" has over 200 pages worth of mouthwatering infused dishes with beautiful illustrations. Each recipe is as reliable as it is delicious, and although seasoned chefs developed them, they are made to be created in the comfort of your home.
Whether it's a dessert or a wholesome meal, this cookbook offers a variety of recipes to satisfy your taste buds. It includes tips from the experts too, on everything from dosing to perfecting cannabis oil.
8. BAKED: OVER 50 TASTY MARIJUANA TREATS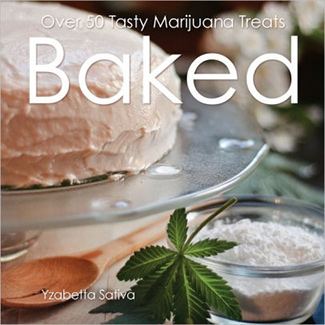 Author: Yzabetta Sativa - Year: 2011 - Language: English - Pages: 160
The truth is, cannabis can at times add an unwelcome flavor to your meal. Not a lot cannabis cookbooks address this, which is why "Baked: Over 50 Tasty Marijuana Treats" is the cookbook you need to create infused dishes that taste as good as they feel. This tasty treats book features over 50 recipes and uses clear guidelines and visuals to make cooking with cannabis a cinch and less problematic.
You can look forward to some delicious meals, snacks, and sweets from this cookbook, including lavender love bites, aloha Hawaiian bread, and more. Not to mention, all is healthful. Author Yzabetta Sativa is a pro at producing healthy baked goods and has years of experience to share with the world.
9. THE CANNABIS COOKBOOK: OVER 35 TASTY RECIPES FOR MEALS, MUNCHIES, AND MORE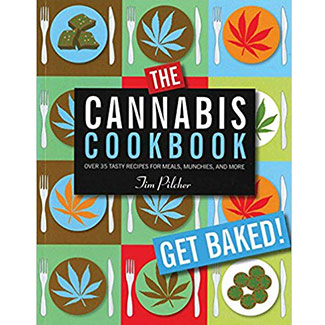 Author: Tim Pilcher - Year: 2016 - Language: English - Pages: 128
More for the experienced ganja chef, "The Cannabis Cookbook" by Tim Pilcher is all about displaying the many applications of cannabis in cooking. It has over 35 recipes, including stoned starters, mashed main courses, doped-out desserts, and plenty more where those came from.
In addition to recipes, this cookbook details the science behind cooking with cannabis, as well as the history. Also, it provides recommendations on dosing for recreational and medical users, plus lots of other information that cannabis cooks will find interesting.
10. THE VEGAN STONER COOKBOOK: 100 EASY VEGAN RECIPES TO MUNCH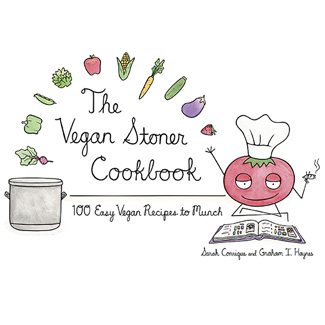 Author: Sarah Conrique - Year: 2013 - Language: English - Pages: 128
Another fantastic cannabis cookbook for vegans is the "Vegan Stoner Cookbook" by Sarah Conrique. According to the author, these recipes are so easy that even a stoner could make them. That makes it especially ideal for novice weed chefs.
Along with breakfast food, lunch, and dinner, the "Vegan Stoner Cookbook" has a ton of munchies infused with the herb, including animal crackers, mean green smoothies, churro chips, and more. Not only are they all easy to prepare, but they also don't take up a lot of your time, nor do they require much effort.
---