Weed mojito recipe
---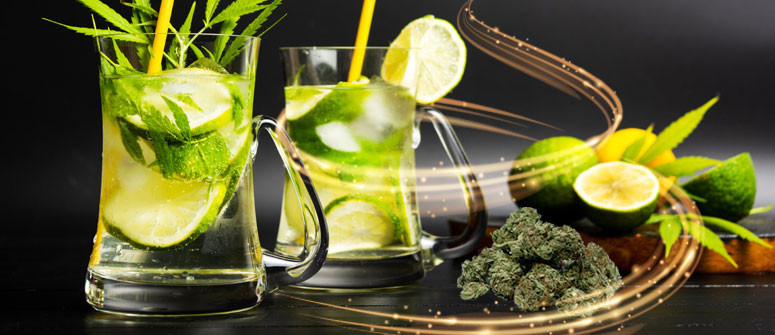 Combining one of the most popular cocktail in the world with one of the most popular plants in the world resulted in a delicious Weed Mojito! Check out our recipe.
The mojito is probably one of the most famous cocktails in the world. The refreshing lime and mint flavors, together with sugar and rum make for a perfectly sweet, bitter, and sour mix. However, to achieve that ultimate mojito umami, infusing it with weed will do the trick.
INGREDIENTS
750ml/25 oz white rum
7 grams/0.25 oz of dried weed
Large Mason jar
Cheesecloth
Lime
Brown sugar
Fresh mint
Carbonated water
INSTRUCTIONS
First, you need to prepare your weed. In order to use it for this recipe, it needs to be decarboxylated. Don't skip this process though, as this is an absolute must. And luckily it is also very easy.
Grind you weed as if you are planning to roll a joint from it. Then spread it over a lined baking tray and bake it in an oven for about 30-45 minutes at 115°C/240°F.
After this, let it cool down and mix it with the rum in the mason jar. Make sure to mix it well by shaking it very well, and continue to do so every now and then while you leave the jar in a dark place for about 5-7 days. The longer you leave the mix in the jar, the tastier and stronger it will get.
Add a couple of fresh mint leaves and a slice of lime into a glass. Muddle them together so the lime juice covers the mint. Add two more slices of lime, two tablespoons of sugar, and muddle again to get the lime juices flowing.
Fill the glass with ice cubes, add 60ml/2 oz of weed-infused rum, and pour carbonated water until it fills the glass to the top. Stir well.
There you go, a perfectly green and refreshing drink.
Enjoy, but be careful! Remember that edibles can hit harder then you expect, especially when combined with alcohol, so feel free to judge the amount according to your own experience and start slowly. It is strongly advised to first learn how to calculate the strength of edibles.
---