Weed n' whiskey cocktail recipe
---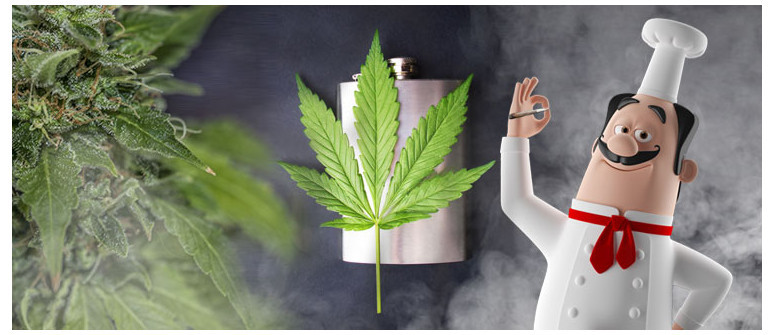 What is better than a nice cocktail at the end of the week? A weed infused cocktail! Check out our recipe for a true classic; Weed N'Whiskey.
Friday's is cocktail day at our headquarters and we like to mix it up a bit at the end of a long working day and week. And what better to unwind then with a nice cocktail? With a cannabis infused cocktail of course!
We like to keep things a bit simpel, and will share one of our favorites with you.
WEED N' WHISKEY: A SIMPEL CLASSIC
Weed N'Whiskey. Smooth whiskey warming up one's palette with woody aromas goes hand-in-hand with the amazing organoleptic qualities of high-class weed. This drink can be drank on its own, with ice, or used in other cocktail recipes.
INGREDIENTS
750 ml/25 oz whiskey (we prefer the smokey ones)

7 grams/0.25 oz of dried weed

Large Mason jar

Cheesecloth


Ice
INSTRUCTIONS
The recipe is very simple. First, grind the weed until it's no longer thick, but not a powder. Like what you would use for a joint.
Decarboxylate your weed. To do this, spread it over a lined baking tray and bake at 115°C/240°F for about 30-45 minutes. This will help prepare your weed for the absorption process.
Pour the whisky into the large Mason jar with the decarboxylated weed; close the lid, shake, and make sure all the weed is covered in whiskey. Leave it in a dark area for 5-7 days but shake it a few times during this period. The longer the weed sits in alcohol, the more potent and tasteful it will become.
When it's time to have a drink, fetch the jar and strain the mixture through a cheesecloth into another clean Mason jar or pitcher. This will ensure you don't have any particles of herb in your mixture.
Pour yourself a drink, and add 2 ice cubes. Now, start with only one small drink because the mix of weed and hard alcohol can be very powerful. So keep it slow and build up if you want.
---