Whoop whoop, get high with lentil soup!
---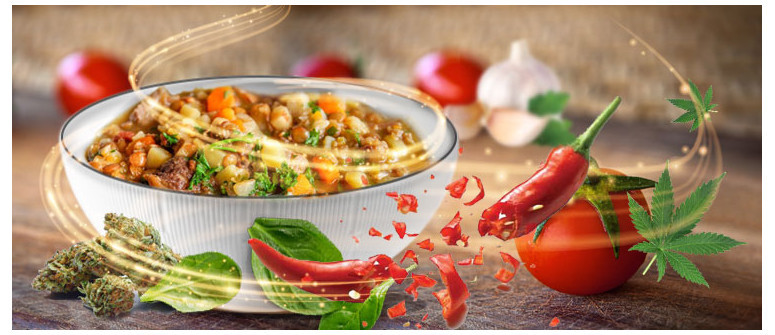 Looking for something to heat you up and get you high? Try our cannabis-infused lentil soup for the perfect winter recipe! Who knew that cannabis and lentils would make the perfect team?
Infusing a perfect lentil soup with cannabis sounds about right if you think of those colder winterdays when you would want to do nothing rather than laying in front of the fireplace while netflixing around. 
Do you like lentil soup? Do you love cannabis? We've got you covered.
Try our recipe for cannabis-infused lentil soup will give you that little something something to keep you toasty (and toasted!) on those cold winter nights. Warm you up and get you high.
This soup is delicious, healthy, and full of your favorite cannabinoids. 
For this recipe we have used already infused cannabutter, so before you make the soup, you'll need to rustle up some cannabutter. But luckily this is very easy and once you get the hang of that, you can use it for many of our other recipes as well. Feel free to swap out infused olive or coconut oil for the butter in order to make this recipe fully vegan.
To make our cannabutter, we used Triple Cheese. A perfect indica strain with lots of flavor which goes great with the soup.  You could also consider using cannabis that only contains CBD and make CBD-lentil soup instead.
INGREDIENTS
1 cup water
¼ cup olive oil
4 

tsp

cannabutter
4 cups vegetable stock
1 red pepper (or more if you like it spicy)
1 large white onion
1 large carrot
1 cup chopped fresh spinach
1 cup lentils
1 16-ounce can chickpeas
¼ cup tomato paste
1 tbsp ground cumin
½ 

tsp

ground ginger
2 

tsp

curry powder
4 garlic cloves, minced
Pinch of cayenne
Salt and pepper
HARDWARE
Large soup pot
Ladle
Stove
Wooden spoon
INSTRUCTIONS
In the soup pot, heat the olive oil and butter to a simmer. Slice the red pepper, carrots, and onion, and add along with the garlic to the pot. Sauté for 8–10 minutes on low heat. By the end, all should caramelize.
Add the tomato paste and stir for at least a full minute.
Add the cayenne, curry, ginger, cumin, chickpeas, and lentils. Stir. If you need to add more oil, go for the olive oil, not the cannabutter!
Add the soup stock and let simmer for 40 minutes.
Add the salt and pepper to taste. Add the spinach and let soften for 3–4 minutes.
There you have it! A delicious canna-infused winter recipe. Goes great with bread and butter—maybe even of the canna variety!
Remember that edibles might hit you harder than expected, so make sure you know the strength of your cannabutter and your soup before gobbling down the whole pan.
Enjoy!
---