Who created the original White Widow strain?
---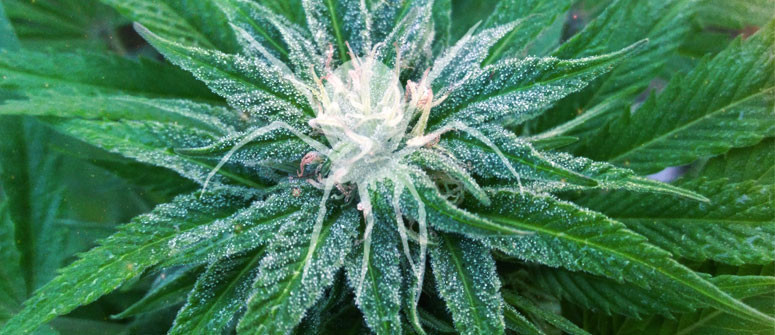 White Widow is one of the most famous strains around. But where does it come from and who created it?
White Widow is an extremely popular cannabis strain renowned for its potency, quality, and powerful genetics that have since gone on to form the backbone of countless new hybrids. It hit the market in the early 1990s and is now sold by various seed banks around the world.
But who exactly created the original White Widow and where does it come from?
WHITE WIDOW: A LEGACY STRAIN
White Widow is a hybrid cannabis strain that was first released in 1994. It is an extremely popular strain known for being very potent, well-balanced, and always of a high-quality. It is a cross between a Brazilian landrace sativa female and a unique South Indian hybrid male.
White Widow is treasured for producing a strong sense of euphoria coupled with bursts of energy that many users describe as socially and creatively stimulating. It is also renowned for being a relatively easy strain to grow even for inexperienced growers, reaching moderate heights and flowering in roughly 7-9 weeks.
THE ORIGINS OF WHITE WIDOW
Since making its debut in the early 1990s, White Widow has built up a huge reputation. Not only is it treasured by both users and cannabis cultivators across the globe, but it's powerful genetics have also given rise to a vast variety of new cannabis strains, including White Russian, White Rhino, Blue Widow, and many more.
Today, almost any seed bank worth its weight has released its own version of White Widow. However, despite the strain's popularity, tracking down its exact origins is surprisingly difficult.
There are 2 main theories about who created the original White Widow released in 1994.
The first theory claims the strain was discovered and created by a cannabis breeder known as Shantibaba, the former co-owner of Green House Seeds and current founder of Mr Nice Seeds and CBD Crew.
The second theory behind the origins of White Widow credit the creation of the strain to a breeder known as Ingemar. Ingemar apparently worked on a variety of strains for Green House seeds in the past, and receives a lot of support from the Dutch breeding community as playing a key role in the creation of the original White Widow.
Shantibaba's version:
Shantibaba is known to have worked alongside many other famous cannabis breeders, including Nevil Schoenmaker, father of the first Dutch seed bank. Back in the day Shantibaba founded Green House Seeds together with Arjan Roskam. When working at genetics for Green House Seeds he created and released White Widow in 1994.
How Shantibaba and Arjan came across the unique genetics used to produce this infamous strain isn't quite clear. The Brazilian landrace mother used to create White Widow is rumoured to be Manga Rosa, a famous variety native to Brazil. The South Indian father, on the other hand, is rumoured to have been introduced to Shantibaba on a trip to India in the 1990s.
Rumours suggest Shantibaba stumbled across the South Indian father after being brought to a cannabis farm in the mountains of Kerala by a local farmer. The farmer apparently pointed Shantibaba towards a unique hybrid that had been selectively bred for optimum resin production for years.
Leaving India with a fresh batch of seeds from the farm only a few days later, Shantibaba returned to The Netherlands. One of those seeds brought back from his trip would eventually give birth to the unique male believed to be the father of the White Widow we know and love today.
Crossing these genetics with the unique Brazilian mother mentioned earlier, Shantibaba is said to have bred the original White Widow, which he bred and stabilized further for some time before releasing it.
A few years later, Shantibaba would go on to leave Green House Seeds following conflicts with Arjan and he took the genetics of White Widow with him. Shantibaba teamed up with Nevil Schoenmaker and Howard 'Mr Nice' Marks to form Mr Nice Seeds. Mr. Nice Seeds launched 'Black Widow' in order to compete with the White Widow marketed and sold by Arjan Roskam at Green House Seeds.
Ingemar's Version:
Ingemar is a well-known breeder from the south of Holland. He claims the seeds of the original White Widow were accidentally found in a batch of hand rubbed hashish. The seeds were then bred by him for about 6 years to perfect this new variety.
In an interview from a long time ago he was asked if the genetics of White Widow sold by Green House Seeds really came from him. He said: "Yes, it´s the same one. I gave Arjan the genetics and the name years ago and he is the only one that has permission to use the name and genetics."
Arjan Roskam from Green House Seeds backs up Ingemar's story and claims the 'real deal' comes from Ingemar and that his former partner Shantibaba has nothing to do with the creation of this incredible Hall of Fame legend.
These days genetics from Ingemar himself are sold under the name 'De Sjamaan Seeds'. This brand not only sells his White Widow version, but offers also some crossings between White Widow and other cannabis strains.
SO WHO'S RIGHT AND WHO'S WRONG?
Well, we don't know... Sorry. We guess you have to make up your own mind on this one. Unfortunately, as is often the case with studies into the origins of different cannabis strains, there is a lack of reliable evidence to help come to a clear conclusion about who was behind the original White Widow.
In any case... White Widow is an incredible strain and should be on everyone's smoke-grow-to-do-list!
---