Marijuana VIP: Nevil Schoenmakers
---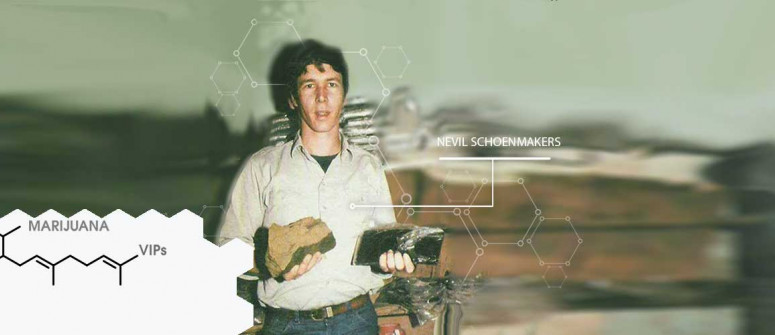 Neville Schoenmakers is the founder of the first cannabis seed bank ever. Read more about this marijuana icon!
Few names in the cannabis industry are as revered as Nevil Schoenmakers. Nevil, often crowned the real King of Cannabis, is a legendary breeder from Australia and father of the world's first seed bank.
NEVIL'S RISE TO FAME
Nevil (or Neville) Schoenmakers is an Australian cannabis breeder. Born in the late 1950s, Neville is behind many iconic cannabis strains as well as the first ever seed bank, earning him the notorious title of "The King of Cannabis."
Nevil was born in Perth, Australia in 1957 to Dutch parents. In the late 1970s, he moved to The Netherlands where he began growing cannabis for personal use and quickly stumbled upon a major set back; the genetics available at the time (mainly stemming from Thai, Colombian, and African cannabis varieties) weren't suitable for growing in Holland's tough climate.
To deal with this, Nevil tried shifting his grow operation indoors but still wasn't satisfied with the results, finding that the strains he had access to weren't ideal for indoor growing either.
To deal with this problem, Nevil set out on a mission to create "a seed bank;" a place where cannabis cultivators could source high-quality seeds with top-shelf, reliable genetics suited to their unique grow environments.
To do so, he began traveling to far flung corners of the globe in order to source seeds from unique cannabis varieties, such as the unique Afghani indica strains used to produce hash.
Nevil began cross-breeding these strains to create stable genetics and new varieties. Finally, in 1984, Neville launched "The Seed Bank of Holland," making some of his unique varieties available to the public. In just 2 years, Nevil's seed bank is rumored to have attracted over 15,000 customers in the US alone.
Nevil's strains became household names among cannabis consumers around the world and are still renowned for their strong genetics, unique effects, and powerful potency.
In fact, Nevil's seed bank was so profitable he was rumored to live in a mansion in The Netherlands complete with various grow rooms. Nevil's mansion was apparently known as the "Cannabis Castle."
NEVIL'S FIGHT WITH THE LAW
While The Seed Bank enjoyed quick success, Nevil eventually ran into legal troubles. In 1990 he became 1 of 3 main targets of Operation Green Merchant, an operation run by the US Drug Enforcement Administration aimed at shutting down the booming market for indoor cannabis by targeting businesses selling grow equipment and seeds.
In 1991, Nevil was arrested by Australian authorities in Perth while visiting family. He was jailed in Fremantle for 11 months without bail and was awaiting extradition to the US to face trial for around 44 cannabis-related charges including illegally growing and distributing marijuana. However, just weeks before his extradition hearing, Nevil was granted bail and subsequently vanished.
THE RETURN OF THE KING
After seeming to have vanished from the face of the earth, Nevil Schoenmakers finally made headlines again at the beginning of 2015.
This time, however, he wasn't facing criminal charges; instead, he was planning a quiet comeback. After managing to lay low since the 1990s, Nevil's charges in the US were eventually dropped. And now he is ready to get back into his old trade.
In 2013, Nevil's name appeared on an Australian parliamentary inquiry regarding the complexity of cannabis and the difficulty dealing with international narcotics treaties in establishing a legal cannabis operation in Australia.
In 2015, Australian media confirmed Nevil's return to the cannabis industry, this time as a head breeder at AusCann, an Australian-based company aiming to lead the production and distribution of medical-grade cannabis across the country.
In 2017, Nevil was also announced as a key advisor for Stem Cell United, a plant stem cell research company based in Singapore looking to break into the medical cannabis market. Neville now owns over 10 million shares of the company and also pockets a nice $5,000 monthly advisory fee.
Neville's past is shrouded in mystery and heavily based on rumors. In fact, Neville has openly refused to talk too much about his past with the media, instead focusing on what seems like a very bright future that awaits.
Today, many of Nevil's most iconic strains (such as Super Silver Haze, G13 Skunk, and G13 x Hash Plant) are still sold by various seed banks, including Mr Nice, Sensi Seeds, and Barney's Farm. Also, one of the best Haze strains on the market is named after him: Neville's Haze. 
After a long battle with hepatitis C, Nevil sadly passed away in his home on March 30, 2019, in Osbourne Park, Western Australia. RIP Nevil, you will be missed.
---