Marijuana VIP: Ed Rosenthal
---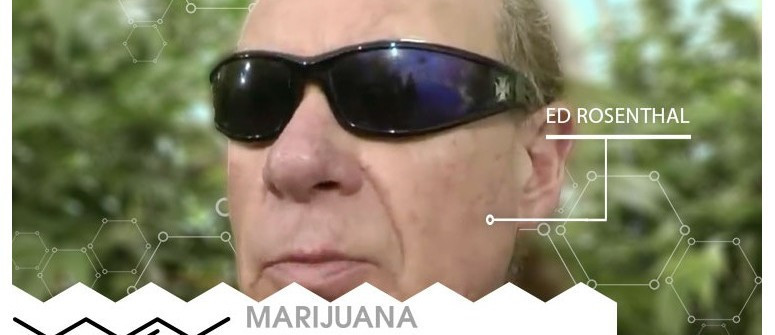 Ed Rosenthal, the "Guru of Ganja" has helped lead some of the most important legal battles around legalization in the US from an interesting perspective
Ed Rosenthal is well known in the cannabis community and to many he is simply being referred to as the "Guru of Ganja." Rosenthal is an American marijuana horticulturalist, activist, author and publisher. He is perhaps best known in the U.S. as a vocal critic of America's cannabis policy since the 1970's and as a columnist for High Times during the 80's and 90's. In the first decade of this century, he engaged in groundbreaking federal legal battles over the right to grow cannabis.
For many years, Rosenthal has been instrumental in California in helping medical patients obtain the drug. But after the state legalized medical use in 1996, the federal government fought back. Growers were repeatedly raided and prosecuted under federal not state law.
In fact, these early battles in California were important for moving the legalization issue forward everywhere else. As a prominent figure in the cannabis world and renowned grower, Rosenthal ended up being at ground zero of important battles that played mayor roles in shaping our current policies.
Rosenthal is recognized as a global authority on growing cannabis. With a lifetime of experience as an activist, teacher, writer and researcher, he is one of those types that does not fit the stereotype and is more frequently described as a professor-type rather than a pothead.
WHERE DOES ROSENTHAL'S PASSION COME FROM?
Rosenthal was born and raised in the Bronx. After a few years on Wall Street, he became attracted to the hippie movement of the 1960's. Rosenthal helped found NORML, and moved to California in 1972 to help pass a marijuana use initiative. That failed.
However, he continued his activism as a grower, consultant and writer. He has often served as an expert witness in the trials of other growers.
When asked about this life path, however, Rosenthal typically demurs modestly. He describes himself as a writer "who likes to give advice to gardeners." He has never publicly wanted to launch a legal crusade.
In fact, his growing career has been mostly inspired by his passion for extending the medical research about the plant.
Nevertheless, his life and work have led to important legal discussions about the plant he seems to love best. And those in turn, have been good not only for patients but everyone who enjoys cannabis recreationally.
BRINGING THE FIGHT TO THE MAN
Rosenthal's activism and cannabis advocacy has been critical in moving the medical access issue forward in the United States. He has been central in the discussion of how state and federal laws should be interpreted.
California has long been the battleground for such discussions and since 1996, this has been most visible in the clash between the DEA and growers in California. Since 1996, patients have been allowed to obtain cannabis with a prescription. However since 1996, the federal government has challenged that right.
Rosenthal was right in the middle of this, and as a result he became one of the most well-known poster children of this legal dichotomy. In 2002, federal agents arrested Rosenthal for growing marijuana for personal use. This was ironic, as Rosenthal had been deputized by the City of Oakland, California to grow medical pot. His client was a legit, state-sanctioned, San Francisco based medical marijuana club.
Despite that, he was the target of the third raid in California after the Supreme Court ruled that California drug law could not overturn federal prohibitions. Specifically the Supreme Court held in 2001, that seriously ill patients in California could be prosecuted under federal charges. In other words, patients and their providers were no different than illegal cartels.
As such, Rosenthal suddenly came into the gunsights of the feds. His house was raided. He was arrested, tried and convicted. Several jurors later wanted to recant their verdict after learning that Rosenthal had been acting as an agent of the city itself. Rosenthal was sentenced by a U.S. District Court Judge to only one day in prison, which he had already served. In 2006, the 9th Circuit court of appeals overturned the conviction.
Undeterred, the U.S. Attorney's office re-indicted him. In May 2007, Rosenthal was convicted of three of the five charges against him. These included new charges of money laundering and tax evasion. However he did not serve any jail time. The jury was hung on the additional charges, but these were then dismissed by the court as a form of vindictive prosecution by the federal government.
This was significant as for the first time since the Supreme Court decision in Gonzales v. Raich, a cultivator was exonerated of growing charges. To those in the advocacy community, Rosenthal's experiences have made him a hero. The extremes of the federal government were clearly an overreach.
Rosenthal's advocacy, in other words, has been focussed on one of the most important issues of the last decade in the U.S. He has successfully raised the question of whether laws against marijuana have become more harmful to society than the drug they aim to ban. And that question has been central to every legalization movement. In every state. And in every country.
Today, more than 80% of Americans believe that cannabis should be legalized. That sea change is directly attributable to the activism and advocacy of people like Rosenthal.
WRITING AND TEACHING MARIJUANA
Rosenthal was an early activist writer and grower who helped mainstream better understand a stigmatized drug. His work as a columnist for High Times helped educate readers at a time when legalization was a joke.
High Times itself was originally intended to be "just" a one-off, as just one issue was originally planned. The idea was to substitute the word sex for cannabis. Instead, the magazine expanded over years to rival Rolling Stone and National Geographic. As a regular contributor Rosenthal was part of that unique voice.
Subsequently, Rosenthal also has authored multiple books on cannabis. These include a wide range of issues. He is an avid gardener, so there are lots of books on growing. But he also has written about other subjects, including the legal issues that patients and growers might face.
All his work has made Rosenthal a recognised grower and frontman that deserves respect. In 2006, Sensi Seeds, a Dutch breeder and seedbank, even named a cannabis strain after him.
Ed Rosenthal is still active in the world of marijuana and will probably keep going stronger than ever.
Go Ed! You rock!
---