Want to grow cannabis? 10 must-read marijuana grow books
---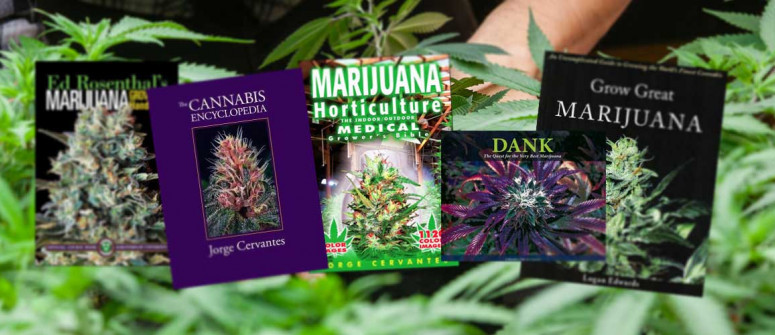 Looking for cannabis grow tips? Here are 10 must-read marijuana grow books for the beginning and the more experienced cannabis grower
Are you looking to grow cannabis for the first time? Or maybe you're an experienced grower just snooping around for new ways to push your plants? Maybe it is time to take it to the next level and improve the quality of your harvest.
Growing cannabis is not that difficult. But unfortunately ending up with a shitty harvest and no bud to smoke isn't that hard either.
Regardless of your level of grow experience, you can always use help. Therefore we gathered 10 must-read marijuana grow books that every cannabis grower should keep in their bookshelf.
TRUE LIVING ORGANICS: THE ULTIMATE GUIDE TO GROWING ALL-NATURAL MARIJUANA INDOORS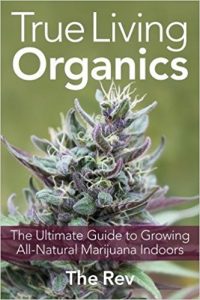 Author: The Rev – Year: 2012 – Language: English – Pages: 216
If you're interested in growing high-quality organic cannabis, this is the perfect book for you. The Rev's writing style is simple and there are more than 200 colour photos throughout the book. This makes it easy to comprehend even the most complicated aspects of cannabis cultivation.
Regardless of how much grow experience you have, this book is bound to help you improve your grow space and cultivate top-shelf cannabis in no time.
MARIJUANA HORTICULTURE: THE INDOOR/OUTDOOR MEDICAL GROWER'S BIBLE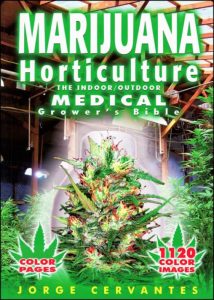 Author: Jorge Cervantes – Year: 1983 – Language: Dutch, English, French, German and Spanish – Pages: 512
Jorge Cervantes, AKA George Van Patten, is an American horticulturalist with years of experience growing top-shelf medical marijuana both indoors and outdoors.
Cannabis universities in the US (such as Oaksterdam, for example) use this book as their official textbook. Jorge is also well known for his instruction videos, which deal with the same material as in this book.
Whether you're growing indoors, outdoors, or in a greenhouse, this book will help you ensure healthy crops and great harvests. Take it from me, Jorge knows cannabis.
THE CELLULAR AND MOLECULAR BIOLOGY OF CANNABIS SATIVA FOR GROWERS AND GARDENERS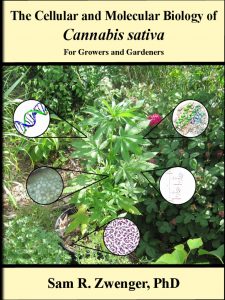 Author: Sam R. Zwenger – Year: 2016 – Language: English –Pages : 227
This ebook by Sam R. Zwenger (Fort Hays State University) takes an in-depth look at the cannabis plant on a molecular and cellular level for gardeners and growers.
It is written for the purpose of helping cannabis cultivators understand the intricacies of these plants and how they respond to their environments. This will help you to make an informed decision about what, when, where, and how to grow cannabis.
Note: This is not for "light reading." This book is recommended for growers with a passion for cannabis and a desire to better understand the plant down to the core.
7 STEPS TO GROW CANNABIS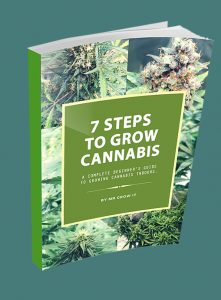 Author: Mr. Grow It – Year: 2016 – Language: English –Pages : 82
Where the previous ebook stands out for the exceptional amount of information it covers and the detail it goes into, this one stands out for its simplicity and clarity.
Mr. Grow It has been growing cannabis for nearly 10 years and has worked with some of the best growers around the world. In this ebook (available in PDF format for just $25) he shares his insight on how to grow cannabis properly. Basically it has a 7-step, easy to follow tutorial.
This ebook is a great tool for novice growers. If you're looking to grow weed for the first time, it should be among the first books you check out
MARIJUANA GROWER'S HANDBOOK: YOUR COMPLETE GUIDE TO MEDICAL AND PERSONAL MARIJUANA CULTIVATION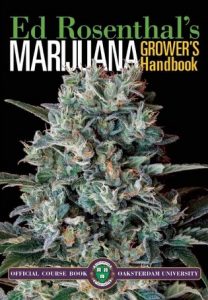 Author: Ed Rosenthal – Year: 1989 – Language: English –Pages : 510
It's no coincidence Ed Rosenthal is nicknamed "the guru of ganja." Rosenthal has been a cannabis activist for most of his life. He even played a key role in helping the Californian government implement the delivery of pharmaceutical-grade cannabis after the passing of Proposition 215 in 1996.
In this book, Rosenthal takes an in-depth look at how to grow cannabis both for medical and personal use. It also delivers key information about the various aspects of marijuana cultivation in a simple, easy-to-follow format.
This book belongs in every grower's bookshelf, regardless of how experienced they are.
THE CANNABIS ENCYCLOPEDIA: THE DEFINITIVE GUIDE TO CULTIVATION AND CONSUMPTION OF MEDICAL MARIJUANA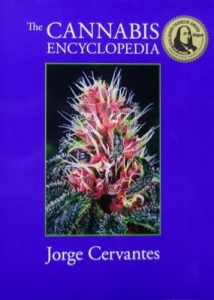 Author:Jorge Cervantes – Year: 2015 – Language: English – Pages : 596
This is another must-read cannabis grow book by Cervantes. It serves as the definitive guide on how to grow and consume medical cannabis. It is very helpful to both rookie and veteran growers.
The book features over 590 pages of well-researched, up-to-date information on the topic of cannabis cultivation and consumption. And to top it all of, it has over 2,000 beautiful colour images to help explain even the most complex topics in the book.
Whereas Marijuana Horticulture is specifically focused on grow techniques, this book provides perhaps a more general outline of both how medical cannabis is grown and used.
CULTIVATING EXCEPTIONAL CANNABIS: AN EXPERT BREEDER SHARES HIS SECRETS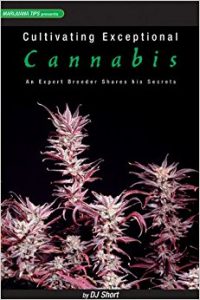 Author: DJ Short – Year: 2004 – Language: English – Pages : 192
DJ Short is behind some of the most iconic hybrid cannabis strains currently available on the market. He created Blueberry, Grape Kush, Azure Haze and many more famous strains.
Starting his career as a breeder in the 70s, Short has become somewhat of a legend among breeders and growers alike. In this book, he shares his biggest secrets for growing outstanding indoor weed.
In this book he covers everything from environmental factors and their effects on the development of a plant to intricate details on how to select and breed plants. He also goes into methods for stabilizing new varieties.
Going for only $19 on Amazon, this is a no-brainer for any serious growers looking to maximize the potential of their plants.
DANK: THE QUEST FOR THE VERY BEST MARIJUANA: A BREEDER'S TALE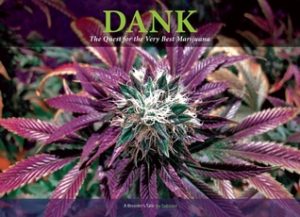 Author: Subcool – Year: 2008 – Language: English – Pages : 192
Subcool boasts over 20 years of experience growing and breeding cannabis. Today he is renowned as one of the founders of TGA Subcool Seeds. This team of growers is behind strains such as Ace of Spades, Agent Orange, Chernobyl, and many more.
You can find some awesome videos online where Subcool, wearing his typical sunglasses, jokes around and shows how he deals with plants. He might look like your typical American "cool guy", but sure knows what he's talking about.
In this book, Subcool shares his experiences on the quest to pot perfection. He provides a detailed insight into his personal methods for growing, breeding, and stabilizing his strains.
While it's maybe not the best source for simple, clear-cut grow tips, this is a must-read for anyone interested in the fascinating world of genetics and cross-breeding.
GROW GREAT MARIJUANA: AN UNCOMPLICATED GUIDE TO GROWING THE WORLD'S FINEST CANNABIS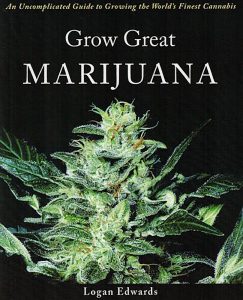 Author: Logan Edwards – Year: 2006 – Language: English – Pages : 286
We love this book for its simple approach to a topic so vast and complex as cannabis cultivation. Edwards, in his simple writing style, shares his methods for starting your indoor grow room. He will explain how to keep it packed with high-quality buds all year round. The great thing about this book is that not only his writing is simple, but the method he uses is also all about simplicity and speed.
Loaded with photos, tips, and illustrations, this book has earned itself a spot in the bookshelf of every budding new cannabis grower.
MARIJUANA GARDEN SAVER: HANDBOOK FOR HEALTHY PLANTS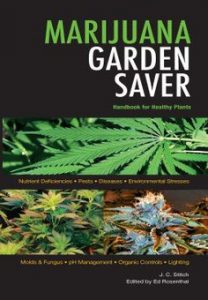 Author: J.C. Stitch, edited by Ed Rosenthal – Year: 2008 – Language: English – Pages : 176
As the name suggests, this book is designed to help cannabis gardeners keep healthy, robust plants.
It has been easily divided into five different sections that cover everything. From how to deal with pests and diseases, to the best ways to get your plants the nutrients they need most.
While some of the other books in this list may provide better step-by-step instructions on how to actually grow cannabis plants, this book shows you how to keep them alive and healthy, which is just as important. A clean house is a happy house!
---