10 must-read books for beginner weed growers
---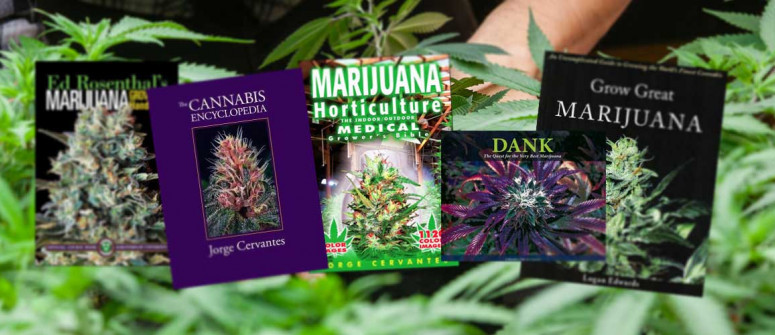 Growing great weed requires love, passion, and a little know-how. Fortunately, we can help with the latter thanks to our definitive list of the top 10 books for beginner weed growers. With all growing scenarios and skill levels catered for, these books are a must-have for budding cultivators (and experienced growers too!).
In the digital age, there's a near-infinite source of growing information available online. However, it's difficult knowing which sites to trust. Books from accomplished growers are not only an excellent source of trusted information, but they can help growers of all skill levels.
Why should you read a marijuana grow book?
While there's no doubt that physical grow bibles and grow guides are fantastic sources of information, they are especially useful for novice growers. No cannabis cultivation operation goes perfectly, but it's all part of the experience, and having these resources nearby will ensure you grow great-quality weed every time.
Moreover, even experienced growers can learn a thing or two from the wealth of knowledge outlined below, as many of the books contain advanced tips and tricks. There are even titles focusing exclusively on advanced growing methods, such as hydroponics and organic cultivation. In short, if you're looking to take your skills to the next level, don't discount the various cannabis books available today.
How to grow marijuana: Top 10 books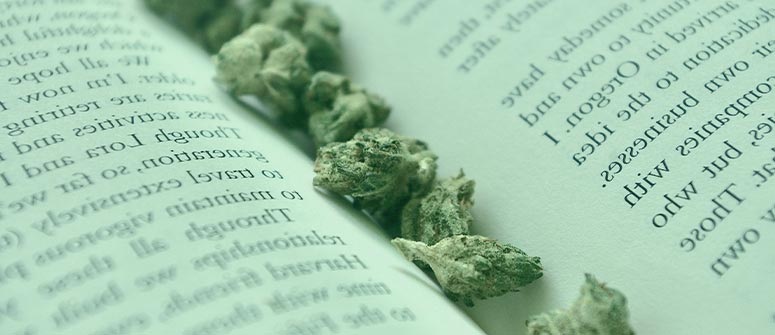 We've gathered the 10 must-read marijuana grow books that every cannabis grower should keep on their bookshelf. Every title offers something different, so take a look at the list below, and balance the pros and cons against your personal growing needs to find the best option.
1. Cannabis: A Beginner's Guide to Growing Marijuana by Danny Danko
Year: 2018 — Language: English — Pages: 143
Few cannabis-focused books offer as much simple, no-nonsense advice as Cannabis by Danny Danko. In fact, Danny has extensive knowledge and experience working in the cannabis industry, but still manages to present the information in a clear and coherent format. The aptly titled book is aimed at informing beginners, and we're pleased to report it does precisely that. There's even a foreword from cannabis-growing legend Jorge Cervantes, with him endorsing the "direct writing style".
The book takes you through all of the critical stages of growing, right from setting up your grow room to fine-tuning for even bigger yields. If you've never touched a cannabis plant before and want to get started, this book will make an excellent companion.
Pros
Straightforward and concise
Covers cultivation from start to finish
Available in audiobook format
Cons
Doesn't include information on more advanced setups and techniques
Misses some specific details
2. Homegrown Marijuana by Joshua Sheets
Year: 2015 — Language: English — Pages: 194
Aimed at more experienced growers, Homegrown Marijuana takes an in-depth look at the art of hydroponic weed cultivation. While it may seem more complicated at first, growing in hydro allows you to really push a strain to its limits. The flip side, of course, is that hydroponics is much easier to get wrong, and that's where this book comes in handy.
If you've already mastered several soil-based grows and are looking to push your cultivation knowledge and expertise, then hydro is an obvious next step. With this extensive guide at your side, you're sure to achieve yields you could only dream of.
Pros
Focuses exclusively on the art of hydroponics
Includes step-by-step instructions and photos
Ideal for experienced growers
Cons
A challenging topic for novice growers
Not suitable for soil-based grows
3. Marijuana Grower's Handbook by Ed Rosenthal
Year: 2009 — Language: English — Pages: 1188
It's hard to argue with the millions of growers that have bought the Marijuana Grower's Handbook. It's also incredibly difficult to argue with Ed Rosenthal, given his extensive knowledge of cannabis and garden efficiency. Moreover, Ed achieves something few experts can—bridging the gap between the European and US cannabis industry by sharing his experiences with both within the book.
With endorsements from Tommy Chong and the NY Times, the Marijuana Grower's Handbook has become a staple of cannabis cultivation. However, if you already own the book and are after an updated version, you can buy the 2021 edition.
Pros
One of the most extensive grow guides available
Covers all aspects of cultivation
Useful for beginner and intermediate growers
Cons
Original is slightly outdated
Longer read than most cannabis books
4. Sinsemilla Technique by Kayo
Year: 2015 — Language: English — Pages: 100
Short and to the point, the Sinsemilla Technique provides an overview of cannabis cultivation, with some general knowledge thrown in for good measure. It may not be as detailed as other examples on our list, but its upbeat and entertaining tone makes it a joy to read. Plus, being only a hundred pages long means you get to grips with the basics of growing in no time at all.
It's unlikely that experienced growers will gain much from this book, but we think it still deserves a spot on your bookcase thanks to its clarity on topics such as sexing cannabis plants. It's also a great addition if you're entirely new to cannabis culture, not just growing.
Pros
Good overview of cannabis culture
Easy to read
Suitable for first-time growers
Cons
Not as detailed as other books
Lacks advanced growing techniques
5. Growing Marijuana by Gary Keller
Year: 2016 — Language: English — Pages: 120
Growing Marijuana supports the idea that you don't need to cultivate hundreds of cannabis plants to be a successful grower. Instead, a solitary plant, grown well, can provide all of the bud you need. For beginners, this is a crucial lesson to keep in mind, as more plants usually means more problems to deal with, not just bigger yields.
Everything from growing in soil to cloning mother plants is covered, so there's plenty of quality information to digest. There's even a section dedicated to setting up your grow space and choosing between all of the different lights and extractors. Picking the most suitable grow light is especially important—not just for plants, but also for your wallet.
Pros
Covers soil and hydro-based grows
Available in audiobook format
Breaks down the important elements of a grow space
Cons
More up-to-date titles available
Less-specific than some other guides

6. The Cannabis Grow Bible by Greg Green
Year: 2017 — Language: English — Pages: 716
Many cannabis-focused books give themselves the title of "grow bible", but few live up to the expectation. The Cannabis Grow Bible bucks that trend by being a fully comprehensive guide to cultivating cannabis. Even better, the book is constantly updated, so ensure you grab the latest edition to get the most up-to-date information on techniques such as ScrOG and hydroponics.
The beauty of the Cannabis Grow Bible is it caters to growers of all skill levels. So, if you're just getting started with cannabis cultivation, this book can accompany you on your journey, remaining useful for years to come. If you aren't afraid to get stuck into over 700 pages of detailed advice, this book is a must-have.
Pros
Over 700 pages covering all aspects of cultivation
Extra pages added with each edition
Useful for various skill levels
Cons
Takes time to digest all the information
Expensive compared to other grow guides
7. Ask Ed: Marijuana Success by Ed Rosenthal
Year: 2020 — Language: English — Pages: 140
The second instalment from Ed Rosenthal is just as informative as his Marijuana Grow Guide, except this time he focuses on specific grower-oriented concerns. It may not be the usual grow guide format, but that doesn't mean the information is less relevant. In fact, experienced growers may find this title more helpful than a traditional book because it addresses common obstacles.
Ask Ed is strongly recommended as a supplementary guide alongside several of the conventional titles on our list. This way, you have the usual A–Z of cannabis cultivation covered, plus Ed's industry expertise to help you with problems with techniques such as pruning or curing.
Pros
Answers questions gathered from real-world scenarios
Useful for troubleshooting
Published in 2020
Cons
Doesn't cover cultivation from start to finish
Less relevant for first-time growers
8. The Essential Cannabis Book by Rob Mejia
Year: 2018 — Language: English — Pages: 184
The engaging writing style and clear categorisation of cannabis-related topics make The Essential Cannabis Book a great read for first-time growers. That said, the book doesn't shy away from complex subjects, so there's still plenty to learn for experienced growers. If you're interested in the history of cannabis, the plant's medicinal uses, or making edibles, this book is for you.
Don't let the short page count put you off, as the book is packed with clearly written explanations and informative anecdotes. In fact, you'll likely want to read through the Essential Cannabis Book multiple times just to take in all the handy hints and tips.
Pros
Comprehensive overview of cannabis culture
Clearly explains commonly used terms
Cons
Doesn't cover any one topic in great detail
Not suitable for grow-related troubleshooting
9. How to Grow Marijuana by Murph Wolfson
Year: 2020 — Language: English — Pages: 224
One of the more recent cannabis grow guides, How to Grow Marijuana from Murph Wolfson captivates growers from the start thanks to its no-nonsense advice. Aimed predominantly at novice growers, it guides you through the cultivation process from germination to harvest. Thankfully, there are also sections dedicated to pushing yields and growing outdoors.
The inclusion of outdoor growing is important because many guides focus purely on indoor cultivation. While it's true that growers have more control over the conditions affecting indoor plants, outdoor cannabis gardens can be just as lucrative. Provided you've got a suitable climate, outdoor cannabis plants can reach monstrous proportions, delivering bucketloads of buds.
Pros
Beginner-friendly
Caters to indoor and outdoor growers
Published in 2020
Cons
Doesn't focus on troubleshooting
Not suitable for experienced growers
10. True Living Organics by The Rev
Year: 2016 — Language: English — Pages: 300
Of all the titles on our list, True Living Organics is the only grow guide to focus exclusively on organic cultivation. If you're interested in keeping your first marijuana experience as natural as possible, this book is the ideal companion. That said, organic growing requires more planning than traditional methods, so it's important to consider your circumstances before taking the plunge.
However, suppose you have the space and commitment to grow organically. In that case, the second edition of True Living Organics will teach you how to create soil mixes, maximise yields, and make all-natural organic hash. There's no doubt that as cannabis acceptance increases, so does the desire for bigger and better harvests. At least with organic growing, you can ensure the impact benefits you and the environment.
Pros
The only organic cultivation guide on this list
Includes detailed guides with clear explanations
Encourages outdoor growing
Cons
Limited application
Difficult for first-time growers to follow
Beginner cannabis grower? Read these books!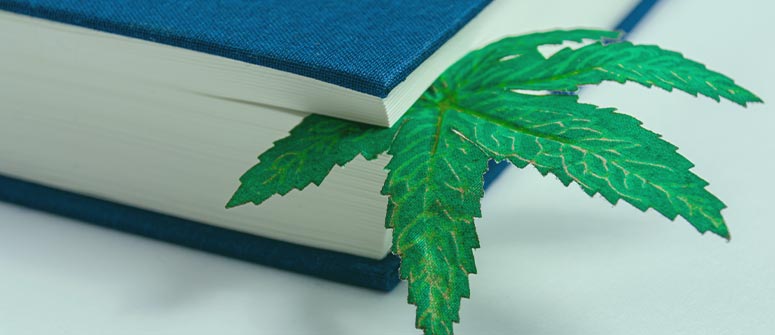 If you're new to cannabis growing, the vast amount of information on the internet can quickly overwhelm you. Cannabis books remove the hours spent searching for reliable information by putting tried and true advice in the palm of your hand (quite literally).
If you have never touched a cannabis plant, many of these books will prove invaluable in your green-fingered quest for success. Moreover, even if you're several grows deep, but keep struggling with the same issues, there are helpful titles for that too.
References:
1. Danko D. Cannabis: A beginner's guide to growing marijuana. https://www.amazon.com/Cannabis-Beginners-Guide-Growing-Marijuana-ebook/dp/B07BGS3MLB. Published 2018. Accessed January 19, 2023.
2. Sheets J. Homegrown marijuana: Create a hydroponic growing system in ... - amazon.com. https://www.amazon.com/Homegrown-Marijuana-Joshua-Sheets-ebook/dp/B012HS4L1Q. Published 2015. Accessed January 19, 2023.
3. Rosenthal E. Marijuana grower's handbook. https://www.zamnesia.com/uk/3947-marijuana-grower-s-handbook.html. Published August 26, 2009. Accessed January 19, 2023.
4. Kayo. Sinsemilla technique : Kayo: Amazon.com.au: Books. https://www.amazon.com.au/Sinsemilla-Technique-Kayo/dp/0867193034. Published 2015. Accessed January 19, 2023.
5. Keller G. Marijuana: Growing marijuana, a Quickstart Indoor and outdoor grower's... https://www.amazon.com/Marijuana-Growing-QuickStart-Outdoor-Personal/dp/1540519430. Published 2016. Accessed January 19, 2023.
6. Green G. The cannabis grow bible (English - 3rd edition). https://www.zamnesia.com/uk/3881-the-cannabis-grow-bible.html. Published December 1, 2017. Accessed January 19, 2023.
7. Rosenthal E. Ask Ed: Marijuana success: Tips and advice for gardening year-round. https://www.amazon.com/Ask-Ed-Marijuana-Gardening-Year-Round/dp/1936807491. Published 2020. Accessed January 19, 2023.
8. Mejia R. The Essential Cannabis Book. Amazon. https://www.amazon.com/Essential-Cannabis-Book-Field-Curious/dp/1940611814. Published 2018. Accessed January 19, 2023.
9. Wolfson M. How to grow marijuana: The easiest guide to growing weed. https://www.amazon.com/How-Grow-Marijuana-Easiest-Growing/dp/1507212585. Published 2020. Accessed January 19, 2023.
10. Rev T. True living organics: The ultimate guide to growing all-natural marijuana indoors. https://www.amazon.com/True-Living-Organics-All-Natural-Marijuana/dp/1937866092. Published 2016. Accessed January 19, 2023.
---