Advantages and disadvantages of growing marijuana using hydroponics
---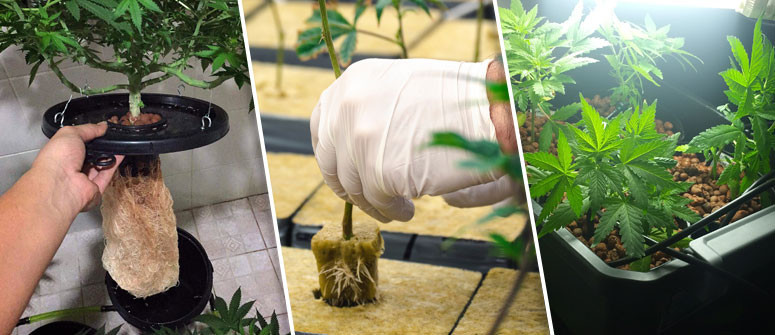 Growing marijuana using hydroponic systems is very popular among experienced growers. But why is that? Find out about all pros and cons of hydro growing.
Hydroponics is used throughout the horticulture industry as an alternative means of growing—presenting a whole host of benefits when compared to growing in soil. Relying on using an inert medium like perlite, rockwool, or clay pellets, the premise is that roots are in direct contact with a nutrient solution while still getting oxygen from water provided by an electrical pump.
WHY CHOOSE HYDROPONICS?
This growing method brings with it some significant advantages. Many users report faster maturation and improved yields. Any growing process that can improve the size and density of buds is worth considering, although undertaking hydroponics as your first venture into cannabis cultivation is a bold step. Previous experience is beneficial, especially since too much of a good thing can be detrimental for your marijuana plants—especially nutrients.
If you are still undecided as to whether an attempt at hydroponics would prove beneficial to you, allow us to cover the key advantages and disadvantages of this growing method.
ADVANTAGES
1. FULLY CONTROLLED NUTRITION
The nutrients received by your plants will depend entirely on your input. This is one of the method's biggest blessings. When introduced to soil, nutrients can become diluted, leaving your cannabis plants lacking. With hydroponics, growers can check which nutrients and how much are needed at each stage, preparing them ahead of time. Easily administered, nutrients are mixed with the water and stored in the tank. Nothing is wasted.
2. BIGGER YIELDS
Every cannabis grower wants bigger buds, and hydroponics is one way to get them. Your plant's root system can be administered all the vital nutrients it needs directly. No energy is wasted by the plant hunting out nutrients in the soil. Pampering your cannabis plant means the energy they have left over is concentrated on plant development, increasing the speed and strength at which they grow.
3. MORE PRACTICAL
Setting up a soil-based growing environment can be a messy affair, often taking up a lot of physical space. Less space for the roots is needed with hydroponics, a result of the roots being fed directly. Cannabis plants can be placed much closer to each other without detrimental effect when growing hydroponically. More plants means more weed at the flowering stage. When it comes to dismantling your new setup or replanting, moving or cleaning old soil is a thing of the past.
4. ACCURATE pH LEVELS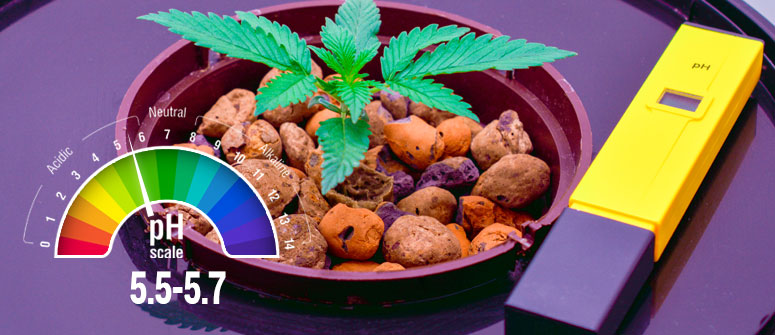 Almost everything your plant needs is contained in the water. Therefore, monitoring and adjusting the pH level can be done quickly and accurately. Correct pH is vital for optimal nutrient uptake. There is no guessing game with hydroponics, whereas soil can often give inaccurate pH readings.
5. EASY ROOT ACCESS
Usually, root systems display signs of distress or nutrient deficiency quicker than it above ground parts will. By having the roots exposed, you can quickly identify any potential problems. Roots should always be white; darker roots point to an unhealthy plant.
6. PLANTS GROW FASTER
Hydroponics offers direct access to the nutrients your cannabis needs, accurate pH monitoring, and a constant supply of oxygenated water. As long as you have sufficient lighting and temperature control, plants will grow faster compared to a soil-based grow. They are being fed everything they need, resulting in virtually no energy being wasted.
7. FEWER PESTS AND DISEASES
Soil can harbor many fungal diseases like Fusarium, Pythium, and Rhizoctonia. By removing the soil, you eliminate the risk. Alongside pests or weeds growing in your soil setup, hydroponics offers a solution to all of these hazards by removing the substance they use to thrive. Properly managed hydroponic system can help you avoid potential complications you would come upon in soil.
8. BETTER RESILIENCE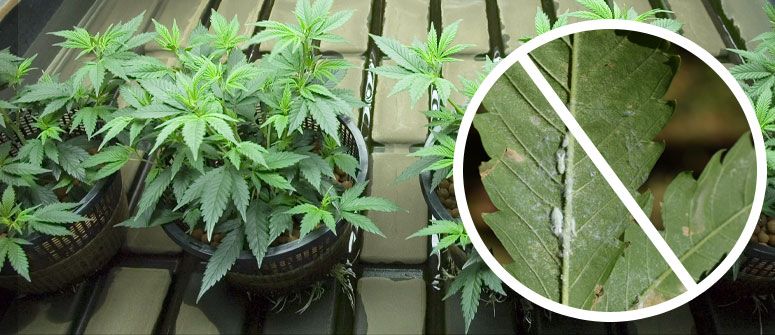 The link between plants growing faster and improved resilience is an obvious one. In the same way that your cannabis plants save energy by not having to search for diluted nutrients, the collective energy gives your plants more strength to fight off harmful diseases. They are better prepared to respond to any adverse changes than their soil-based counterparts.
9. CLEANER GROWING SPACE
No soil, no mess. Sounds simple, but anyone who has grown with soil before will know how much chaos and debris there can be left over after the grow has finished. Even during growth, the process of mixing nutrients with soil can lead to wasted earth and more work cleaning up afterwards.
10. WATER AND NUTRIENTS ARE EASILY ADMINISTERED
Mistakes can occur as a result of the nature in which nutrients are fed to plants. However, this trait is far more of an advantage than a disadvantage. Carefully monitored, that direct feed gives you a level of control impossible with soil-based grows. Exact measurements of nutrients can be made, ensuring your plant receives just how much it needs.
DISADVANTAGES
1. INITIAL COST AND SETUP
There is no denying that buying the equipment will, in the beginning, cost more than a typical soil-based growing setup. Adequate pumps, tubing, and electricity all add up. If you are intending to grow with the purpose of selling weed, it can be difficult to justify the added cost if it is not a long-term venture. Once set up, the costs will start to level out, in line with soil-based setups.
2. MISTAKES ARE HARDER TO RECTIFY
Nutrient uptake is so direct that any mistakes could kill off an entire crop. Usually, soil dilutes the nutrient balance, offering some solace if you get the balance slightly wrong. With hydroponics, there is no buffer. Balancing out any mistakes can be even more difficult unless you have experience with the quantities of nutrients your chosen cannabis strain needs.
3. MORE TIME AND COMMITMENT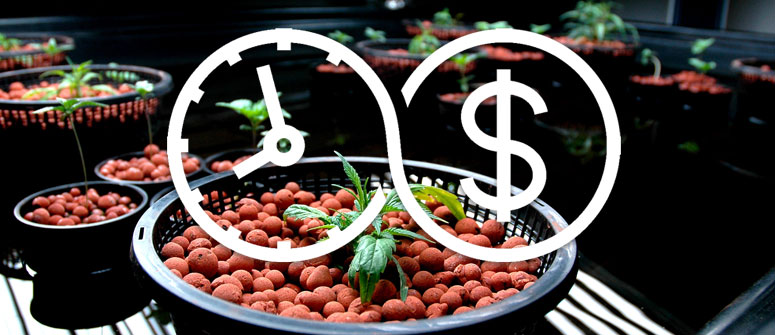 Cannabis plants are pretty resilient; many will flourish even when left in a window box. With more direct control over your plants comes more responsibility. They will rely on you for every nutrient or supplement. To make the most of the implicated cost, your weed needs to be growing at its optimal capacity. Frequent monitoring is required.
4. PREVIOUS KNOWLEDGE IS RECOMMENDED
As we have already alluded to, rectifying mistakes can be costly. Rather than taking a few days before your plants start to die, the worst case scenario can occur in just a few hours. As such, knowing what to look out for, alongside experience growing your chosen strain, is essential. This can be off-putting for novice growers, directing people away from choosing hydroponics.
5. POWER OUTAGES CAN BE DISASTROUS
The lifeblood of your equipment is the pump. Pumps provide the water, oxygen, and the nutrients. Without water, your plants will die in a matter of hours. Should a power outage occur or your pump fail, an alternative means of pumping will be needed. Back-up generators add to the cost, as do durable and reliable pumps.
6. ACCURATE TEMPERATURE CONTROL NEEDED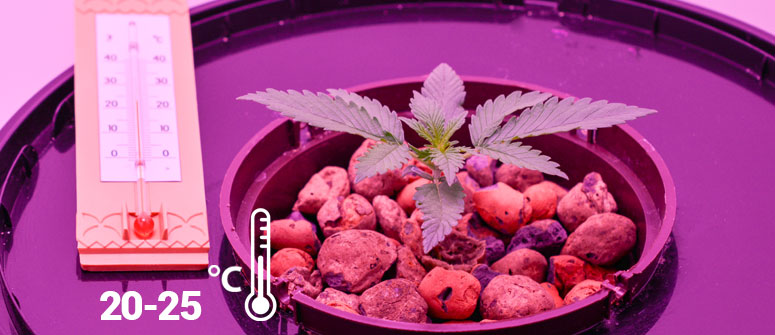 Due to the nature of hydroponics, marijuana plants can handle a temperature which is a few degrees lower as when growing in soil. Between 20-25°C is preferred, although cannabis can tolerate up to 28°C without visible signs of stress. Any higher than 28°C and the metabolic rate of your plants will start to slow down. Temperatures of more than 35°C will kill your cannabis plants. At this temperature, the root system of your plants will be unable to dissolve the oxygen provided by the water.
7. WATER AND ELECTRICITY DON'T MIX
At its core, hydroponics consists of an electrical pump responsible for providing oxygenated water. Throw in high-powered lights, and should there be any leaks or spillages, disaster could strike. Extra safety is needed when maintaining any aspect of your equipment; this will prevent any tragedies from occurring. Always install electrical devices above waistline!
---