Cannabis-infused pizza recipe
---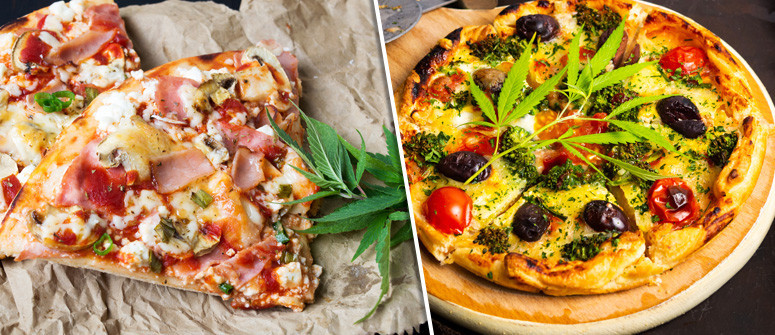 Weed pizza is one of the many edibles that can be made using cannabis-infused olive oil. Check out this spacey pizza recipe and prepare for lift-off.
A pizza that gives you the munchies might seem like a contradiction. Yet within two hours of making this weed-infused pizza, you will want another one. So you better make two.
The word "pizza" and the topping-covered bread base itself are mostly associated with Italy—specifically Naples, where the first Margherita pizza was made in the late-nineteenth century.
However, ancient and contemporary cultures in many regions of the world have put toppings on breads. Cambodia and Vietnam are renowned for their "happy pizzas," and there are Neolithic records of flatbreads topped with flavored morsels.
This pizza can have cannabis included in a number of effective ways. Brutally by shaking kief or drizzling cannabis oil all over and cooking laissez-faire, or subtly by infusing olive oil and tomato sauce, and avoiding the rather confrontational flavors of raw herbs and oil.
When infusing olive oil for cooking, make it strong. It is usually used so subtly in many recipes that you might not get the desired effects.
Of course, if you wanted a killer pizza, you could infuse every ingredient with the mighty mighty weed. Cannabis dust in the crust with infused olive oil, infused tomato sauce, canna cheeses, and infused toppings of your choice.
Cannabis is an edibles champion. But remember, don't overdo it, especially if you're a novice.
This easy pizza recipe makes a medium pizza with a regular crust, but you can personalize things depending on your situation and your preferences.
N.B. The following recipe is made with cannabis-infused olive oil with an estimated amount of marijuana. Remember that edibles can hit harder then you expect, so feel free to judge the amount according to your own experience. It is strongly advised to first learn how to calculate the strength of edibles.
INGREDIENTS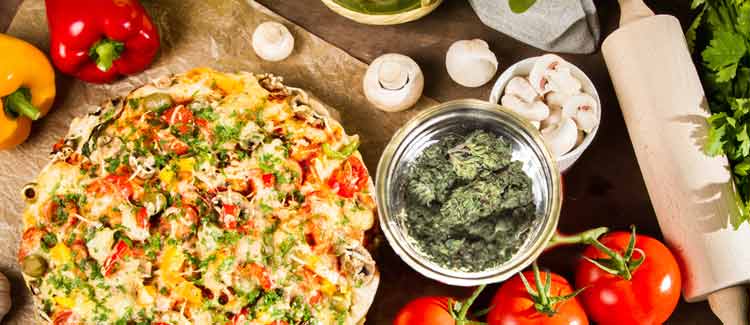 FOR THE BASE (CRUST)
1 ½ cups (340g) plain flour, sifted
2 tbsp. cannabis-infused olive oil
2 tsp. or sachets granulated yeast
1 tsp. salt
2 tsp. sugar
Warm water (not hot! The yeast will die with hot water)
FOR THE MOST SIMPLE TOP (THE MARGHERITA)
Tomato sauce
Mozzarella cheese
Oregano or basil
Like with most things, the sky's the limit. A cornucopia of preserved and fresh meats and vegetables can be used. Jalapeños, onions, peppers, tomato rounds, artichoke hearts, and roast pumpkin are all delicious toppings. And hey, there's always pineapple for those of you willing to break the barrier into sweet stuff.
HARDWARE:
1 medium-sized bowl
Butter knife
Measuring cup
Measuring devices
Medium-sized pizza tray
Dinner plate to cover the bowl
Oven (preheated to 200°C/392ºF)
PREPARATION
Place all the dry ingredients in the bowl and mix together with your fingers. Then make a divot in the top.
Pour the 2 tablespoons of infused oil into the divot.
This bit sounds easy, but will probably take a few goes to get right. Using the knife, mix in enough warm water to make a dough. There is no set amount of water, as temperature, humidity, and even elevation play a part in how the dough comes together.
When the dough easily comes away from the sides of the bowl, it is done to perfection. You will eventually get a feel for this and get it perfect every time.
If the dough is too wet, add flour and mix thoroughly until it comes away from the bowl. If it is too dry, add very small amounts of water until the desired texture is reached.
Put some flour on your hands and briefly knead the dough. No more than a minute is necessary. The dough should be just a bit sticky.
Cover the bowl with the plate and set aside in a warm place for an hour or longer. It's okay to forget. The dough might rise a lot, but is easily knocked back and pressed out onto the pizza tray.
Lightly oil the pizza tray.
Turn out the dough onto the tray and press out evenly to the edges. Or do that spin and throw thing that the pros do. Pick the dough up from the floor, try an easier pressing method.
Spread tomato sauce until even all over.
Divide the mozzarella over the tomato sauce evenly.
Add toppings as you please. A good hint for a well-cooked pizza is to not overload each layer. Be sure you can easily see the layer below, then add the next ingredient. When the toppings are layered too thickly, the base boils goes all sloppy.
Place your creation in the preheated oven and cook for 25–30 minutes. Be sure to check at 25 mins—ovens vary immensely.
Remove from oven with oven mitts or a tea towel. Allow to cool a bit. Cut into slabs. Serve and enjoy, then wait for those funky edibles to kick in.
Enjoy!
---