Cannabis and cbd gummies recipe
---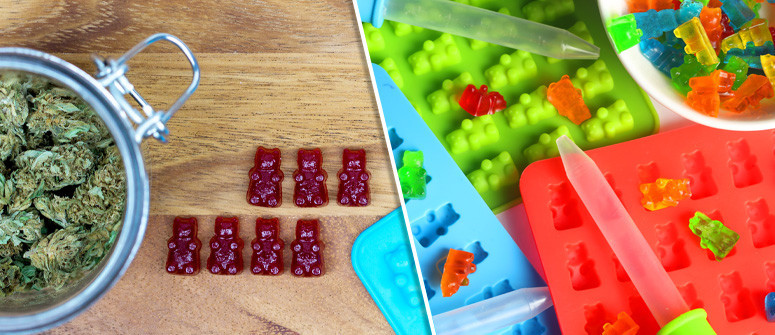 Want a tasty and discreet way to enjoy your weed or CBD? Try CBD gummies! Did you know they're simple to make at home? With some equipment and a few easy steps, you'll have a good batch in no time.
If you've got a bit of a sweet tooth and enjoy the pleasures of CBD and other cannbinoids, we're sure gummy edibles have come on your radar time and time again.
They come in all shapes and sizes, but gummy bears are probably the most iconic variety out there. You might assume they can only be made in a factory and bought from a dispensary or health shop. However, the candy enthusiasts amongst you will be happy to learn that you can make cannabis/CBD gummies at home! Not only is it possible, it's actually quite easy and only requires a few simple steps.
WHAT ARE CANNABIS GUMMIES?
Cannabis gummies are just like regular gummy bears, with the difference being that they're infused with THC and/or CBD. Rather than flower or cannabutter, though, the cannabis is incorporated into the gummy bears as a tincture or oil. Tinctures, for those unfamiliar, are alcohol-based cannabis extracts. These exist in both THC and CBD form, with the main difference being that CBD tinctures have no psychoactive effects.
ARE CBD GUMMIES AS EFFECTIVE AS CBD OIL?
There is no one method of taking CBD that is better than the other—each has its own advantages and disadvantages making them effective in certain situations. Unless you're dosing sublingually, CBD oil/tincture and CBD gummies feature no major differences, making CBD gummies as effective as CBD oil.
When CBD is taken in gummy form, the CBD has to travel through the digestive tract when swallowed. It means the effects take longer to come on, but last longer as well. Sublingual dosing, on the other hand, entails taking CBD oil/tincture under the tongue, where it quickly enters the bloodstream through the oral mucosa for a quicker onset, but also shorter effect.
HOW TO MAKE CANNABIS GUMMIES
What most cannabis cooks will find appealing about CBD gummy bear is that they are quick and easy to make! Even a novice should be able to whip up a batch with relative ease. Cannabis gummy bears are also small and bite-sized, making them discreet and easy to enjoy on the go throughout the day.
Just be sure not to leave them lying around, as they are so discreet that they are easily mistaken for normal candy.
INGREDIENTS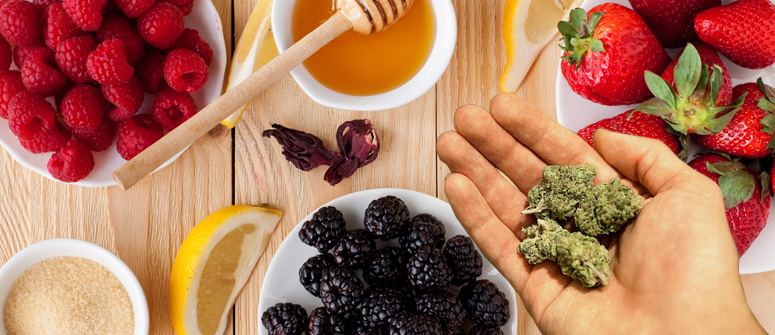 • ²/₃ cup pureed fruit (we find berries work best)
• ¹/₃ cup water
• 1 tbsp. lemon juice
• 2 tbsp. honey
• 3 tbsp. gelatine
• Cannabis tincture and/or CBD oil (we recommend Cibdol's line of CBD oils)
Note that the amount of CBD oil or tincture you put in depends on your desired dose. Around 5mg of CBD per bear is recommended. If you want to figure out the total amount you need to include, just consider how many gummies you want to make/your mould can produce using the above ingredient amounts. To measure your gummy count, pour 1 cup and 6 tablespoons (the total amount of ingredients above) into a bowl, then into your moulds. This will offer an estimate of how many you can make, and you can calculate the total CBD content from there. It should be fairly easy to work out if using clearly labelled store-bought CBD oil.

If you're interested in adding some THC tincture to the mix, it's advised to include no more than 1mg per gummy. As buying a THC tincture is not so easy, measuring this is much harder. If you have to guess, make sure to start slow when testing your gummies for the first time.
HARDWARE
• Condiment bottle
• Silicone gummy bear moulds (or any shape you want your gummies to be)
• Measuring cup
• Food processor
• Whisk
• Saucepan
It should go without saying that all of this equipment should be food-grade, especially the bottle and bear moulds.
DIRECTIONS
1. Use your food processor to blend your berries of choice into a smooth puree.
2. In a large saucepan, combine your pureed berries, water, lemon juice, and honey over medium-low heat. Mix thoroughly.
3. Slowly whisk 3 tablespoons of gelatine into your mixture (you may use flavoured gelatine if desired). Mix in your CBD oil and/or cannabis tincture.
4. Continue whisking the mixture until it is completely smooth and all the ingredients are blended evenly. Remove from heat. Carefully fill up your condiment bottle with the mixture, then fill your silicone mould with said mixture.
5. Place your gummy bears in the refrigerator to cool for at least 15 minutes, or in the freezer for at least 5 minutes. Once set, they are ready to be eaten.
6. Enjoy!
Be sure to store your CBD gummy bears in a cool, dry, and safe place.
HOW LONG DO CANNABIS GUMMIES LAST?
"So, how long do these last, anyway?".
Great question! If you're storing them properly, especially if they're refrigerated, your cannabis gummies should last around 10 days.
"That's nice and all, but I just ate four and I have to go to work tomorrow. How long do they last?".
Oh, sorry for the misunderstanding. Well, thankfully, CBD gummies don't get you high at all, so you don't have to worry about lasting effects there. As far as THC gummies, it all depends on the dose.
However, note that edibles always produce a longer-lasting effect than a standard smoke sesh. If you typically feel high for three or so hours after smoking, expect edibles to last about twice as long. With that in mind, those seeking longer-lasting effects from CBD will be happy to know that CBD gummies are a great candidate for this!
---