How to make ginger-weed-bread edibles
---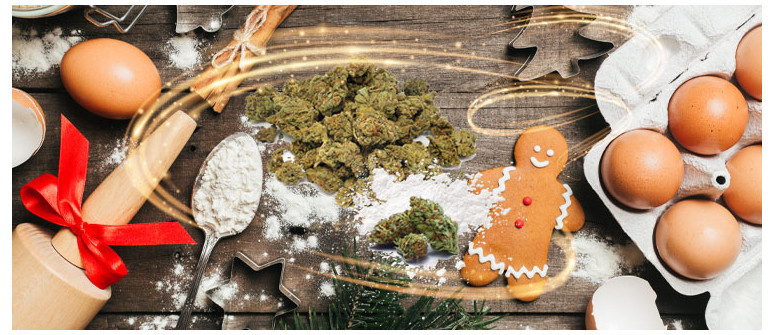 Learn how you can make edibles that taste and look just like classic gingerbread men. Or, change it up with your own cannabis-themed shape. The possibilities are endless.
Gingerbread men infused with cannabis, no matter the shape or how they're pimped out, are good for either recreational or medicinal purposes. They're delicious and guaranteed to put a smile on your face.
Making gingerbread men is a tradition to many. Decorating them is fun whether you're handing them off to the kids or making your own slightly naughty version when no one's looking. They're delicious when they're first made and still good even when they're slightly stale.
If you'd like to make an adults-only version of this holiday favorite and covert these cookies into edibles ginger-weed-bread men, or women, or pot leaves, or whatever lights your pipe, just follow our recipe.
INGREDIENTS FOR THE COOKIES
4 cups all-purpose flour

2/3

cups brown sugar
2/3 cups molasses
4 tsp ground cinnamon
1 tsp ground cloves
1 tsp ground allspice
2 tsp baking soda
1/2 tsp salt
1 large egg
1 cup cannabutter (to adjust potency, substitute regular, unsalted butter for part of the cannabutter)
INGREDIENTS FOR THE ICING (OPTIONAL)
2 cups powdered sugar
1 1/2 tbsp cream of tartar
2 1/2 tbsp water (warm not hot)
Food coloring (optional)
DECORATIONS—ALSO OPTIONAL, BUT REALLY FUN
Raisins
Brightly colored candies
Chocolate chips
Sprinkles
HARDWARE
5-quart saucepan
Measuring cups and spoons
Large spoon to mix with
Rolling pin
Cookie sheets
Cookie cutters
Spatula
Oven & stovetop
Non-stick spray or parchment paper
Mixer & bowl for icing (optional)
Piping bags & tips for icing (optional)
PREPARATION
Preheat the oven to 325°F (165°C).
Combine molasses, sugar, and spices in the saucepan. Set the burner to medium heat and stir every few minutes. Once the mixture starts to bubble, remove it from the stovetop.
Add the baking soda and give it a good stir. The foaming is normal.
Stir in the cannabutter 2 tbsp at a time. Let it melt completely before adding more. If your cannabutter is so strong that you're cutting it with regular, unsalted butter, use the regular butter first.
Stir in the egg, salt, and 3 3/4 cups of flour. Mix well.
Lightly flour your work surface, pour out the dough, and knead for about two minutes. Dusting the dough with flour as needed will make it easier to handle.
Wrap the dough up in plastic wrap and let it cool in the fridge for at least an hour. Overnight is okay too. The dough is much easier to work with when it's chilled.
When the dough is ready, lightly grease your cookie pans with non-stick spray or line them with parchment paper.
Dust your work surface with more flour, then roll the dough until it's about ¼-inch thick. Use a cookie cutter to cut out your ginger-weed-bread men. If you don't have a cutter in your desired shape, you can cut them free-hand with a knife. Reroll any scrap dough and cut it into more cookies.
Carefully lift each cookie with a spatula and place it on the prepared cookie sheet, allowing about an inch of space between each one.
Bake the ginger-weed-bread men for 10 to 12 minutes.
Allow to cool completely before decorating, but feel free to sample your naked cookies as soon as they're cool to the touch. It'll make the decorating way more fun!
HOW TO MAKE ROYAL ICING FOR GINGER-WEED-BREAD MEN
Add all icing ingredients to a bowl.
Use just a few drops of food coloring if you want something other than white.
Use a mixer on medium speed to whip the mixture until stiff peaks form. This can take anywhere from 7 to 12 minutes.
Add the icing to a piping bag to make it easy to decorate your ginger-weed-bread men.
Enjoy and share, but make sure to keep your edible gingerbread away from the kids!
---