Dank mai tai recipe
---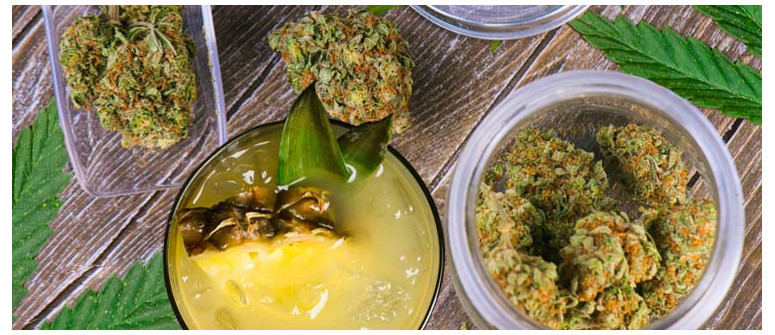 Having cocktail hour at 4:20? Check out this recipe to mix the best both worlds and make yourself a delicious Dank Mai Tai!
There's nothing better than sipping on a Mai Tai at the beach, watching the sunset while those tropical flavors linger on one's taste buds. To intensify the experience and make it even more exciting, you could add some weed to the recipe and make a Dank Mai Tai.
INGREDIENTS
750ml/25 oz rum
7 grams/0.25 oz of dried weed
Large Mason jar
Cheesecloth
15ml/0.5 oz orange Curaçao
7ml/0.23 oz simple syrup
Lime
7ml/0.23 oz orgeat
Fresh pieces of pineapple
30ml/1 oz pineapple juice
Weed leaf
INSTRUCTIONS
Making your own delicious Dank Man Tai is actually very easy.
First, you need to grind and decarboxylate your weed. Grinding is the easiest part. Just grind it like you normally do when preparing for a bowl or a joint. Not too thin, not too thick.
After this, spread it over a lined baking tray and bake at 115°C/240°F for about 30-45 minutes. Don't skip this step, as decarboxylating your weed is an absolute must if your making edibles, or in this case canna-cocktails.
After taking your weed out of the oven, let it cool down and put it in a large Mason jar, together with the rum. Shake it well and keep doing this every now and then while leaving it in a dark area for 5-7 days. Remember, the longer the mix stays in the jar, the more tasty and potent it will become.
Add pineapple juice, orange Curaçao, orgeat, and simple syrup to your 60ml/2 oz glass of cannabis-infused rum. Fill with chunks of ice and shake or stir vigorously.
Garnish with a fresh pineapple piece and a weed leaf or one of those funny small umbrellas if you have one laying around, and voilà, Dank Mai Tai at your service!
Enjoy, but be careful! Remember that edibles can hit harder then you expect, especially when combined with alcohol, so feel free to judge the amount according to your own experience and start slowly. It is strongly advised to first learn how to calculate the strength of edibles.
---