Weed margarita recipe
---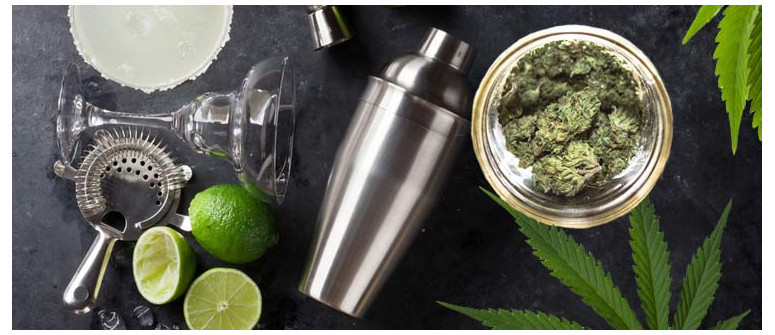 Edibles are hot, and what is better than combining two of our favorite things, weed and cocktails? That's right. Check out our Weed Margarita cocktail recipe!
Cooking with cannabis is nothing new, and nowadays people are taking this a step further everyday. In some places in the United States legalization has developed pretty far already and more and more establishments are popping up that focus on edibles.
One of the latest trends is cannabis infused cocktails. And because we ourselves have a tradition of serving cocktails at the end of a long weekend, we decided to share some with you.
Today it is time for another classic; Weed Margarita.
WEED MARGARITA: TRENDY TROPICAL DELIGHT
Weed Margaritas are a standard drink for all cannabis enthusiasts who love tropical flavors. This cocktail originates from Mexico, and spread across the globe, getting an abundance of middle-aged women drunk. Here's the recipe for this refreshing beverage.
INGREDIENTS
750 ml/25 oz tequila

7 grams/0.25 oz of dried weed

Large Mason jar

Cheesecloth

Lime

15ml of simple syrup

10ml of Grand Marnier

Salt


Ice
INSTRUCTIONS
First, you need to make the weed tequila by grinding the weed and decarboxylate your weed. To do this, spread it over a lined baking tray and bake at 115°C for about 30-45 minutes. This will help prepare your weed for the absorption process.
After this process, you mix it with the tequila in a large mason jar, close the lid and shake it to make sure all the weed is covered with tequila.
Leave it in a dark area for 5-7 days but shake it a few times during this period. Remember that the longer you keep the mix in the jar, the stronger and more tasteful it will get.
After that's done, strain the tequila through a cheesecloth and pour 60ml into a glass.
Squeeze half or the entire lime into the glass depending on your preference. Add the syrup and a couple of ice cubes. Shake it if you have a shaker; if not, simply stir thoroughly. Rim the glass with some leftover lime, and add salt so it sticks to the rim.
There you go! A freshly intoxicating drink. Start with one and wait at least 1–2 hours before taking another one. Remember that the mix of weed and alcohol can be very powerful and it might take some time before you feel any effect. The uptake of THC via the digestive system varies from person to person and can prolong the effects up to even 8 hours, so it is important to be very cautious and don't overdo it.
---