Marijuana VIP: Bob Marley
---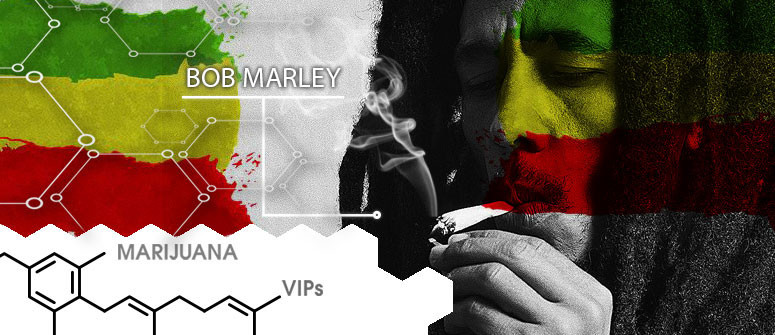 Bob Marley was a Jamaican reggae artist who went on to become one of the biggest advocates of cannabis the world has ever seen.
During the 1960s, 70s, and 80s, Bob Marley and his band found a global stage for their iconic reggae music. Complete with skanking guitars, deep, leading bass lines, powerful beats and even stronger messages, Bob Marley's reggae would forever change music history and shine a big, bright light on cannabis.
Robert Nesta 'Bob' Marley was born in 1945 in a farm in Nine Mile, Jamaica. His interest in music began at an early age, throughout both primary and junior high school. He was childhood friends with Neville Livingston (better as known as Bunny Wailer), and the two would often listen to music together as young kids and occasionally experiment with vocals.
Bob and Bunny both moved to Trench Town, Kingston, when they were roughly 12 years old. They'd soon go on to live together, at which point their musical experimentation began to deepen. R&B and Ska music were becoming more popular in Jamaica at this time, thanks to American radio stations whose signal's reached the island.
Due to their shared passion for music, Bob and Bunny soon met other like-minded locals in Kingston, including Peter Tosh, Beverley Kelso and Junior Braithwaite. At this time, both Bob, Bunny and their new friends didn't play any instruments; instead, they experimented with harmonies and had their sights set on forming a vocal group.
The group followed Higgs and Wilson, a popular local vocal duo, and eventually met Joe Higgs. They approached him about their dream to form a vocal group, and Higgs agreed to help the group develop their vocal harmonies, and also specifically focused on teaching Bob to play the guitar. Little did he know that he'd go on to provide Bob with the foundations behind some of the biggest-selling reggae songs in the history of the genre.
By the early 60s, Bob had made some serious contacts in the local music scene. In 1962, he recorded four songs for local producer Leslie Kong; Judge Not, One Cup of Coffee, Do You Still Love Me and Terror. Three of the songs went on to be released under Beverley's, a local music label, and One Cup Of Coffee was released under the pseudonym Bobby Martell.
Marley, Wailer, Tosh, Kelso, and Braithwaite quickly formed The Teenagers together with Cherry Smith. They were active on the local scene throughout 1963 but quickly went on to change their name to The Wailing Wailers. It was under this new name that the band grabbed the attention of another local producer by the name of Coxsone Dodd. The band finally changed their name to The Wailers between 1963-64.
Working together with Dodd, The Wailers released Simmer Down, an instant hit that topped the Jamaican charts and sold over 70,000 copies. The band quickly began working with big-name Jamaican musicians and released its first studio album, The Wailing Wailers, in 1965 but lost 3 of it's original members a year later.
The band would later go on to work with Lee "Scratch" Perry, another major producer at the time, and his band The Upsetters. Together, The Wailers would go on to produce some of their greatest hits.
During the early 1970s, Bob Marley and The Wailers released a number of iconic records, including Soul Rebels, Catch A Fire, Burnin', and Natty Dread. They also moved on to Island Records at this time, a major record label in the country. By the 1980s, Bob and his Wailers had released countless classic records, including Rastaman Vibration, Exodus, Kaya, Survival, and Uprising. Their last album, confrontation, was released in 1983.
It was during the 1960s that Bob Marley converted from Christianity to Rastafari. He was associated with one of the Mansions of Rastafari, and slowly began to incorporate Rastafari into his music. It was this turn of faith that helped Bob form his everlasting bond with God (Jah) and cannabis.
BOB MARLEY'S RELATIONSHIP WITH MARIJUANA
One of the most iconic images to all cannabis user's is the cover of Catch A Fire, the 1973 album by Bob Marley and The Wailers, which featured young Bob smoking a big spliff. Not only does this speak of Bob's rebellious spirit, but it also points to his deep connection with cannabis.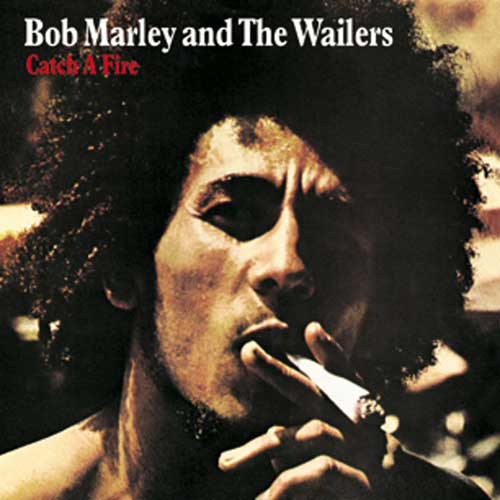 To understand Bob Marley's relationship with cannabis it is vital to understand Rastafarianism. Rastafari is a movement that was born in Jamaica in the 1930s, mainly among poor, working class afro-jamaican communities. It is often discussed as a part of bigger political and social movements including the Back To Africa movement and a general rebellion against British colonialism.
Cannabis plays a key role in Rastafari. While it isn't unique to this movement, it is definitely one of the aspects of the Rasta movement that shocked western societies as it came onto the global stage in the 60s and 70s.
Rastafari combines a wide variety of beliefs and practices. Arguably one of the core beliefs among rastas is constant reflection and meditation about themselves and their beliefs. Hence, rastas often hold "groundings;" a type of ceremony where they come together under an elder to discuss their religion, their interpretation of it, and its relevance to current events. One key aspect of these rituals is the use of cannabis.
Rastas call cannabis "ganja" and regularly consume it either by smoking, ingesting, or incorporating it into teas and meals. Some Rastas believe ganja should be restricted for religious, spiritual and meditative purposes, while others use it recreationally.
Bob Marley converted to Rastafarianism in 1966 and quickly became a global advocate for "the herb." For Bob, weed was more than just a drug that made you giggly and hungry. For him, and many other rastas, weed was a powerful substance that helped open the mind and aided with meditation.
In a famous interview, Bob summed up his views on cannabis like this:
"When you smoke herb, herb reveal yourself to you. All the wickedness you do, the herb reveal itself to yourself, your conscience, show up yourself clear, because herb make you meditate. Is only a natural t'ing and it grow like a tree."
Today, Bob has become an international icon. And while his music may seem laidback, peaceful, and calm, it is important to remember that Bob's music contains a much deeper message. In an interview with Quartz, Bob's son Ziggy Marley urged people to remember that his father's message was and remains powerful and relevant.
"Bob was a revolutionary. He was a person who wanted social justice in a real sense, in a real physical sense," he said. "There's a lot more to it than the whole, 'Bob Marley, love and peace and smoke weed.' It's all right for some people to pass it off as that. But it's much deeper. And the message is always relevant."
It is also important to realize that ganja was an important influence on Bob's creativity. For him, smoking cannabis wasn't about sitting on the couch for hours watching endless amounts of television. Instead, it helped him open his mind and heart, and ultimately contributed to the making of some of his greatest art.
His family is still actively working to promote and preserve Bob's views on cannabis. In November 2014, the Marley family joined a private equity firm to launch one of the first global consumer marijuana brands.
In an interview with Huffpost, Bob's daughter Cedella touched on the important role cannabis played in inspiring her father's music.
"Creative inspiration was everything for my father -- it was like breathing or life to him," she said. "Every time he smoked, he was inspired and an open mind was the open door for his creative inspiration. He thought the herb was actually a gift."
BOB MARLEY: FOREVER IN OUR HEARTS
Unfortunately, Bob Marley was diagnosed with a malignant time of melanoma in his toe in 1977. In line with his religious beliefs, Bob denied his doctor's advice to amputate the toe, and continued touring up until 1980 through both Europe and the US.
Bob passed away in 1981 in Miami, where he stopped on his way back from Europe to Jamaica for medical attention. He was aged 36 and left his son, Ziggy Marley, with the parting words "money can't buy you life," leaving behind one of the biggest legacies in modern music history.
---