Marijuana VIP: Seth Rogen
---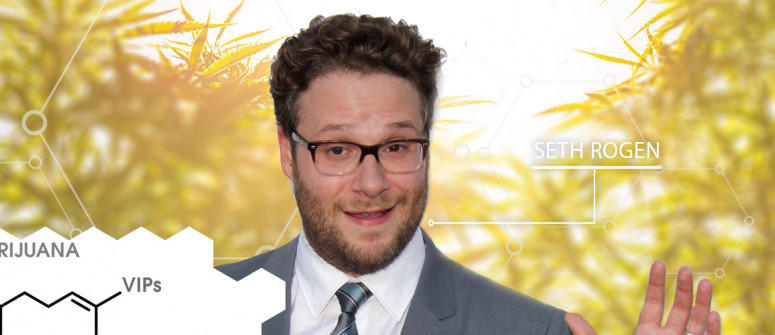 Canadian born actor, comic and cannabis activist Seth Rogen often uses his work to further the conversation about cannabis legalization.
Comedian and actor Seth Rogen is well known for mixing cannabis activism with his professional life. In fact that is one of the reasons he became known, as he has never been shy about his cannabis activism. Perhaps that is because of his background as a Jewish comic. Perhaps this is because he has been close to people with chronic conditions.
Whatever the reason, this Millennial has already won kudos for his outspoken defence of legalization.
These days, the "Stoner King of Comedy" is flying high and this is not just because legalization is progressing. High Times already named him "Stoner of the Year" in 2007, and Time named him the Stoner King of Comedy at the age of 32, in 2014.
WHO IS SETH ROGEN?
Most people need no introduction to Seth Rogen as in the past 15 years he has transitioned from cult figure and stoner slacker on Freaks and Geeks into America's favourite stoned son.
But where did this tycoon of toke get his inspiration?
Born in 1982 in Vancouver, Rogen followed his passion for comedy early. He says that he wanted to be funny as a way of living by the age of 12. From that point on, much of his humour was also based on the funnier aspects of being Jewish.
When he was 16, he got his first big break. He was cast for the show Freaks and Geeks. The family moved with him to Los Angeles to support that. And he became the main bread winner for the family at the tender age most kids are getting their driving licenses.
The success of the show, which debuted in 1999, eventually led to other opportunities. When Freaks and Geeks ended production in 2002, Rogen hit an audition dry patch. During this period, he honed his craft as a staff writer. In fact, it was his stint at Da Ali G Show in 2004 that began to open other doors. Along with the show's other writers, he received a Primetime Emmy Award nomination.
However it was not until 2007 that he career really began to take off. Universal Studios greenlit him for Knocked Up. The film was made for $30 million. It grossed $219 million.
Besides playing stoner roles in many films, his low-budget pot-themed comedies Pineapple Express and This Is the End took in over $100 million in just one summer. Add that to his successful voice over work in animated films including Shrek the Third and Monsters vs. Aliens, it might come as no surprise that his total North American gross is said to be close to $2 billion.
Since then, he has been a busy man. He has continued to find work as an actor. Most recently this includes his highly praised portrayal of Apple Inc. cofounder Steve Wozniak. He has also found voiceover work in multiple and well-received animated projects. More recently, he has moved into executive producing as well, which includes credits on the film The Green Hornet.
WHAT IS ROGEN'S CONNECTION TO CANNABIS LEGALIZATION?
Rogen has long been a health and lifestyle activist. After his mother-in-law developed Alzheimer's, Rogen began to speak out about the condition and even appeared with his fiancee Lauren miller on a Larry King special about the disease and has also testified before Congress to discuss his mother's disease.
Rogen also started a charity called Hilarity for Charity, which attempts to raise awareness of Alzheimer's among Millennials in particular.
He has also shown his support for other causes, including gay rights. During an appearance on Conan, a popular talk show in the U.S., he also claimed to be a "bear icon." In other words, a poster boy pin up for gay men who admire other hirsute men.
Given this background, is it any wonder Rogen has also lent his name to another cause near and dear?
Rogen has been an outspoken cannabis user and advocate most of his professional life and his professional roles have added to the conversation. However Rogen is brilliant at using publicity for his films to further conversations about legalization.
WHY IS HIS MARIJANA ACTIVISM SIGNIFICANT?
Rogen has played a big role in mainstream media by normalizing the idea of an adult getting high. He credited this in a 2009 interview with Playboy Magazine to his experiences in the U.S. As a Canadian, he was unprepared for the hostility marijuana elicited even in California, as he was arrested for smoking a joint on a beach in Malibu.
In subsequent media appearances, he has talked about his own interaction with the criminal justice system, saying "it was the craziest thing. There are about 400 people getting murdered … and these cops are taking an hour to write up my court summons."
When he is questioned in media interviews about his unabashed cannabis use, he deals with the issue directly. That alone has gone a long way to normalizing recreational use.
Rogen's approach to the issue is often controversial but it is the roles that Rogen takes on that also have helped shape the debate. Rogen argues that his humour is an important part of the discussion and that there are many things about cannabis that are truly funny.
When asked by CBS News wether the wave of marijuana legalization would have an effect on the way the public looks at stoner movies and comedy surrounding the subject of cannabis, he answered that he is not worry as "Legalization won't make marijuana any less funny."
Is Rogen going to be this generation's "Cheech" or "Chong?" Who knows. But it is sure that Seth Rogen is unlikely to move past one of his favourite inspirations soon. Either in life, or in his comedy career.
Go Seth!
---