Marijuana VIP: Seth Macfarlane
---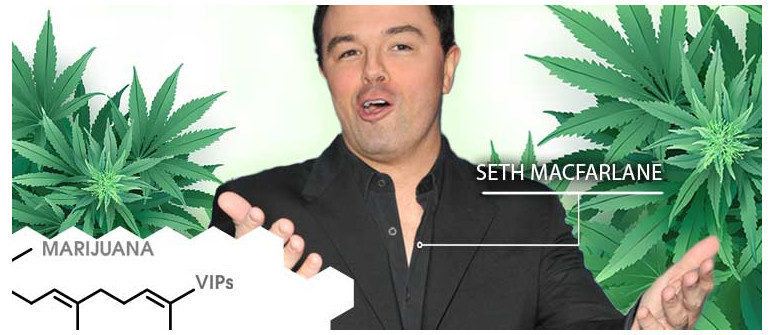 Seth MacFarlane has shown his support for cannabis with his hit show Family Guy and his uber-popular Ted movies. Seth is absolutely cool and we are happy to add him to our Marijuana VIP List.
Anyone in America with a TV has probably heard the name (or voice) of Seth MacFarlane. The multi-talented American filmmaker, actor, and writer is best known as the creator of the long-running hit show Family Guy. This beloved series then spawned the popular spin-offs American Dad and The Cleveland Show.
But what you may not know about Seth MacFarlane is that not only does he openly admit to using marijuana, but he is a long-time advocate for marijuana legalization, even before it was fashionable. For this reason and others, MacFarlane is more than worthy of the title: Marijuana VIP.
WHO IS SETH MACFARLANE?
Seth MacFarlane was born in Kent, Connecticut to parents Ann and Ronald Milton on October 26, 1973. He began developing his keen interest in creating cartoon characters at a very early age. By the time he was 9, MacFarlane had already started publishing a weekly comic called "Walter Crouton."
Although some of his initial childhood drawings didn't manage to create the sparks of genius, MacFarlane graduated from Kent High School then continued his studies at the Rhode Island School of Design, where he earned a Fine Arts degree in film, video, and animation.
SETH'S CAREER AND FURTHER ACHIEVEMENTS
After graduating from college in 1995, Seth was able to grab the attention of Hanna-Barbera Productions off the strength of his thesis film The Life of Larry. Seth moved to Los Angeles soon after, where he made a name for himself working as an animator and writer on Hanna-Barbera's Johnny Bravo and Cow and Chicken.
During this time, Seth was approached by FOX, who eventually offered him funding to shoot a pilot of his production. In 1998, Fox bought Seth's most famous creation, Family Guy—and the rest is history.
Since then, MacFarlane has become a real Hollywood royal with a string of successes that have become a lasting part of pop culture. A genuinely talented artist with experience in voiceover and live action acting, MacFarlane often plays characters in his own productions, including the titular protagonist in Ted and Ted 2, which have earned over $218 million domestically. MacFarlane also co-wrote and starred in 2014's A Million Ways to Die in the West.
He was nominated for an Academy Award for his original song in Ted, and has received several Grammy nominations for various projects. In total, MacFarlane has won over 20 awards and has been nominated over 50 times. Forbes lists MacFarlane's net worth at $194 million.
SETH AS A CANNABIS SUPPORTER
With all his incredible successes and accolades, Seth MacFarlane is one of the very few who are in the position to influence the way we think. Often, we see the casual use of cannabis throughout the artist's work.
The character Ted is the perfect wake-and-bake cannabis-lover, even though he is a teddybear, and there are also countless marijuana references shown on Family Guy. And although some would argue it's mostly there for comic relief, MacFarlane always presents cannabis in a fun and favorable light.
During a 2016 speech at Stanford University, he was asked about his development process:
"It is the truth," he said, "I smoke some pot. I'm not ashamed to say I am a supporter of the legalization of marijuana."
In 2015, Seth was a guest on Jimmy Fallon's late-night show, where he told Jimmy he smokes pot, and even smoked with his parents.
"There was one Thanksgiving...my sister and I were wondering if we, in this modern era, brought some pot into the house on Thanksgiving, if they would smoke it, and so we all did."
"It was a very touching moment."
We truly hope Seth will continue his mission to entertain us for many years to come and will keep standing by our side in our mission to normalize and legalize.
Go Seth!
---