Marijuana VIP: Richard Branson
---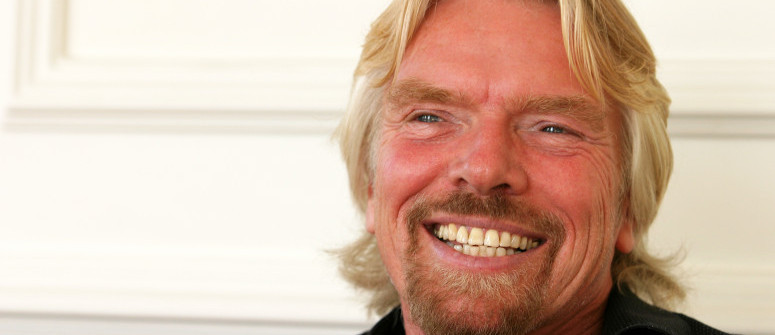 Richard Branson
Richard Branson is a British entrepreneur and has openly criticized the war on drugs and supports the legalization of marijuana.
Richard Branson is a British entrepreneur renowned as the founder of the Virgin Group and being one of the richest, most successful entrepreneurs to come out of the UK.
Despite that (and his stunning golden mane), Branson has also made global headlines for his support of cannabis legalization and his progressive parenting advice that suggests there's nothing wrong with sharing the occasional spliff with your kids.
Oh, and did we mention that Branson learned how to roll a joint from Keith Richards?
WHO IS RICHARD BRANSON?
Sir Richard Branson is a British business magnate best known as the founder of the Virgin Group, which collectively controls over 400 separate companies.
Branson is admired for his lifelong role as an entrepreneur. At the age of 16 he launched his first magazine called Student. By the time he was 20 he'd started his own mail-order record company, and 2 years later he'd opened a chain of record stores known as Virgin Records along with a recording studio.
In 1973 Branson launched the record label Virgin Records. His business experienced huge growth over the next 15 years. By 1985 the Virgin brand had come to include record labels, retail outlets, exported music publishing, broadcasting, satellite television, and film and video distribution.
Virgin Group became officially incorporated in 1989. Since then, the company has invested in a vast variety of business ventures that include everything from music production and air travel to books and drinks manufacturing. Branson is estimated to have a net worth of roughly $5 billion USD.
BRANSON: HUMANITARIAN AND ACTIVIST
Behind his role as the founding father of Virgin, Richard Branson is also renowned as a philanthropist and humanitarian.
In the 1990s, Branson and musician Peter Gabriel worked together with Nelson Mandela to form The Elders, a group of international public figures brought together by Mandela to discuss difficult global issues such as climate change, HIV/AIDS, poverty, and more.
Branson and Gabriel played an important role in the formation of The Elders, which is now considered an international non-governmental organisation, and have since gone on to support the group with funding.
Branson also founded the International Centre for Missing & Exploited Children (ICMEC)in 1999. The centre is designed to help find missing children and stop child exploitation around the world. Branson's mother is a founding member of the ICMEC Board of Directors.
One of Branson's biggest global concerns is climate change. In 2006 he pledged to invest $3 billion toward addressing global warming over the course of the following decade.
In 2008 he held a private meeting on Necker Island which united several public figures including world leaders, celebrities, and entrepreneurs to discuss global warming and other climate-related problems.
In 2009 he also founded The Carbon War Room; an NGO and think tank aimed at finding market-based solutions to help tackle climate change. The Carbon War Room is based on Branson's idea that entrepreneurs play a key role in helping combine investment and commercial skills to help develop the new technologies needed to grow a post-carbon economy.
RICHARD BRANSON AND MARIJUANA
Besides his humanitarian efforts, Branson has also taken it upon himself to raise awareness for the legalisation of cannabis. In 2011 he served on the Global Commission on Drug Policy with former political and cultural leaders of Latin America to help achieve more rational drug laws.
Branson has openly shared his beliefs that drug use is a health problem, not a criminal one. He has also openly admitted to using cannabis with his son, and made headlines for his wonderful, yet controversial, parenting advice:
"If they're going to have a joint, do it with them. Don't let them sneak off and do it on their own," he said in 2016 at a summit in Chicago. In 2007 he also shared details of a recent trip to Australia with his son.
Branson accompanied his son on a gap year and the two occasionally used cannabis together and "laughed [their] heads off for eight hours." Speaking about the trip in an interview, Branson openly admitted that there was nothing wrong with "smoking the occasional spliff."
In October 2016, Branson also spoke at the New West Summit in California which combined thousands of medicinal cannabis users and pot entrepreneurs to discuss the future of the cannabis industry.
Addressing the crowd via a Skype call from Necker Island, Branson openly shared his beliefs that drugs should be legalized. He pointed to Portugal as an example, which legalized illicit substances like marijuana, cocaine, and heroin in order to redirect resources on helping addicts find treatment rather than locking them up.
Branson argued that adopting a system like Portugal's allows countries to take back control over drugs (rather than leaving it up to the "underworld') and allows governments to put a greater emphasis on public health and protect the safety of communities around the globe.
He also toyed with the idea of entering the cannabis industry himself, stating that he sees the cannabis market as one with great potential that can do "a lot of good." This wasn't the first time Branson considered selling cannabis; in 2001 he said he'd rather sell weed than tobacco, which he sees as a much more harmful substance.
More recently, Branson urged farmers in New Zealand to "swap cows for cannabis." While visiting the country earlier in 2017, Branson argued that New Zealand should legalize, grow, tax, and regulate cannabis in favour of its current system which can result in a costly fine or up to 14 years in jail.
BRANSON AND THE WAR ON DRUGS
As a member of the Global Commission on Drug Policy, Richard Branson has openly criticized the War On Drugs as an extremely harmful and ineffective way to manage drug use around the world.
Branson is known to express his progressive views on drug policy on his blog. In a post from March 2016, Branson urged the United Nations to finally "get serious" about global drug policy.
"Communities around the world have been ravaged by decades of a brutal, repressive and completely ineffective war on drugs," he wrote. "The consequences of these strategies include soaring violence, overcrowded prisons, and pervasive corruption. Presented as an investment in a better future, the war on drugs has been an epic, costly failure," he said, adding that "we need a new course of action."
FINAL THOUGHTS
Richard Branson, like most public figures, has both his followers and critics, the latter of which have recently focused on his failure to meet his climate change pledge.
Regardless of your views on Richard Branson, it is hard to deny that his open support for the legalization of cannabis helps legitimize the claims of activists on a global scale.
---