Marijuana VIP: Action Bronson
---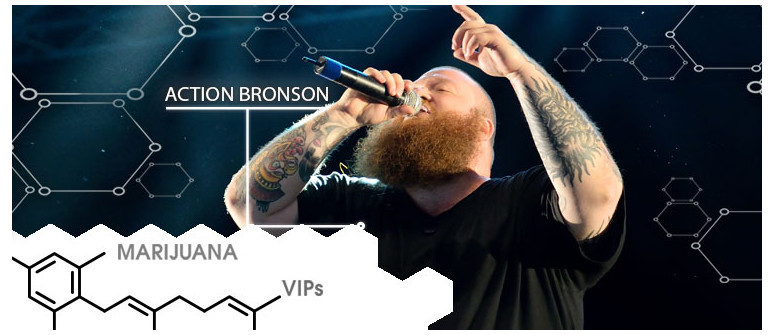 Rapper, chef, gourmand, and multimedia personality Action Bronson has smoked, cooked, eaten, and rapped his way to stardom. Welcome to our VIP list Action!
With a penchant for great food, fine wines, slick riffs and fat spliffs, Action Bronson, real name Ariyan Arslani, enjoys life to its fullest. He is a big fan of cannabis and has influenced modern cannabis culture, and we have actually never seen him without a joint.
Born in Flushing, Queens, New York in December 1983, the 34-year-old gourmand come rapper has always been involved in the food industry. He grew up haunting his parents New York restaurant where he learnt much about cooking and the food game. He went on to graduate from the culinary program at the Art Institute of New York.
FOOD AND HIP HOP
Before his rapping career took off, he was a well-respected fire-flame cook in NYC. He also took his love of food into the multimedia arena, starring in his own online cooking show "Action in the Kitchen" and releasing a book called "Fuck, That's Delicious."
In 2011, while working in his mum and dad's restaurant, he slipped on a wet floor and broke his leg. This incident brought his chef career to a halt and he started to concentrate on his rapping. After a flood of independent releases, 2011 saw Action release his first studio album—Dr Lecter—which was produced by New York producer Tommy Mas. By 2012, he had signed with Warner Music, but was later shifted to the Atlantic sub Vice under the management of Paul Rosenburg's Goliath Artists.
Action Bronson is a busy boy, with Dr Lecter being followed up by four more mixtapes then a number of BET nominations and awards. Most recently, 2017 saw the release of Blue Chips 7000.
He also starred in and hosted his own video adaptation of "Fuck, That's Delicious," plus the shows "The Untitled Action Bronson Show" and "Traveling The Stars: Action Bronson and Friends Watch 'Ancient Aliens'." He also appeared on the Munchies channel in "From Paris With Love" where he eats and drinks and smokes his way around France.
EVER SEEN ACTION WITHOUT A JOINT?
It isn't often you hear Action proselytizing about weed. Why waste good blunt time talking when you can just blaze up and get your point across in no uncertain terms? He does take part in forums and discussions, such as an appearance with Wiz Khalifa and The Game at a recent ComplexCon. ComplexCon is a festival and exhibition that brings together, among other things, pop culture, music, art, and sports.
Each came to the stage with blunts burning and continued to blaze throughout the program, with Action even calling an associate to bring out a sack of weed. Wiz jokingly thrust a handful of cash in Action's direction. Action then proceeded to prepare his weed on a twenty dollar bill before rolling another fat one.
They discussed how the weed business has become one of the most profitable in America and how hip hop culture has influenced weed culture. Then, unsurprisingly, their talk veered from one humorous weed experience to another.
Never without a smoldering joint in hand, Action can be seen toking in all of his programs. And toking during downtime too. So much so that the staff at the offices where Action's Viceland show "The Untitled Action Bronson Show" are created have a few complaints.
According to a Spin Magazine article, Vice staffers have reportedly said "He smokes weed all the time, the whole building smells like weed when he is there." And "He smokes pot all day long in the lobby of the fucking office. The whole lobby stinks." Which is kind of funny considering it's Vice we're talking about here.[1]
Apparently his colleagues are not the only ones who have a problem with Action's love for weed, as he has recently been arrested for lighting up a joint onstage in Kosovo.[2]
THE CHEF CREATED HIS OWN DAB FLAVOR
Putting his well-trained chef's nose to work, Action has recently dabbled in creating dabs, selecting and mixing terpenes at X-Tracted labs in Seattle as part of "Fuck, That's Delicious."
He created his own custom concentrate that might have worked too well for one of his weed-loving entourage. Big Body Bes coughed and coughed again and answered with glaze-eyed silence to the repeated question "First thing that comes to your mind?" Eventually, he cryptically replied "Gaiana."
THERE SEEMS TO BE NO END TO THE ACTION
Action Bronson's resume puts the dreadful cliche "marijuana is demotivating" right to bed. If there was ever a life that is testimony to the creative and motivational power of cannabis, it is the life of this always-out-of-it and busy guy.
With his smooth rapping style and quirky references to food, athletes, bodybuilding, and figure skating, he has been heard saying "Nobody smokes more than me. I've been high for 20 years. It got me through a lot of times."[3]
Action Bronson, dedicated father of two, has not only become a much loved presence in hip hop, but although never really outspoken about weed, he is a good example that action speaks louder than words. Go Action!
---