Marijuana VIP: Jim Belushi
---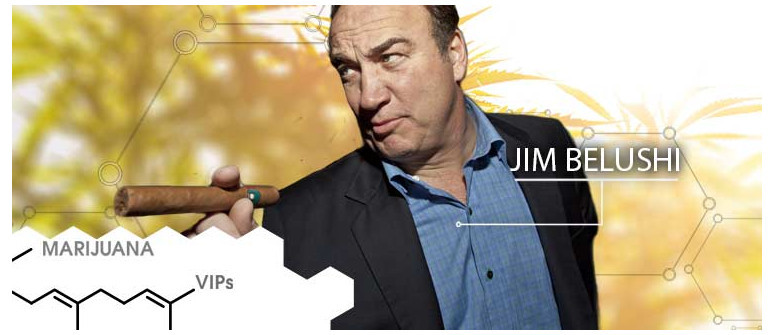 Jim Belushi may be the lesser-known brother of the late John Belushi, but he has been making a name for himself as a staunch advocate of cannabis legalization to combat America's opioid crisis.
Jim Belushi has made a name for himself in the world of show business. As the younger brother of the late John Belushi, Jim did take a less famous path, but nonetheless has made his mark in television and film.
These days, however, Jim has been devoting the bulk of his time to advocating for cannabis legalization. For this reason and others, we've chosen Jim Belushi as this edition's Marijuana VIP.
CAREER HIGHLIGHTS AND ACCOMPLISHMENTS
While his brother John fell into the trappings of stardom, which eventually led to his demise, Jim was able to navigate the treacherous waters of Hollywood to avoid suffering the same fate. Throughout his life, Jim was an active member in the acting community, which eventually catapulted him to his debut film role as Barry in Michael Mann's 1981 classic "Thief".
Belushi did follow his brother's footsteps in some ways, appearing as a cast member on Saturday Night Live—but only after John's death in 1982. Jim made appearances on the show from 1983 until 1985, and was most known for his role as Hank Rippy on the popular sketch "Hello Trudy!"
Jim is also a distinguished voice actor, having worked on many cartoon titles such as The Mighty Ducks, Gargoyles, Scooby Doo! and the Goblin King, as well as Nickelodeon's Hey Arnold!
But perhaps what Jim is most known for is playing the titular character on According to Jim, an all-American type sitcom that lasted from 2001–2009 and featured 8 seasons. It is this show that solidified Jim's status as a successful comedy actor and household name.
JIM BELUSHI'S CONNECTION TO CANNABIS
As described in a May 2018 article by Bloomberg, Belushi has been "on a mission" to promote the further legalization of cannabis. With the help of his own cannabis farm in Oregon, he was able to launch his very own Vault dispensaries. He also plans to unveil his very own brand of the herb, which he intends to name after the Blues Brothers, the film that helped skyrocket the career of his late brother John.
Being a celebrity figure, Jim has actually said that he hopes to one day be apprehended for cannabis use, just to send a strong message that it can help with the current opioid problem that America is dealing with.
"I believe in this medicine," the 63-year-old said during the Green Table Global executive dinner last May in his Los Angeles mansion. "I'm a celebrity. I could be arrested immediately—and I want to be, by the way, because I want to send the message out that this takes opioids off the street."
Belushi has not been apprehended and taken to jail for cannabis use and possession, but he did encounter some trouble in 2012 when TSA agents stopped him at the Martha's Vineyard airport after finding a joint on him. Jim did show the TSA agents his medical marijuana card at the time, but his joint still ended up being confiscated.
MAKING HIS OWN MARK
In terms of fame and recognition, Jim is often still referred to in the shadow of his brother, whose reputation only grew after his death. But in his own way, Jim has been taking steps to make the world a better place to live in through the legalization of cannabis, and that is definitely something worth applauding.
Go Jim!
---