The origin of the blueberry strain
---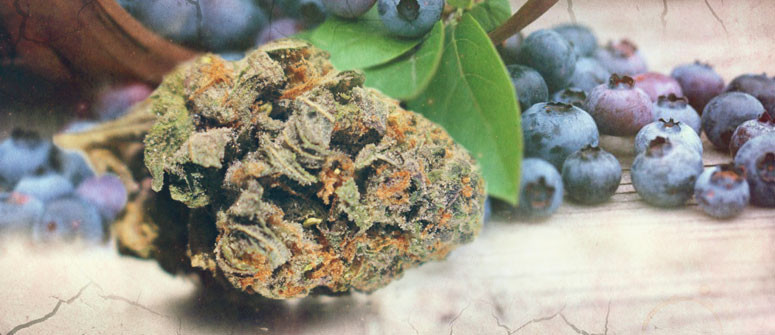 There are many renowned cannabis strains out there, but few have shared the same global success as Blueberry. Read on to find out more about this classic strain and its rich history.
There are many renowned cannabis strains out there, but few have shared the same global success as Blueberry. Blueberry has become an iconic strain over the years and is a highly respected member of our Hall of Fame.
This 80% indica-dominant hybrid is renowned for producing a strong, long-lasting "body stone" that recreational users love at the end of a long day or whenever they want to kick up their feet and relax. With over 20% THC, this is a powerful strain that'll wow even the most seasoned smoker.
As we'll learn later on, Blueberry got its name thanks to its aroma and appearance. It boasts an intense, fruity scent that combines the sweetness and acidity of forest fruits with soft, but notable floral hints. It's also a super eye-catching strain, producing big buds with beautiful blue hues.
THE HISTORY OF BLUEBERRY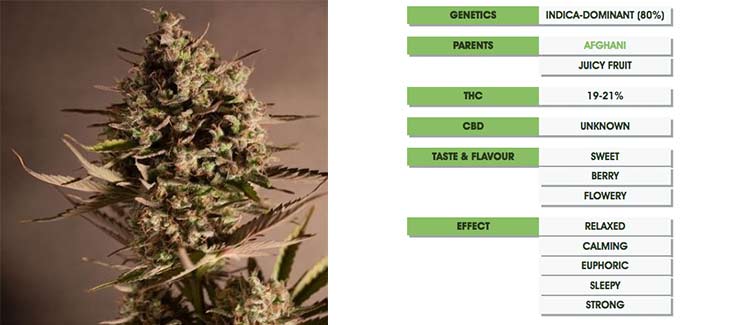 Today, Blueberry is considered one of the most well-known cannabis strains. It's enjoyed all around the globe, loved by recreational and medical users, as well as growers. But what exactly is the history behind this iconic strain, and who is responsible for bringing it into the hands (and lungs) of cannabis users the world over?
Well, like many great strains, Blueberry's roots date back to the 1970/80's. At this time, growers in The States were doing a whole lot of experimentation, cross-breeding strains from all across the world to come up with new hybrid varieties.
One of these breeders was DJ Short, a celebrated "father" of cannabis genetics and the mastermind behind many other strains. In the '70s, most breeders in the US were working with landrace sativa genetics from Colombia, Mexico, Thailand, and Panama, as well as a handful of landrace indicas.
One of the biggest strains to come out of this genetic whirlpool was Fruity Juice, a big, hard-hitting variety beloved for its sweet, fruity flavour. Fruity Juice was a unique 3-way cross between landrace sativas from Colombia, Mexico, and Thailand, and would go on to become one of the main strains behind many of DJ Short's most famous creations.
Another major strain influencing DJ Short's growing at the time was an Afghani landrace indica grown in the Oregon/California area of the US. A smaller, robust plant, this Afghani was the perfect specimen to create hybrids that were easier to grow and manage, especially indoors.
One day, DJ Short decided to cross these two strains and subsequently went on to make history; for that was the day Blueberry was born. In the nineties DJ Short teamed up with the Dutch seed bank Dutch Passion which gave Blueberry a prominent place in their seed catalog.
In 2000, DJ Short and Dutch Passion won the first prize for 'Best Indica' with Blueberry at the legendary High Times Cannabis Cup in Amsterdam. This shot Blueberry to fame worldwide and upon this day Blueberry is still an incredibly popular strain in the cannabis community.
OTHER BLUEBERRY-BASED HYBRIDS
Blueberry eventually hit the market in roughly 1979-1980 and became a huge hit worldwide. But Blueberry is also used by many breeders to create new genetics with. Here below you can find some cannabis trains that contain the genetics of Blueberry.
BLUE DREAM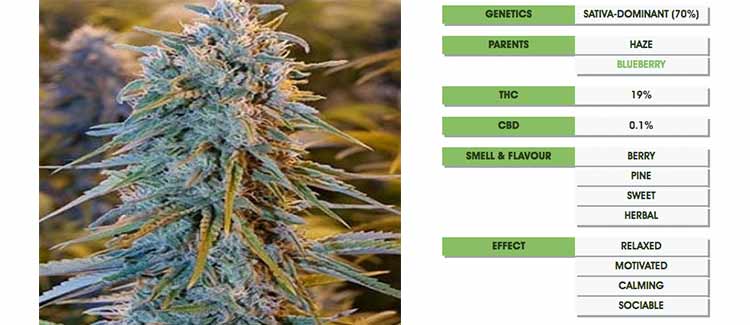 Blue Dream is another iconic strain from California. A sativa-dominant variety, Blue Dream combines the hard-hitting effects of an original Blueberry with the powerful euphoria of an original Haze variety.
The result is an ultra potent strain renowned for producing extremely balanced effects that combine the relaxation of a strong body stone with the cerebral effects of a top-shelf sativa. Blue Dream also boasts a delicious aroma that combines sweet berry notes with herbal hints and pine.
Read more about Blue Dream.
BLUE CHEESE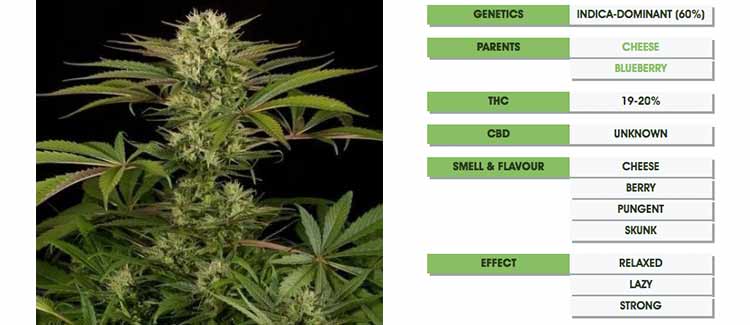 Blue Cheese, as the name suggests, is a cross between Blueberry and original UK Cheese. Cheese strains first appeared on the market in the late-1980s after growers in the UK began cross-breeding a wide variety of Skunk phenotypes, eventually landing on a particularly hard-hitting indica hybrid with a uniquely sour aroma.
Blue Cheese is a strong indica-dominant variety that boasts about 20% THC. It preserves the unique aroma of its original Cheese parent but enhances it with the sweet berry aromas of Blueberry. The result is an extremely aromatic strain that makes for a smooth smoke and produces a strong body stone.
Read more about Blue Cheese.
BLUE MYSTIC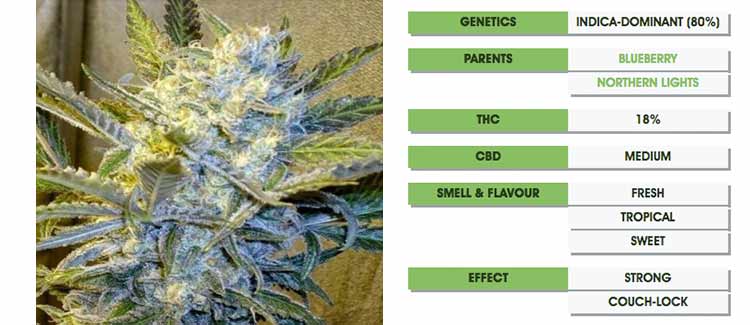 Blue Mystic is the handiwork of European breeders who successfully crossed Blueberry with an original Northern Lights indica. Northern Lights is another classic strain, combining Afghan landrace genes with those of an uplifting Thai sativa. It first hit the market in 1985 after it was brought to Amsterdam from Seattle, Washington.
Blue Mystic, as you'd expect, is an potent hybrid. It produces a powerful body stone that occasionally leaves even veteran smokers glued to the couch. It produces huge buds with up to 18% THC and a fresh, sweet, and floral aroma.
Read more about Blue Mystic.
OTHER STRAINS BY DJ SHORT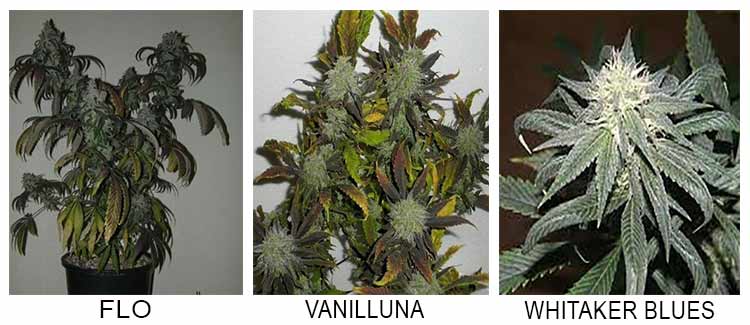 DJ Short is one of the biggest names in the cannabis industry, often likened to other greats like Nevil Schoenmakers and Shantibaba, and others. Below are some of his other greatest works of art:
FLO
Flo is another DJ Short classic, hitting the market at roughly the same time as Blueberry. It's a cross between Purple Thai (a hybrid between Highland Oaxaca Gold and Chocolate Thai) and the same Afghan strain used to make Blueberry.
Flo won the 1996 Cannabis Cup and has since achieved legendary status. Unlike Blueberry, it produces a more sativa-like high characterized by a strong, uplifting euphoria that tends to leave users feeling relaxed, yet motivated and creative.
Read more about Flo.
VANILLUNA
Vanilluna, also known as Vanilla Moon is actually a descendant of Blueberry, created by cross-breeding a male and female Blueberry plant. The result is a medium-height, Kush-like plant that grows big, dense, and resinous buds.
The effects of this strain are those of a great indica. It produces a strong physical stone that'll leave you feeling super relaxed, happy, and possibly a little sleepy. Beware that this strain is very strong and can leave some users locked to the couch for a few hours.
Read more about Vanilluna.
WHITAKER BLUES
Whitaker Blues is actually grown by DJ Short's son JD and is the result of crossing Blueberry with Quimby, a classic indica-dominant variety originating out of Oregon. A true indica, Whitaker Blues grows short and stocky, flowers fast, and produces dense and heavy buds.
The effects of this strain are very strong and usually kick in almost instantly. Whitaker Blues produces a strong euphoria and deep physical relaxation. It'll calm you down, leaving you happy, relaxed, and really, really stoned.
Read more about Whitaker Blues.
FIND MORE STRAINS ON OUR DATABASE
There you have it; a rich, detailed account of the history of Blueberry, arguably one of the biggest cannabis strains to ever hit the market. To learn more about Blueberry and 1000s of other cannabis strains, check out our strain database today.
---