Grass fed (2015): a documentary on losing weight with weed
---
Grass Fed follows Canadian comedian Mike Paterson on his journey to treat chronic pain and lose weight with medical cannabis.
Grass Fed is a 2015 documentary film by Ezra Soiferman following Canadian comedian Mike Paterson's journey to lose weight and treat chronic back pain with medical marijuana.
Mike weighs in at 250 pounds (113kg) at the beginning of the movie, and is on a mission to lose 50 pounds in 4 months time for his wedding.
Mike's body image is a recurring theme throughout his stand-up performances and skits. But the film makes it clear that, despite all the joking, Mike doesn't consider his weight and health a laughing matter. Besides all the health risks associated with being overweight, Mike also suffers from sciatica, a condition characterized by sharp pain radiating from the sciatic nerve.
Mike is far from a cannabis enthusiast, and he makes it obvious at the beginning of the film that he doesn't have high hopes for a weight-loss regime built on weed. Nonetheless, he agrees to give cannabis a try, especially after discovering he could do so using cannabis-infused edibles like chocolate bars, cannabis infused gummy bears, and more.
Grass Fed does a good job shining some light on the counterintuitive idea that weed can help people lose weight. At the same time, Mike's banter and constant joking make the film very entertaining and more accessible, even to those who are skeptical about cannabis' role in weight loss.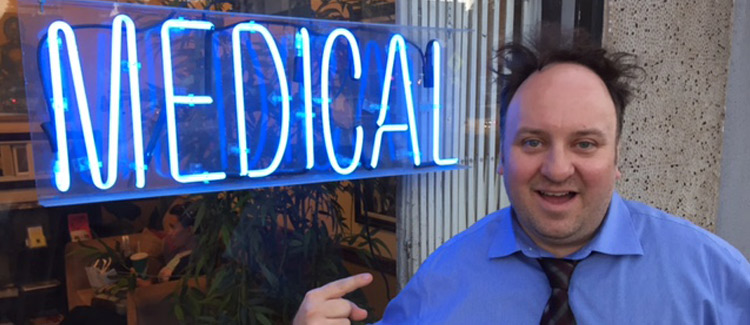 At the same time, the documentary also captures the difficulty of being overweight. In one scene, Mike opens up about how depressing he finds it to depend on his fiancée to help him put on his socks in the morning due to his excruciating pain.
The film takes place in Denver, Colorado and Los Angeles, California, where Mike eventually gets his medical marijuana card and meets Dr. Dina, a medical marijuana consultant who helped Snoop Dogg get his California medical card.
Grass Fed nicely combines light-hearted comedy with serious subject matter, and is a great film for anyone looking to learn more about medical marijuana and its place in weight loss. It also serves as a good entry point for those interested in the medicinal uses of cannabis without getting too scientific and complicated.
---