Marijuana VIP: Bernie Sanders
---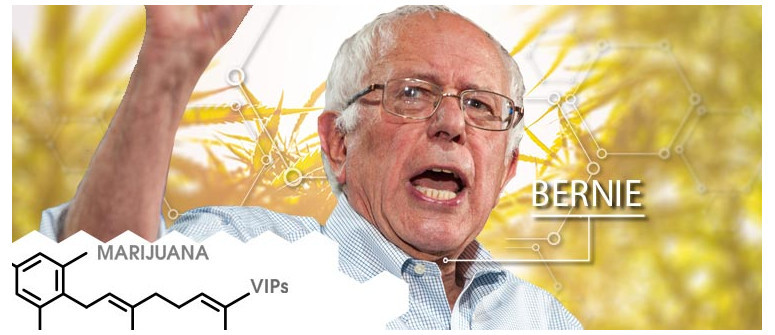 Bernie Sanders is no stranger to progressive causes. Cannabis is one of them. It may also become one of the most important policy discussions leading up to the next presidential race. It's time to "feel the Bern" once more!
Bernie Sanders is an American career politician who ran on a "third party" or independent ticket most of his life. He started his political career in Vermont in the mid-'70s as a socialist.
Most people know him today as the most successful socialist politician in the US, as the funny looking guy who almost beat Hillary, and of course as a leading federal cannabis legalization advocate.
A BRIEF HISTORY OF BERNIE SANDERS
Sanders was born in Brooklyn, New York to a working class, immigrant, and Jewish Polish family. He has been quoted as saying that nobody went without food or clothing, however, "major purchases" like rugs and curtains posed a challenge. Both his parents died before he reached his mid-twenties.
He was always interested in politics. His interest was sparked by the experiences of his parents' generation as European refugees from Hitler's Holocaust.
By 1964, Sanders had graduated from the University of Chicago. While a student, he was associated with non-violent civil advocacy groups. He also registered as a conscientious objector to the Vietnam War. He was never drafted. However, in office, he never criticized veterans, and was a steadfast advocate for their rights.
In 1968, Sanders moved to Vermont and entered politics directly. First as a campaign manager and then as a politician, he finally won his first campaign in 1981 by a margin of 10 votes for Burlington Mayor. Burlington is Vermont's largest city.
He continued to call himself a socialist and in 1990, Sanders was elected to the US Federal House of Representatives. In 2006, he became the junior senator for the state of Vermont.
On April 30, 2015, Sanders challenged Hillary Clinton for the pending Democratic nomination. It was a significant campaign. Initially considered a "socialist long shot," he eventually won 23 primaries and caucuses, as well as 43% of pledged delegates.
He continually refused to accept PAC or special interest money during the campaign.
His strong showing during the Democratic nomination process and Hillary Clinton's loss to Trump cemented his reputation as a strong national American voice from the left.
The resistance to adopting some of the more basic Sanders platform ideas also clearly cost the party not only support, it also caused Debbie Wasserman Schultz—head of the Democratic National Committee—her job. Emails were leaked after Clinton won the nomination that Wasserman Schultz had undermined the Sanders campaign to give Hillary the advantage in clinching the nomination.
A FIGHTER FOR PROGRESSIVE CAUSES
There has not been a single "progressive" cause that Sanders has not been involved in as a federally elected politician.
This includes a range of "green" causes, including anti-nuclear. Sanders has also supported a range of sustainable community bills to protect power and water infrastructure and green spaces.
He was a consistent critic of the Patriot Act, one of the most far-reaching post-9/11 pieces of federal legislation that undermined civil rights. He was also always against the Iraq and Afghanistan wars. He has been a fierce proponent of internet freedom.
During the first decade of the new century, he established himself as a strong voice for banking reform. This included his votes against bailing out the banks after the 2008 financial crash. His reason? It was a "welfare bill" for billionaires.
He has been consistently pro-labor.
There are many in the US who still "feel the Bern." As a result, Sanders is widely expected to run for president again in 2020.
BERNIE AND THE BATTLE FOR CANNABIS LEGALIZATION
Sanders is one of the few Boomer politicians who has been consistently pro-cannabis reform. In fact, he has the only non-hypocritical record and approach to legalization of all the politicians on the federal level in the US.
He freely admits he has tried smoking pot in his life and during the 2016 presidential campaign, he became the first major contender to endorse cannabis legalization. It is this position that is credited, among others, for motivating millennials to go out and vote for him.
Currently, he is one of the sponsors of the Marijuana Justice Act, the most far-reaching cannabis reform legislation ever introduced in US Congress. If passed, it would remove cannabis from the Controlled Substances Act.
This in turn would allow states to legalize cannabis without fear of federal interference. It would also withhold federal funding from states that continue to criminalize the drug and continue to have racially disproportionate arrest and incarceration rates connected to cannabis use. Federal courts would be required to expunge prior conviction, and those convicted would be allowed to file civil lawsuits against such states.
FEEL THE BERN
Bernie Sanders has been extremely influential among the American public and worldwide, making his advocacy for cannabis an important part of global reform. As a mostly consistent politician who has maintained the same progressive values throughout his life, Sanders' legacy as a Marijuana VIP will far outlast his lifetime.
We can only hope that more politicians adopt his open-minded approach to policy and cannabis. Go Bernie!
---