Bud bars and weed weddings. Cannabis in style.
---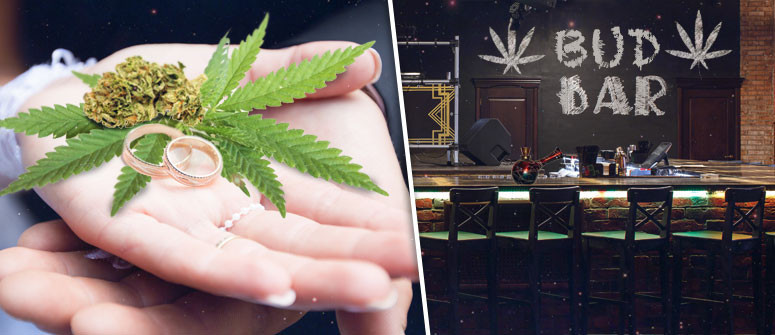 Tired of hosting parties where someone always gets drunk? Never fear! Bud bars are the chillest new trend emerging from the USA.
Thanks to the legalization of marijuana in many American states, a brand new market has ushered in a new kind of bar experience. Bud bars are the newest trend at parties, weddings, and events and are springing up all across America, replacing the traditional alcohol bar as the latest thing for hip and cool partygoers.
In just the last decade, once-taboo subjects like marijuana have become part of our daily life. Cigarette smokers have gone from being what was once considered the epitome of cool, to being the epitome of uncool.
Meanwhile, marijuana's public image has transitioned from being considered the "evil gateway drug" to something that can be medically beneficial and recreationally viable. While it was once believed to lead users down a path to harder drugs like heroin and crack - which in turn leads to prostitution, which in turn leads to a life of crime and eventually a life sentence in prison - it is now being viewed under a new light.
There has even been the emergence of comedic, cannabis-themed TV shows for a mainstream audience and even some high fashion brands are adopting weed as part of their image.
Because of this momentum toward comprehensive legalization, marijuana has become the main ingredient to the newest, and definitely the coolest way to throw a great party.
From couples looking to blaze up and smoke out their wedding guests to anyone looking to throw groovy, chilled-out party, bud bars are becoming more and more popular.
To meet the demands of this budding industry, startups of all types have come up at every level, creating a robust new market. Companies are now providing partygoers with budtenders and even wedding services complete with guest transportation.
More importantly, bud bars are providing guests with an interesting alternative to the traditional alcohol bar.
WHY A BUD BAR?
A bud bar is basically a bar serving marijuana instead of alcohol. And everyone knows that one person who always spoils the party by having one too many vodka tonics. The solution could be a bud bar instead. Unlike alcohol, cannabis is usually not leading to sloppy and aggressive behaviour.
A bud bar can provide a more positive high for your guests as well. Some professional bud bars offer partygoers a variety of options in the form of cannabis products ranging from edibles, oils, to custom-rolled joints and high-end vaporizers.
Bud bars are generally also cheaper than a traditional bar. The average bud bar is $300 per 100 guests. Typically, the bud bar will come fully stocked with pipes, bongs, papers, wraps, and lighters - and probably even eye drops.
Most commercial companies do not provide the actual marijuana and the hosts will have to purchase this themselves. However, budtenders can help give strain advice, roll joints for guests, and more. Budtenders cost an average of $25 an hour.
It's important to note that for bud bar parties to be legal, they must be private events with purchased tickets and a guest list.
SHOULD YOU HIRE A COMPANY?
Going through a professional company is always the best option unless you are an expert on cannabis and have really great insurance. Companies that make a business out of this are founded on high standards in terms of operating procedures, knowledge, and sanitary handling practices.
Some companies provide a representative known as the "best bud" who is there to answer any questions your guests may have, especially first time tokers. Along with recommending dosages and strains, knowledgeable budtenders can also offer entertainment and interesting information about each product to provide a safe and engaging experience for every guest.
EDIBLES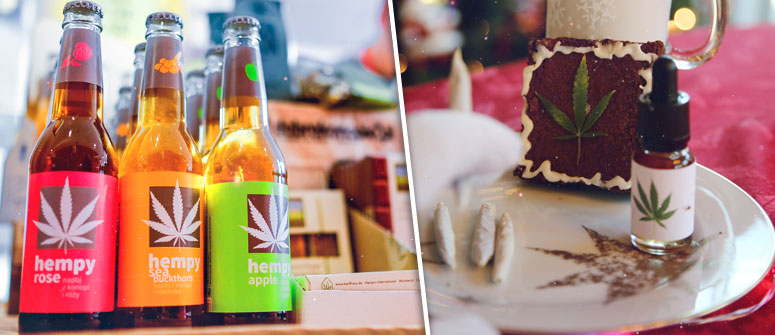 Edibles are one of the most popular items found at bud bars. Edibles come in a wide range of products, including cakes, cookies, brownies, chocolate bars, and even gummy bears. Edibles are of course perfect for those with an aversion to anything smoking-related.
Another clear advantage of edibles is the variety of choices. Your guests are sure to find something to satisfy their palate. Don't forget that nowadyas you can basically cook anything with cannabis, and recipes for cannabis burgers, canna-pancakes and many other delicious meals are not that hard to find.
Should any of your guests be first timers, it is recommended they avoid taking any edibles at the party as these tasty treats provide an intense high that can last several hours and could even lead to a bit too intense experience for some party goers. Serving size and dosage can also be suggested by your budtender to help avoid instances like these.
MARIJUANA WEDDINGS
Some people are celebrating legalization by going as far as having a marijuana themed wedding. Bud bars at weddings are in fashion and it seems that in the US an entire industry has emerged. Businesses are popping up that provide a wide range of wedding services, floral arrangements, overall planning, cannabis open bars, day-of coordination, etc.
Couples seeking extra services can even hire a "best bud" wedding coordinator for $50-100 an hour. Again, these services don't provide the actual cannabis. Prices for recreational marijuana will fluctuate depending on the state. The cost will also vary depending on the potency, strain, and any promotional offerings.
In Colorado, couples are allowed under Colorado state law to "gift" up to an ounce of weed to anyone over 21 years old. Again, it's equally important to check with the venue on their rules and regulations regarding smoking and nonsmoking areas.
CANNABIS IS IN STYLE
The antiquated, negative perceptions of weed smoking are falling by the wayside and States where marijuana is now legal are raking in millions of legal tax dollars.
Based on this kind of economic impact, it is likely that many states will follow suit in the near future. Marijuana is clearly here to stay. So now that you don't have to secretely smoke around the corner anymore, why not have a bud bar at your next party? Smoke out and chill out. But don't forget to tip your budtenders.
---