How to make pot pancakes
---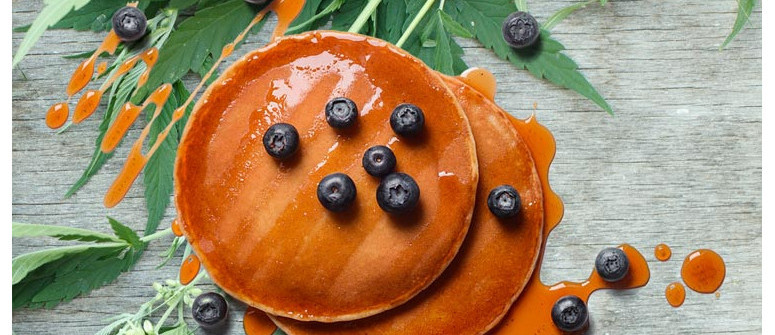 It is super easy to make cannabis infused pancakes. The recipe just swaps cannabutter for regular oil. Hard to go wrong on this one!
Weed infused pancakes are a great way to start the day! The great news? These babies are easy to make, and go down great with syrup or whatever else you would like to top or drench them in.
Add nuts, fruit, peanut butter or whatever else floats your boat. It is hard to go wrong with this recipe.
WHAT YOU NEED
3 ⅓ tablespoons cannabutter or cannabis-infused vegetable oil. Unless you want savoury pancakes, however, do not use olive oil.
510g flour
3 teaspoons sugar
1 ½ teaspoons baking powder
½ teaspoon salt
510ml milk
½ teaspoon vanilla or vanilla sugar
2 large eggs
2 mixing bowls
1 spatula
1 frying pan
Cooking oil
Fruit, syrup or any other delicious topping you want to add
PREPARATION
Mix your dry ingredients. That is the flour, baking powder, sugar and salt. Mix the milk, eggs, melted weed butter and vanilla in a separate bowl.
Combine the mixes together to make the batter. Mix everything together, keeping the batter somewhat lumpy. This is how your pancakes will turn out nice and fluffy.
Set the bowl aside.
Put your frying pan on the stove and add oil. Set to medium heat. When the oil has reached the right temperature, pour about ¼ of the batter into the pan. The idea here is to cover the pan. If you want slightly thicker or thinner pancakes, vary the pour.
The pancakes are ready to flip when you see small bubbles appear on the surface. Use the spatula to flip them over. Your pancakes are ready when they are golden brown.
Serve immediately and hot. Your imagination is the only limitation.
For a cool "Western" flavour, add sausage links or bacon. You can also add fruit right into the batter mix. However, this will add slightly to cook time.
Breakfast was never such a great meal!
---