Top 6 weed Snapchat accounts to follow
---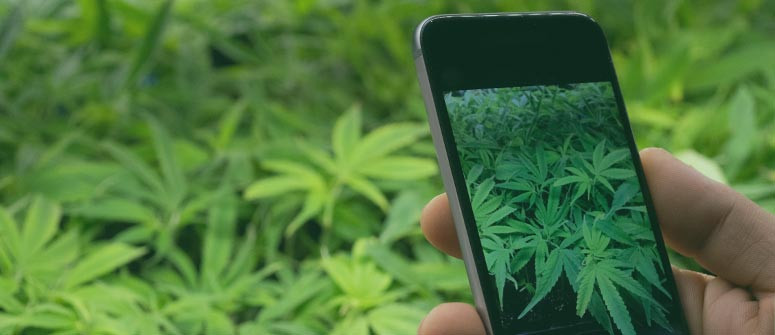 Published
These Snapchat accounts are hella dank. Check them out for all your weed-related content: fresh nugs of news, behind-the-scenes tokes, hotbox humour, and sexy stoners.
No longer the exclusive domain of head shops and smoking circles, cannabis culture is now easily accessible over social media. Amongst the various apps, Snapchat is the OG of time-sensitive, disappearing content. This offers a certain freedom, and creators often get up-close and personal with their stories—the perfect context for cannabis content. Below, we break down six of our favourite Snapchat accounts for weed-related content.
Snapchat and weed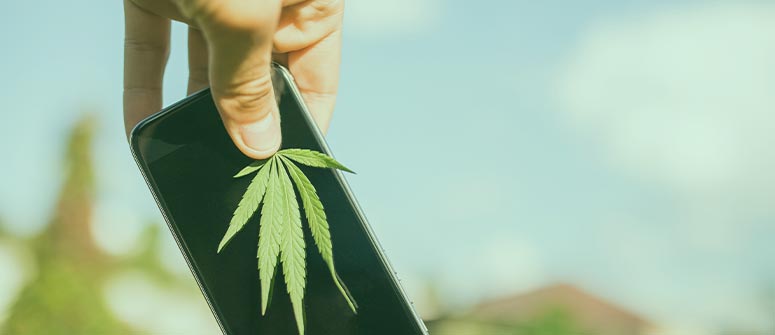 Snapchat is social media on the sly. It's a photo and video app that allows you to send disappearing messages ("snaps") to your friends and followers. More private than an Instagram post and more fleeting than a text, snaps auto-delete after being viewed once. Snapchat stories (curated collections of snaps) are gone after 24 hours. Snapchat was the template for "stories" features on other apps like Instagram and Facebook.
Once popular for sending racy photos with minimal risk, Snapchat is now used to circulate a wide range of casual content that won't clog your inbox. It's a fun and easy way to stay hooked up to the latest trends, strains, news, and more that stoner culture has to offer.
What are the best weed Snapchat accounts?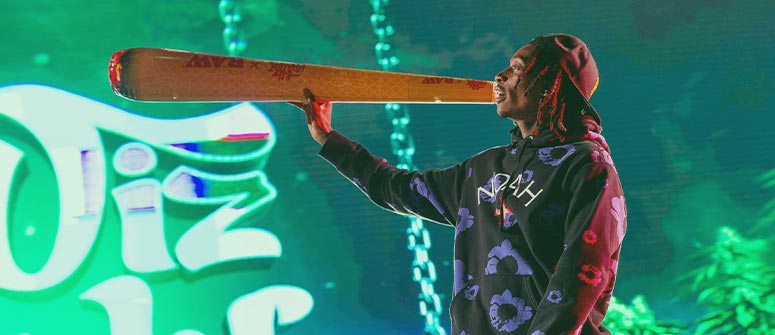 Wondering what to check out first? We've selected a roster of the funniest, most informative, and fun-to-follow weed-related Snapchat accounts.
1. Snoop Dogg
Oowee! Our list starts with rap legend and cannabis connoisseur Snoop Dogg. Snoop is not only known for his love of bud—he's frequently pictured with a blunt in hand—but is also a dedicated cannapreneur. His businesses include cannabis news outlet Merry Jane, a weed delivery service, and a line of cannabis products. The latter includes flower, concentrates, and creative edibles like cannabis-infused onion rings.
Follow Snoop Dogg on Snapchat for cannabis content from a true OG. In keeping with his status as the elder statesman of weed, Snoop posts regular updates at 4:20. Use him as a weed alarm clock and smoke a daily blunt together, or add him for exclusive behind-the-scenes moments of his life on tour.
In the past, Snoop has collaborated directly with Snapchat to produce cool features around album drops. In 2019, they launched an Augmented Reality (AR) effect around the launch of Snoop's album, I Wanna Thank Me. By scanning a Snapcode and then pointing the phone at an image of the album cover, users could watch Snoop come to life. One of the characters on his album cover would blow smoke and then a mini 3D version of Snoop would appear.
2. Angela Mazzanti
This tatted-up cannabis queen wears many hats: activist, model, influencer, and entrepreneur. Angela Mazzanti has been a figure in the cannabis industry for years. From trimming to budtending, working booths, and hosting events, she now finds herself front and centre as one of cannabis culture's social media darlings. Her Instagram account takes a business-minded approach, but her Snapchat has a more personal touch. It's a great window into her personality and life—funny, sexy, irreverent, and full of dabs. Plus, she's smoking hot and loves to interact with fans.
Follow Angela Mazzanti on Snapchat for a steady stream of racy photo shoots, head-to-toe ink, and cannabis-centric content.
3. High Times
Started in 1974, High Times is a counterculture staple and the world's longest-running cannabis magazine. It's also the closest thing we have to a weed bible. A leader when it comes to cannabis culture, activism, and impeccable photos of fat, frosty buds, High Times' content has spread to social media.
Follow High Times on Snapchat for an all-access look at industry events, including cannabis conferences, shows, concerts and more. Keeping abreast of their latest snaps gives you a chance to participate in contests and other promotions. They also frequently host celebrity takeovers of their account, keeping things fresh so you never quite know what you're going to get. And then there's the eye-candy. Yes, we mean that sweet dank. High Times' Snapchat images and videos of cannabis products are of the same professional quality as you would expect from their magazine.
4. Wiz Khalifa
If Snoop Dogg is hip-hop's king of cannabis, then Wiz Khalifa is the duke of dank. This American rapper is something of an unofficial spokesperson for younger generations of stoners. A vocal cannabis advocate, Wiz has championed legalization on TV and even has his own strain, Khalifa Kush (aka Wiz Khalifa OG). You can find many weed references in his music, with album titles such as Rolling Papers and Kush & Orange Juice. He even named his house The Bakery.
Follow Wiz Khalifa on Snapchat for a look at life on the sticky-icky side. Rarely seen without a joint hanging from his mouth, Wiz puts out backstage content from his shows, glimpses of the high life at home, in the studio, and more.
5. Schoolboy Q
The third rapper on our list, Schoolboy Q has a reputation for some of the funniest Snapchat stories around. He's also a big advocate for cannabis legalization and the health benefits of weed. After running with a notorious gang in his youth, Schoolboy Q credits smoking weed with helping him change his mentality and stay out of the life. Despite finding strains named after him at various California dispensaries, Q himself prefers rolling blunts with the classic OG Kush.
Follow Schoolboy Q on Snapchat for cannabis lifestyle porn, advocacy, and top-tier weed humour. You'll find him on the app in his signature bucket hat or fedora, rolling fat blunts, speaking truth, and spitting out hilarious takes.
6. Merry Jane
Since we started with Snoop Dogg, it's appropriate that we end with one of his many cannabis ventures: Merry Jane Media. Launched by Snoop and co-founder Ted Chung in 2015, this digital media platform has quickly become one of the top online destinations for cannabis culture, news, and all things green. Their social media is a fantastic extension of their regular content.
Follow Merry Jane on Snapchat for an insider look at the hottest strains, growing techniques, products, industry news, shows, events, and more. They are also a great source for the latest in cannabis activism and stateside pushes for legalization. If you want regular updates on the world of weed, Merry Jane's Snapchat is a perfect one-stop shop.
Why can't I post weed on Snapchat?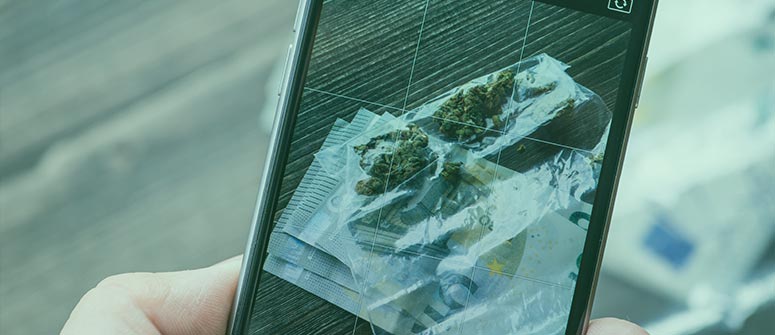 In addition to following their favourite weed-related accounts, cannabis lovers can, of course, use Snapchat to create their own content. Occasionally, however, weed-related snaps, or even whole accounts, are banned by Snapchat. It's a fine line to tread as a cannabis content creator. Here are some guidelines:
Avoid posting pictures of weed. Specifically, avoid closeups of flowers. The app's algorithm can detect pictures of weed and flag them for review. If your image is reported as inappropriate, you will be banned.
Use a Snapchat filter. If you do feel compelled to post a picture of some fat nugs, using a filter to obscure the content makes it less likely that you'll be flagged by the algorithm.
Try posting dabs instead. Many cannabis enthusiasts find that dabs pass the test. This is likely because dabs aren't necessarily recognisable as weed at first glance.
Smoking seems to be permitted. While shots of your stash might cause trouble, posting images of your crew toking up or surrounded by a billowing cloud of smoke is probably fine.
Certain rules are also context-dependent. For example, while banned elsewhere, Snapchat recently opened their doors to cannabis advertising in Canada, where weed is federally legal.
The best weed Snapchat accounts: Check them out now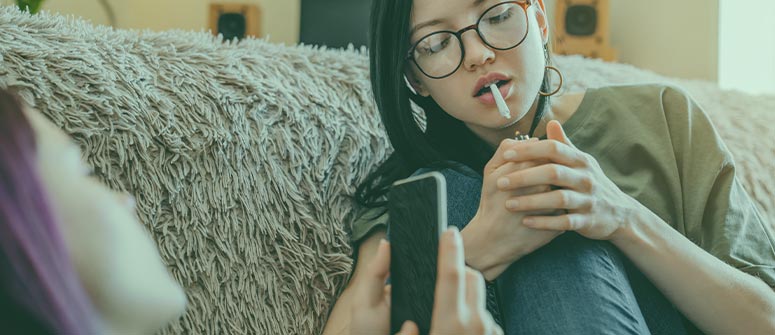 In the last decade, an explosion of online content has highlighted the true diversity of the cannabis community. There's even an Instagram account dedicated to celebrating cannabis consumers of a certain age (check out Elderly Who Dab to brighten your day).
Thanks to the ephemeral nature of the app, Snapchat is a place where creators feel free to be candid with their content. It's a lighthearted way to get your daily dose of weed news, humour, and updates from your favourite celebrity stoners and industry icons. Check out our top weed Snapchat accounts now to stay in the loop.
---