12 Tip guide to dabbing for the first time
---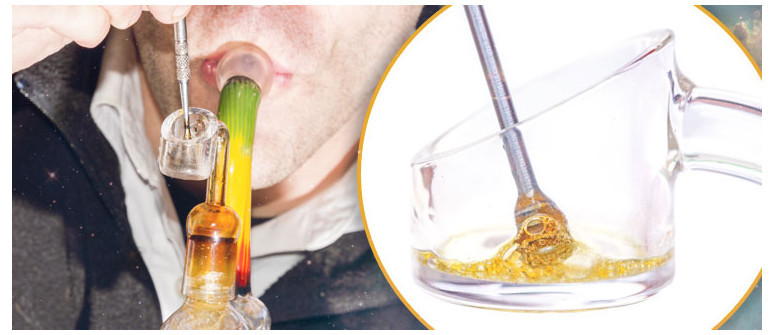 Last updated Published
So, you want to try dabbing. Unfortunately, the dabbing experience takes more preparation than other ways of consuming the herb. When you're new to dabbing, it can not only seem complicated, but also intimidating, being that it involves extreme temperatures and a lot of fire. So how to start?
The following tips will make your first dabbing experience a lot easier and safer, but remember that dabbing is an effective cannabis consumption method indeed. In fact, it's also the most potent beside edibles. Just a pinch of cannabis concentrate can give you a mind-blowing high that can last for hours.
OBSERVE AN EXPERT
If you're more of a visual learner, then have a friend show you how it's done before you take your first dab. That way, you can get a feel of what you're supposed to do and how to do it. Sometimes it's easier to learn just by watching. It will boost your confidence and shed a little pre-dab anxiety.
START SMALL
Again, a dabbing high is not like, say, a bong high or a joint high. Cannabis concentrates contain a lot of THC—much more than flower. With that said, you don't need to dab an entire slab on your first go. Just a tiny crumb is more than enough to get the job done. You can always take another if you're not satisfied, but you don't want to overdo it and get stuck with an overwhelming high. When it comes to dabbing for the first time, slow and steady wins the race.
DON'T BURN YOUR RIG
When preparing to dab, only the nail needs to be heated, not the entire rig. Be sure to aim the flame of your torch at the nail directly. Dab rigs are not cheap, so you don't want to ruin it and wind up having to buy another one. Using a drop down adapter can prevent any cracking or breaking, and will extend the life of your glass.
DON'T BURN YOUR HANDS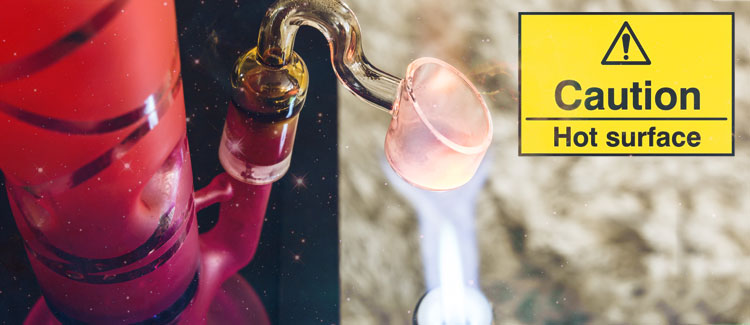 Whatever you do, do not touch the nail with your bare hands once it's been heated. Even if you've already done your dab, you need to wait a good while before you can get your hands near the nail, as it will still be hot for several minutes after. Also, watch out for your elbows and clothes, especially when leaning over to dab.
TRY "COLD START DABBING"
Rather than starting hot, try "cold start dabbing" for better flavor and smoother hits. Dabbing can be a little harsh on the throat from all the heat, but low temp dabs aren't nearly as rough. Anywhere between 315–450°F (157–232°C) is considered cold start dabbing. The effects won't be as strong with a low temp dab, but you'll be able to take in more of a hit, and likely won't have as bad of a coughing fit.
SET A TIMER
Low temp dabs are the most flavorful dabs. However, it's hard to know when the nail is heated to the perfect temperature. That's all the more reason to set a timer. Anywhere from 30 to 60 seconds should be more than enough time to allow the nail to cool off and enjoy tasty dabs in return.
DON'T OVERHEAT
Overheating your nail not only makes hits harsher, but also not as effective. The goal of dabbing is to vaporize, not to combust, which is what happens when you take a dab while the nail is still too hot. Not to mention, you lose terpenes that way, and without those, you don't get as nice of a high. Observing your nail will help you tell when it's ready. Glass will be a dull red, and titanium and ceramic will be their original color.
DON'T MISS THE BOWL WHEN TRYING TO PUT THE CONCENTRATE IN
Missing the bowl could result in you wasting your concentrate. Although it sounds easy enough to make it in, it happens to the best of us, regardless of our experience. One mistake you might be making is holding your concentrate over the nail before taking your hit. Doing so will heat your dab until it drips right off your tool.
To avoid missing the bowl the first time, hold your concentrate over a dish or the side of the rig until you're ready. And when you're ready, move to the nail as fast as you can and keep your arm at a 45-degree angle.
CLEAN YOUR NAIL AND EQUIPMENT
For a clean and tasty dab experience for many dab sessions to come, it's wise to keep your nail, rig, and tools clean. Doing so will also extend the life of your rig, which again, is not cheap. To clean your nail, all you have to do is heat it and wipe it down with alcohol wipes or a clean rag. Do the same to your rig, especially around the mouthpiece.
KEEP THINGS CLEAN BY USING A MAT SO YOU DON'T DIRTY UP YOUR TABLE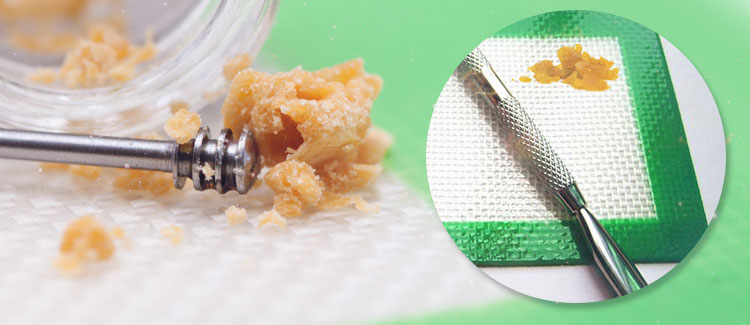 To keep your dab sessions clean and tidy, you need a dab mat. Dab mats are non-stick, meaning you don't have to worry about dirtying them up and potentially wasting your waxes, oils, and concentrates. Moreover, they're non-slip, which will prevent your rig from sliding off your table and shattering.
TAKE YOUR TIME AND TAKE SOME TIME OFF
Before getting overly confident and going for your second dab right after your first, take some time to relax and let the effects kick in. THC in high doses can make some people feel anxious. Not to mention, the high lasts for hours, so you don't want to have an intense high that long. Taking your time will help you get to know your right dose and ensure you have a pleasant experience, rather than a bad one.
TAKE CARE OF YOURSELF
After your first dab, even when starting small and slow, the combination of heat and coughing can have your throat burning. Be sure to keep water on hand to reduce the harshness. Dabs can make you dizzy when you're not used to them, but fortunately, a few snacks should level you out. Plus, they'll come in handy when the munchies strike.
---