Cannabis-infused tzatziki recipe
---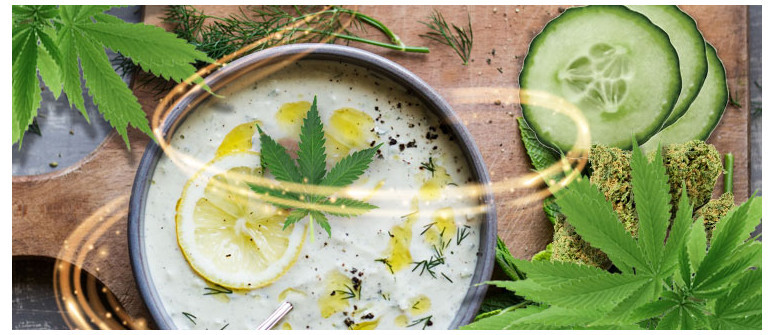 Cannabis-infused tzatziki is a must have on any edibles menu, especially for summer. This cannabis-infused tzatziki recipe is easy to prepare even if you don't know how to cook.
Tzatziki is the Greek version of a dish served for hundreds of years throughout the countries of the Europe, Asia, and Africa crossroads. It is still very popular all over the world as a side dish to meat, as a dip, or thinned as a refreshing soup.
At it's simplest, it is a yogurt and cucumber sauce to which a variety of herbs and vegetables can be added. But how about spicing it up a bit and adding our beloved special herb? 
Tzatziki with a hint of cannabis is simple to make, and a funky sidedish to take your grill party to the next level.
The following dish is made with cannabis-infused olive oil. Edibles can hit harder than you might expect, so feel free to judge the amount of cannabis you use according to your own judgement and experience. Also make sure that anybody you serve this dish to knows that your tzatziki is infused with cannabis.
INGREDIENTS:
Small saucepan
Small bowl
Large bowl
Sieve
Metal tablespoon
2 cloves of garlic
½ teaspoon of oregano
½ teaspoon of sea salt
1 teaspoon of freshly ground black pepper
8 tablespoons of cannabis-infused olive oil
4 tablespoons of fresh water
4 cups of plain Greek yoghurt
1 bunch of fresh dill or mint (or both) finely chopped
2 washed unwaxed cucumbers halved with the seeds scooped out
1 lemon juiced with no seeds
PREPARATION:
In the saucepan over a low flame, combine the garlic cloves, the four tablespoons of water and four tablespoons of infused-olive oil. Boil gently until the garlic cloves soften.
Drain the mixture through the sieve into your large bowl.
Now in the small bowl, crush the garlic with the spoon while adding the oregano, salt, and pepper. Set this garlic paste aside in the refrigerator to cool.
Grate or very finely julienne the de-seeded cucumbers. Then squeeze as much juice from them as possible. This keeps the tzatziki nice and thick. 
In the large bowl. Put the yogurt, the cucumber, the remaining infused olive oil, the garlic paste, the lemon juice, and the finely chopped herbs.
Gently fold all the ingredients together while trying not to break up the cucumber too much.
Let it chill for about an hour, and your dish is ready to be served!
---