Marijuana VIP: Henry Rollins
---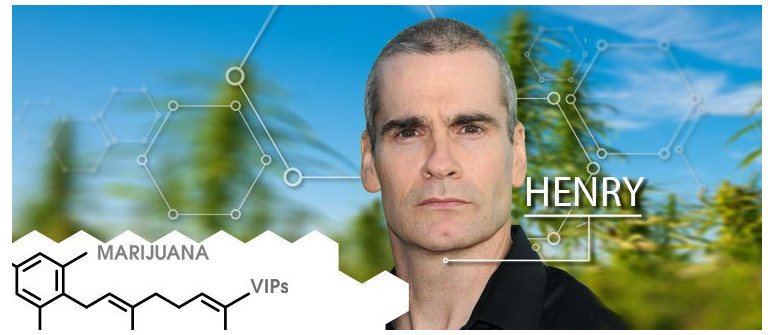 Raw, mesmerizing stage presence is how many will know Henry Rollins. The strength of his character remains, and is now focused on helping others reap the benefits that cannabis can provide. Here's how Rollins is doing his part to bring the industry out of the shadows.
A imposing figure; Henry Rollins—former singer for Black Flag—has a unique stance when it comes to cannabis. Famous for his drug-free approach, an unusual trait for a hardcore punk singer to adopt, he believes cannabis advocacy comes down to civil rights, common sense, and science. Rollins sees the War on Drugs, more specifically the War on Cannabis, as an issue built on the underlying problems of American society.
With a career spent headlining packed venues, Henry Rollins isn't afraid to say what he thinks on the issue of cannabis and its legalization.
WHO IS HENRY ROLLINS?
Henry Rollins is the stage name of Henry Lawrence Garfield. Born in 1961 and an only child, Henry would spend the majority of his childhood being raised by his mother after his parents divorced. Driven by a strong sense of discipline, an attribute instilled in him during his time at an all-male preparatory school, Rollins would come to have a successful career as frontman of the punk band Black Flag.
Before he was frontman, his keen sense of discipline would take him to every Black Flag gig he could get to, regardless of whether he had work the next day. Exchanging letters with the band, he even invited them to stay at his parent's house while the group was on tour. It didn't take long before Rollins' larger than life stage presence and raw enthusiasm for performing would lead him to an unofficial audition, becoming the lead singer of the band.
Rollins isn't just known as a punk lead singer though. He has toured as a spoken word artist and even dabbled in music production before appearing on television and in movies. His current talents still involve performing, but he also hosts a radio show on KCRW, has an active role as a columnist for Rolling Stone Australia, and most recently, is a keynote speaker at a prominent cannabis business conference.
CAREER HIGHLIGHTS OF HENRY ROLLINS
With such a diverse career performing, picking particular highlights is always tricky. There is no denying one thing though; no matter the task, Rollins gives 200% to everything he does. Whether that be the raw, sometimes aggressive performances as lead singer in Black Flag, or his passion for educating those who will listen on the benefits cannabis can bring.
His time in Black Flag bought Rollins into the limelight. However, other noteworthy achievements include forming the Rollins Band that toured for many years. Numerous appearances in movies, like Jackass and Wrong Turn 2: Dead End, or recurring roles in the hit TV show "Sons Of Anarchy" are peppered throughput his career as well. Rollins has even campaigned for various political causes including LGBT rights and World Hunger Relief.
What genuinely surprises most people that meet Rollins is his sense of discipline. Rollins doesn't drink, has tried a handful of drugs in his lifetime, and maintains a small group of close friends outside of his professional persona. Given the environments he has been exposed to, an incredible mindset and inner belief continue to drive Rollins to this day.
RADIO HOST TURNED CANNABIS ADVOCATE
How does someone who openly admits to not liking or feeling the need to smoke weed himself become an advocate for its use and decriminalization?
His involvement in political campaigns gives us some insight into why Rollins now uses his impressive presence to speak openly about the medicinal benefits of cannabis. Rollins can count on one hand how many times he has tried marijuana, but does that mean we shouldn't listen to him?
Being a young man in a hardcore punk band, Rollins was at the forefront of US President Ronald Reagan's drug crackdown. This led Rollins to question the inaccuracies fueling the propaganda of the era.
THE BOTTOM LINE
Rollins believes cannabis legalization is "a constitutional issue" that's "disproportionately targeting marginalized communities across North America." Seeing now as the time for "aggressive progressive change," he believes his voice can act as a means to chip away at the negative and often misinformed stigma that cannabis is associated with.
Rollins advocates for the legalized access for those who need it medicinally. Whether he uses marijuana or not is irrelevant; he firmly believes in the good it can bring to people's lives.
Go Henry!
---