How to throw the perfect canna christmas party
---
A Christmas Party without ganja feels a bit boring and mediocre. We gift you with solid 420 Xmas advice to spice up your holiday with 420 magic.
The best time of the year has arrived. Friends and family members, loved ones, and acquaintances, shall gather together to celebrate this special holiday. Christmas!
To liven up this spiritual festivity, one needs to have a spiritual mindset. This is where ganja can enter the scene, perfectly matching the needs and wants of a dope Christmas Party. So how to go about having a proper Merry Jane Christmas? Or maybe even better, how to survive it?
DECORATIONS
First, we need to set the background for the guest to know what's up. Get some snow frost spray for glass, cut out stencils shaped as, weed leafs, weed plants, bongs, blunts or simply the number 420.
If you're an overachiever, you can create a stencil of Mona Lisa smoking a fat blunt, this will definitely score you some extra social points. Adding marijuana-themed napkins, cutlery, gift wrap, and a statue of Santa Claus baked AF, will enhance the Christmas mode.
EDIBLES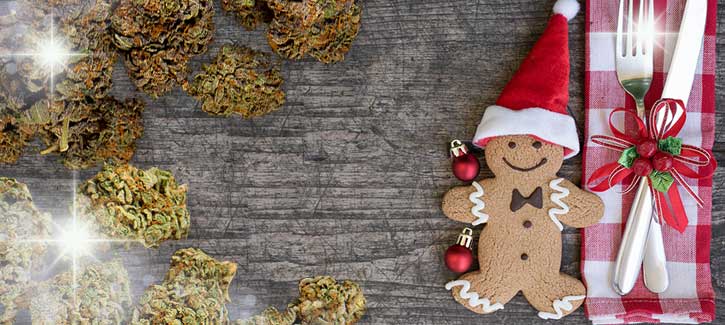 Time to make some delicious edibles, Y'all. Before giving some dank edible advice, you must measure the dosage and make sure that the Christmas Party participants are aware of the dosage, and make sure to keep it away from kids.
Guaranteed success: Ganja infused chocolate! Any dessert containing chocolate can be converted into a 420-delicacy. If cannabis infused olive oil is used, one can virtually cook anything with it, chicken, turkey, cakes, potatoes you name it.
MUSIC
One does not simply go through a Canna Christmas without dropping those dank tunes. Before selecting the ultimate 420 playlist, it's important to investigate the vibes of the Christmas party participants.
If everyone's into the hippie 60s, why not choose some Jimi Hendrix tunes like Purple Haze, and Little Wing. Janis Joplin, The Doors, Santana, Rolling Stones would be appropriate artists to choose for the playlist. If the setting is more Reggae, Bob Marley is a given. Hip-Hop heads should involve Snoop Dogg into the ganja music experience.
CHRISTMAS TREE
The Christmas tree is the centerpiece of all ganja decorations. The old-school pine trees have gone out of fashion, it's time to keep up. Weed leafs should construct the Christmas tree.
One can purchase an artificial weed-leaf Christmas tree from internet stores, but the ultimate ganja Christmas tree would be an actual weed plant. In this case it's recommended to grow a solid and short indica dominant plant like Mazar. A real plant will add that real touch and super dank aromas, warming the hearts of all Christmas participants.
XMAS MOVIES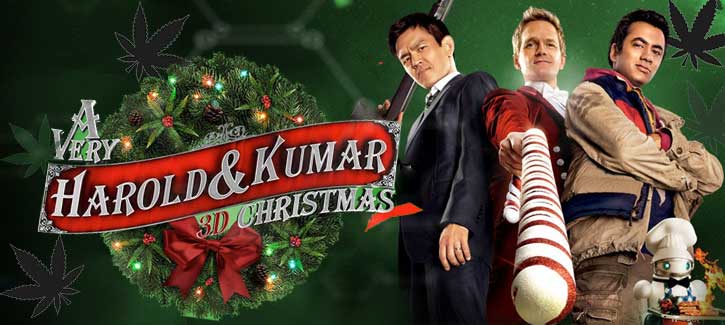 There are plenty of stoner movies you can choose from. If one wishes to keep the movies appropriate for kids, then choose whatever movies are appropriate. However, if proper ganja-infused films are desired to liven up the mood, here's a short list of appropriate Christmas movies to choose from:
- A Very Harold and Kumar 3D Christmas
- Bad Santa 2
- The Night Before
And when you have kids around you could have a look at the following movies, as they are pretty good when you're a little baked:
- The Muppet Christmas Carol
- The Nightmare Before Christmas
- Mickey's Christmas Carol
THE XMAS GANJA PROGRAM
Now that we've got all the fundamentals down, it's time to turn the heat up to 420°G (Ganjaheit), to heat up this cozy Xmas party. We've chosen the perfect strains to be used at a specific moment throughout this festive day.
THE CHURCH
The Church is not only a place of worship, but also a dank marijuana strain. This indica dominant hybrid elevates one's spirits before the Christmas party. If one wishes to enter the Church under the influence of ganja, "The Church" should be considered.
CBD THERAPY
Before all your beloved friends, family members including that racist Grandpa', CBD Therapy could be toked to relax those socially awkward muscles. This will enhance the warm and cozy mode of Canna Christmas. This 50% indica and 50% sativa hybrid comprises large amounts of CBD, and barely any THC.
CHAOS KUSH
When some hardcore discussions come to the surface, it's time to jump in a vent all the feels and emotions with Chaos Kush. When you feel that s**t is gonna go down, because your racist Grandpa' started to talk, it's time to unleash the chaos - and mad entertainment will follow.
The sweet and fruity aromas of this strain deliciously enhance the chaotic experience and provide the perfect amount of mad munchies.
GIRL SCOUT COOKIES
Who needs Christmas cookies if you can have Girl Scout Cookies? Girl Scout Cookies is a potent indica dominant strain, deriving from OG Kush, Cherry Kush, and Durban Poison genetics. Seriously, the THC levels of this strain span between 25-28% THC. Toke only if you can handle the toke. Make sure to keep it hidden from the kids of course.
ROLLEX OG KUSH
After some Girl Scout Cookies and the tons of food eaten due to a possible munchies attack, it's now time to relax those bellies and embrace the gifts. The perfect gift for under Christmas tree is Rollex OG Kush.
Once the strain has been unpacked, the recipient can thank Santa by ripping a mad bowl. It might not be the expensive Rolex watch you always wanted, but this strain is a good substitute for any cannabis lover.
CHOCOLATE FONDUE
Once all the gifts are unwrapped, it's time to get back to the table for dessert. Like any Christmas, this occasion shouldn't go without chocolate. How about Chocolate Fondue? That's right, the dank strain Chocolate Fondue!
As delicious as real chocolate fondue, but a whole lot more original. Tip: This strain is perfect to smoke in blunt papers.
VANILLA ICE
For those who would prefer to mix in some vanilla flavor into the Chocolate Fondue, Vanilla ICE is at your service. This strain exudes spicy, skunky, and sweet aromas, which induce a super relaxed indica-dominant state. This mouthwatering strain should definitely be included in the Xmas party mix.
BLUE CHEESE
Now it's time to kick back on the couch, and sample some of that fancy Blue Cheese varieties, while sipping on some expensive wine. Because seriously, cheese plates are overrated.
Blue Cheese is an indica dominant variety comprising cheese and berry flavors. Perfect with some dry white wine.
CATARACT KUSH
When it's time to wrap up the Christmas Party and go to bed, we recommend Cataract Kush.
Cataract Kush is an almost pure indica, ready to get you sleepy in no time. The couch-lock is real, induced by the sweet and fruity cannabinoids of Cataract Kush. May Bob Marley Claus enter your dream, realizing your wishes and desires.
CONCLUSION: THE ULTIMATE 420 XMAS PARTY IS EASY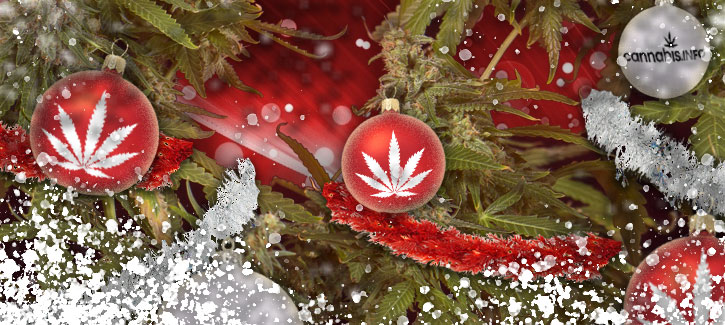 Makes sure to use quality weed, make some delicious edibles, and share many laughs and joy throughout the Christmas holiday. Love, laughter and ganja strains go hand in hand like Cheech and Chong during this festive period.
We wish you a happy and high Christmas, and a wonderful New Year!
---