5 random playlists to listen to when high
---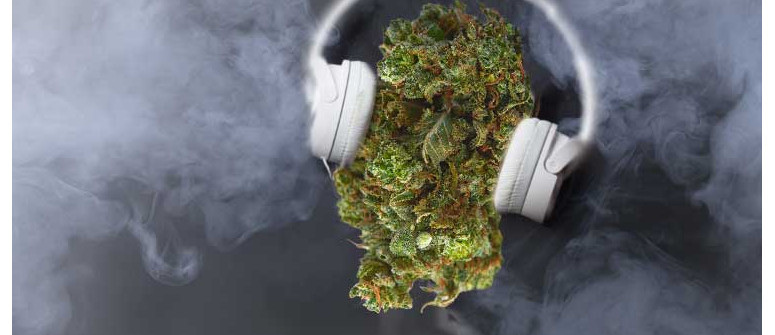 It's scientifically proven that music relieves stress. But so can weed. With the right playlist and the right bud, a relaxing vacay is only a spark away.
Music is known to soothe the soul and help us escape reality when we are in desperate need of a mental vacation. Sometimes cannabis can do the same. But when you combine the two, now that's what you call paradise.
From hip-hop's smooth beats that keep your head bobbing non-stop, to rock and roll's heart-pumping instrumentals, no matter the genre, listening to music while you're stoned makes for one hell of a tranquil experience. And with the right playlist, you can turn a good time into an even better time.
Luckily, there are people out there who have already come up with playlists made just for people like you and I. Since there are so many, we took the time to do a little digging and soon ended up with a very random list. The next time you and your mind feel like getting away, or you just really want to get stuff done without having to search for music, spark a J and put on one of these five random playlists.
1. MUSIC TO LISTEN TO WHILE HIGH
Whether you desire something slow and steady or fast and upbeat, there's a little something for everyone on this 420-friendly playlist. To point out a few of the featured artists in the mix, there's Jimi Hendrix, Childish Gambino, and even Iron Butterfly. Plus several other talents you know and love.
The playlist goes on for exactly 35 minutes and one second and that might not be enough music to keep you entertained. So if you feel like you need a round two, just roll another joint and start the playlist over from scratch.
2. HIGH AT WORK
If you want the perfect mix of trap phonk and lo-fi to kick back and smoke to, then look no further than this playlist. With its calming visuals, you'll get the same vibes you do when you're cruising home in the night after a party, puffing on your favourite strain while listening to some deep and slow beats.
3. SMOKE & STUDY CHILL MIX
As you know, nothing helps you focus and get in the zone quite like cannabis. Well, except for music, of course. But why settle for one or the other when you can have both?
If you have an exam around the corner or need to catch up on homework, this laid-back playlist is just for you. It's sweet, it's relieving, and the beats go on and on for a decent 40 minutes. There's no way studying will feel like a drag if you take a drag and dive in with this super chill mix.
4. MUSIC TO LISTEN TO WHEN YOU'RE HIGH STONED BAKED TRIPPY ON THAT MARIJUANA WEED
As if the title wasn't obvious enough, this playlist provides the ultimate trip. In fact, it's so relaxing that if you put your head down after some heavy indica, you might even fall asleep with this one.
We highly recommend this playlist to anyone who needs a heavy dose of mindfulness. Its soothing sound can help to make you feel at peace up to a point where nothing around you will matter anymore.
5. STONER REGGAE PLAYLIST VOL. 3
Of course, we had to include reggae. After all, what's more toker-friendly than reggae music? Not to mention that there is hardly any bad reggae music and it all sounds so damn happy. From Damian Marley to Soja, this playlist features some of the best reggae artists out there. Jah man!
---