Combining hot chili peppers and cannabis might help an upset stomach
---
The chemicals in cannabis and hot chili peppers appear to work wonders on a range of gut inflammation disorders. Try a few home made "medical" ideas and recipes
To the eyes, nose and palette, chili peppers and cannabis look, smell and taste very different. Of course.
But as it turns out the two have some things in common, and when used together they might actually help you when you have an upset stomach.
The bad news is that these facts come from research that has been done only on mice so far. But the good news is that it might even lead to new ways of treating illnesses such as colitis and Type 1 diabetes.
THE SCIENCE BEHIND THE FINDINGS
Research by Immunologist and researcher at the University of Connecticut School of Medicine Pramod Srivastava, indicates that the endocannabinoid system acts as a regulator of immune homeostasis in the gut.[1]
Chili peppers, specifically a chemical called capsaicin in the peppers, binds to a receptor called TRPV1. This is found on specialized cells throughout the gastrointestinal tract.
TRPV1 is an interesting receptor. When capsaicin binds to it, it causes cells to make anandamide. It can also be triggered by noxious heat – just as found in chili peppers.[2]
Anandamide, as cannabis enthusiasts know, is the "bliss" molecule. It is a neurotransmitter and cannabinoid that is naturally produced by our own body, making it an endocannabinoid. It has a similar molecular structure to THC and therefor some people call it our own natural THC.
When exposing immune cells in to both anandamide and capsaicin, Dr. Srivastava found that the cells responded the same way as they do to physical heat, and bind to the same receptors.
In further experiments he found out that mice that were given either anandamide or capsaicin, reacted the same way.
The mice experienced lessened inflamation in the stomach from both ingredients, but he also concluded that there is evidence that anandamide and capsaicin increase eachothers effectiveness.
The most stunning result was that mice with Type 1 diabetes were even cured by eating chili peppers.
Ingested together, in other words, chili peppers and cannabinoids might be just the solution for a range of gastrointestinal disorders that start with inflammation.
The next step in this research would be for Dr. Srivastava to research the same effect on humans.
But if you like both cannabis and chili, you can of course experiment a bit yourself. Be aware that some people actually get an upset stomach from eating hot peppers, so listen to your body and consult a doctor if you have more serious questions.
And to leave you with this information, we have looked up a nice recipe for canna chili nuts. A perfect combination of sweet, salty and spicy, and of course with a bit of weed.
RECIPE FOR CANNA CHILI NUTS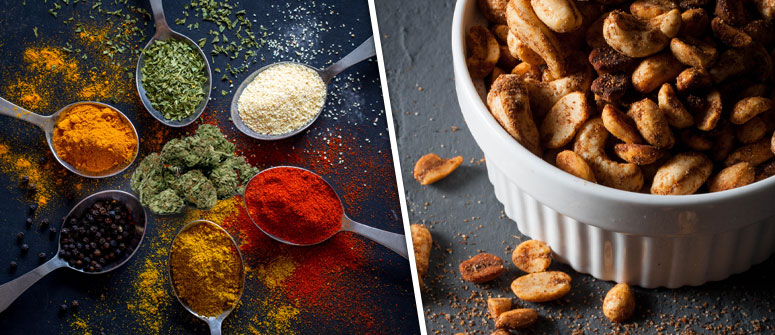 There are a lot of extra plusses for eating cannabis with your hot chili. Eating chilies – even milder ones – can increase gut temperature, metabolism and thus help burn calories. Experimenting with your chilies is also almost as fun as experimentation with cannabis.
This is a surprisingly potent snack that is very easy to make. It goes great as a cocktail party appetizer with a little kick to it that will be the centre of the party!
Ingredients
1 egg (just the white part)
110 grams of walnuts
225 grams of pecan nuts
110 grams of cashews
2 tbsps. packed brown sugar
½ tsp. ground allspice
½ tsp. ground cinnamon
1 tsp. chili powder
Pinch of ground cayenne pepper
Pinch of ground ginger
+/- 50 ml cannabis oil
Preparation
Preheat the oven to 148°C/300°F.
While the oven is heating up, put the egg white in a bowl and beat it until it is soft and foamy. Pour all the ingredients except for the nuts into the egg white and mix it well.
Now add the nuts and mix it well again.
Spread this over a large baking sheet and put in the oven once the oven has the correct temperature. Check and move them a bit every ten minutes until they look deliciously brown with a deep and rich aroma. This should take about half an hour more or less.
As they cool, the nuts may stick together. Break them apart gently before serving.
Please be aware that if you are planning to try this recipe, we can't stress enough that you should of course know that edibles can sometimes hit harder than you expect. So be careful and free to judge the amounts of cannabis oil you use according to your own experience. It's good to know how to calculate the dosage for edibles before you start.
Also let your friends know that the nuts have cannabis oil in them, to not surprise anybody.
Enjoy!
References
---
^ Proceedings of the National Academy of Sciences, Endocannabinoid system acts as a regulator of immune homeostasis in the gut, retrieved December-14-2018
Link
---