Marijuana VIP: Marc Emery
---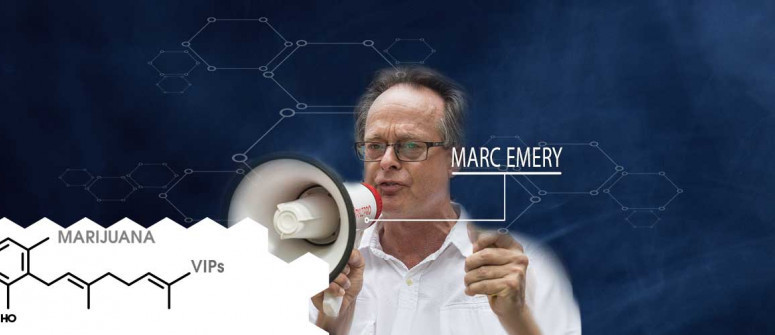 Marc Emery has become well known over the last twenty years as a vociferous cannabis activist and entrepreneur. So who is Marc Emery?
Canadian cannabis activist and pot preneur Marc Emery is known for his passionate advocacy. Never one to shirk from a fight, Emery has helped lead the debate about legalization internationally.
Marc Emery is a long-time Canadian activist for various libertarian causes. These have included cannabis for at least the last 30 years. He was most recently in international headlines for a dramatic international cannabis arrest. He was stopped at the airport on his way to a Spanish cannabis festival and expo.
Whatever the direct issue of the day, there is a common theme to his pursuits. Emery is known for his passion for the plant. Not to mention his passion in general.
This activism has won him many fans along the way. Not to mention detractors. That said nobody can argue he has consistently been on the cutting edge of many debates. Cannabis legalization is just the most enduring of them.
WHO IS THE "PRINCE OF POT?"
Emery is a Canadian entrepreneur, libertarian politician and activist.He has also been jailed several times.
His first entrepreneurial efforts started young. At the age of 9 he started a stamp business. Two years later, he launched a mail-order comic book business. By 17, Emery dropped out of high school to follow his dreams. It was then that he started his first bookstore business.
His political activism also started early. He worked on the New Democratic Party's campaign in 1979. This led to his own efforts to hold political office. He also established himself as a direct scrapper. He was clearly unafraid to challenge laws directly. This included hiring staff to work on Sundays. He also began selling banned materials.
When Emery moved to Vancouver in 1994, his fight for cannabis kicked up a notch. He opened a store called Hemp BC. This in turn played a major role in expanding Canada's then tiny underground industry in cannabis paraphernalia. At the time bongs and pipes were illegal. By late that year, Emery had also established his right, via court challenge, to sell High Times Magazine.
By 1995, he made the Wall Street Journal for the success of his cannabis seed business. His international media fame has grown from there.
EMERY'S INFLUENCE IN THE FIGHT FOR MARIJUANA
Emery has repeatedly put his voice and bucks on the line for the cause. This has taken many creative avenues. It includes political challenges. It includes entrepreneurial efforts to challenge the cutting edge of laws. Emery has also used new media very effectively. He has used his legal confrontations strategically. In particular to foster media interest in him. And of course, making cannabis more legal.
He is also highly politically astute. In fact, in 2000, he helped found the Marijuana Party of Canada, becoming the head of the British Columbia chapter. In that position, he has also unfailingly pushed the debate if not political agenda on legalization in Canada ever since.
In 2003, as the legalization debate stalled in Canada, he led a "Summer of Legalization Tour." This travelled to 18 cities across the country to encourage people to smoke cannabis directly in front of the police. The purpose? To prove that pot was already legal in the country.
MARC EMERY FIGHTS BACK
As Emery became more successful if not visible, he also began to face increased pushback by authorities. In 2004, he served 61 days of a 92 day sentence in Saskatoon. He had been convicted of "trafficking" because a witness claimed they saw him pass a joint.
In 2005, he was arrested by Canadian authorities on a request from the United States. His BC Marijuana Party Bookstore was raided. He was simultaneously arrested in Nova Scotia while attending a hemp festival. His arrest was heralded by U.S. authorities at the time as ending a vital link of both drug "trafficking" if not "propaganda."
Freed on a $50,000 bail, Emery then had to fight extradition. He ended up serving jail time after a plea bargain in which he demanded the release of his friends who had also been charged. He served just over four years of a five year sentence in federal prisons in Georgia and Mississippi. Emery returned to Canada in 2014 after his release.
EMERY'S FREEDOM STILL ON THE LINE
Emery has clearly paid a direct financial and personal price for his commitment to the cause. The idea of facing prison for distribution of marijuana media is unbelievably outdated. The idea that the US government would extradite and imprison a foreigner on foreign soil for such activities is even worse.
While clearly a product of its time, Emery's legal problems alone won huge attention for the legalization cause. Those in turn began to empower the next wave of activism. In several countries. In fact, it is hard to understate the influence of Emery in helping define the debate clearly. Even if his individual freedoms were sacrificed.
These days, Emery has not stopped being controversial. Or moving the needle forward. Both he and his new wife opened six Cannabis Culture "dispensaries" in Quebec as of December 2016. This, even though cannabis is in the middle of now changing laws and legislation. And both Emery and his wife were also then arrested. Undeterred, Emery refused to stop opening dispensaries.
Emery and his wife were arrested again as they planned to visit last year's winter Spannabis. They were charged with conspiracy to commit an indictable offence and trafficking.
As of March 2017, Emery's dispensaries were served with search warrants in Toronto, Hamilton and Vancouver as part of a targeted police effort against marijuana dispensaries.
Right now, the couple have been banned from possession or consumption of marijuana.[1] They are barred from entering any of their former shops. They are also currently banned from facilitating in the running of these establishments. That said, the establishments are now still running.
The war continues.
WHAT DOES THE FUTURE HOLD FOR MARC EMERY?
Emery will clearly continue to be a thorn in the side of authorities. Why? He has continued to push the legal edge of debate forward in a way that defines issues on a global basis. Why should, in other words, an Emery face jail time for distributing a legal product? And beyond Emery, why should anyone?
Given the changing national political environment in Canada, it is unlikely that he will continue to face prosecution for operations of either bookstores or dispensaries. As of next year in fact, he could have all pending issues dropped. Whether that is his intent now in stirring the flames is an unanswered question.
What Emery's activism and entrepreneurialism clearly do, however, is highlight how far the movement yet has to go. Expect him to be on the cutting edge for some time to come.
---