How to make cannabis potatoes (mashed and baked)
---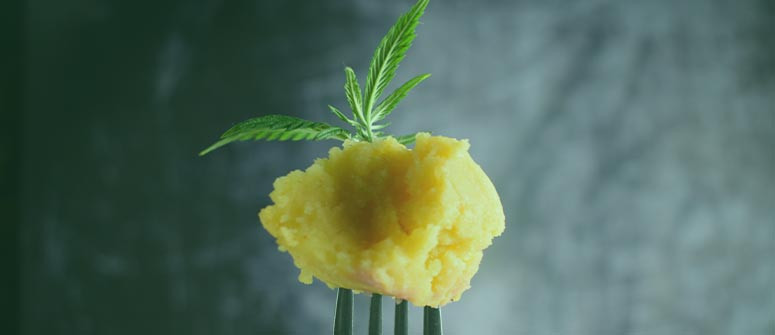 What could possibly beat mashed or baked potatoes? Potatoes infused with cannabis, of course! Here are two simple recipes to make weed-infused mashed potatoes and baked potatoes at home. Once you try these out, you'll have a hard time going back to the originals!
Looking for exciting new ways to incorporate weed into your cooking? Well, you're not alone. Cannabis lovers are constantly on the hunt for edibles recipes that go beyond classic sweet treats like brownies, cakes, or cookies. And that's exactly what you'll find here. Below are two simple recipes to help you infuse arguably some of the tastiest side dishes on the planet; mashed and baked potatoes.
Important considerations before making cannabis potatoes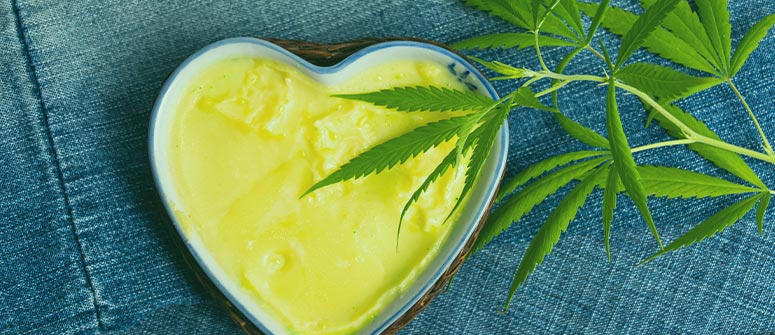 Cooking with cannabis might seem tricky, but it's really quite simple. To ensure the best results, keep the following tips in mind:
Most cannabinoids aren't water-soluble. Instead, they need to be dissolved in fat, such as butter or oil.
The best way to infuse meals with cannabis is using prepared cannabutter or canna-oil to replace the regular butter or oil in your recipe.
Remember to decarb your weed! Decarboxylation involves heating your cannabis plant material at 115°C in the oven for roughly 30–40 minutes prior to using it in a recipe. This essentially helps to "activate" the cannabinoids in your weed, and ensures your edibles are nice and potent.
Always remember to strain out any excess plant matter you've used to infuse a recipe. No one likes soggy, gritty weed in their teeth.
Keep it cool! Most of the terpenes and cannabinoids that give weed its unique flavour and effects degrade at fairly low temperatures. THC will degrade fully at temperatures above 200°C, but will start to degrade at around 120°C, so keep it relatively cool.
2 recipes for mouth-watering cannabis-infused potatoes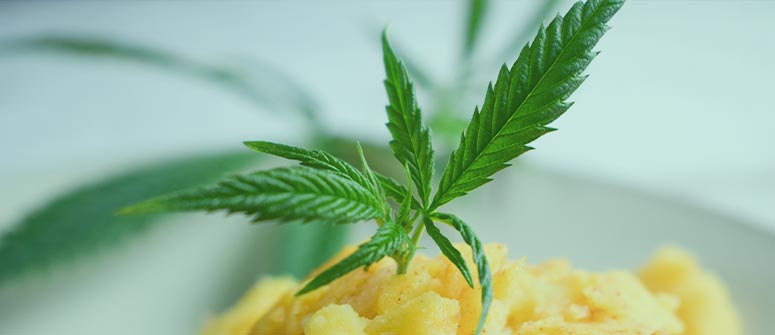 Potatoes have to be one of the most humble yet delicious ingredients on the planet. And baking or mashing taters have to be some of the tastiest ways to prepare this food. Below, we'll show you how to make creamy marijuana mashed potatoes, followed by loaded baked taters that'll fly you to the moon and back.
Mary Jane mashed potatoes
There is one must-have ingredient for creamy, smooth mashed potatoes—and that's butter. To give your mashed potatoes that extra kick, follow the recipe below, which uses a combination of butter, cannabutter, and mild cream cheese (optional) to produce silky smooth, creamy cannabis mashed potatoes.
What do you need?
Ingredients:
1kg of russet or Yukon gold potatoes
25g butter
25g cannabutter
50g mild cream cheese (optional)
Salt and pepper (to taste)
Nutmeg (to taste)
Fresh washed parsley (to garnish)
Equipment:
Large pot
Peeler
Sieve/strainer
Large bowl
Fork or potato masher
Instructions
Fill a large pot with 1l of water and bring to a boil. Salt liberally.
Wash and peel your potatoes. Place them in the salted water and cook until fork tender.
Drain the potatoes in a sieve and transfer them to a large bowl.
Mash the potatoes with a masher or fork (for a rougher, clumpier texture) or an electric whisk (for velvety smooth potatoes).
Add your butter, cannabutter, and cream cheese, and combine.
Season with salt, pepper, and nutmeg to taste.
Garnish with a sprinkle of finely chopped, fresh parsley, and serve!
Triple-baked weed potatoes
Is there anything more delicious than a baked potato loaded with fresh toppings? We think not. Below is a simple recipe to help you infuse your baked taters with a load of cannabutter that'll leave you loaded and trippin'.
What do you need?
Ingredients:
2 large russet potatoes
½ cup sour cream or mild cream cheese
4 tbsp. cannabutter
1 cup shredded cheddar cheese
2 spring onions, finely chopped
½ cup chives, finely chopped
1 cup fried, crispy bacon, finely chopped
Olive oil
Salt and pepper (to taste)
Paprika (to taste)
Washed and finely chopped parsley
Equipment:
Sharp knife
Baking tray
Large bowl
Fork/potato masher
Instructions
Wash and dry your potatoes.
Liberally rub the potatoes in olive oil and season with salt and pepper. Prick the tops of the potatoes lightly with a fork, and bake them at 200°C for 1 hour.
Transfer the baked potatoes to a cutting board and cut them in half lengthwise.
Use a spoon to gently scoop out the soft flesh of the potatoes, taking care to leave the skins (or "boats") intact.
In a large bowl, combine the potato flesh with the cannabutter and gently mash with a fork or masher.
Combine the mashed potato flesh/cannabutter with cream cheese or sour cream, shredded cheddar, spring onions, chives, and bacon bits. Mix well, and season with salt and pepper to taste.
Use a spoon to refill the baked potato skins with the seasoned potato mixture.
Bake the loaded potatoes at 200°C for 10 minutes. Remove them from the oven, sprinkle with a generous amount of grated cheese, and bake your taters one last time until the cheese has fully melted.
Garnish with a dollop of cream cheese, a sprinkle of paprika, and a touch of parsley and chives, and dig in.
Get baked with cannabis potatoes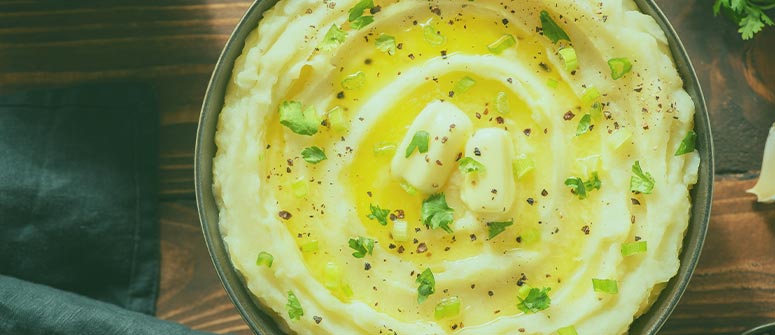 Ready to take your cannabis cooking skills to the next level? Try these two recipes at home, and prepare to get baked like a potato! Whether you want crispy loaded baked potatoes or creamy mashed, now you know how to spice up the humble potato with a hit of weed!
---